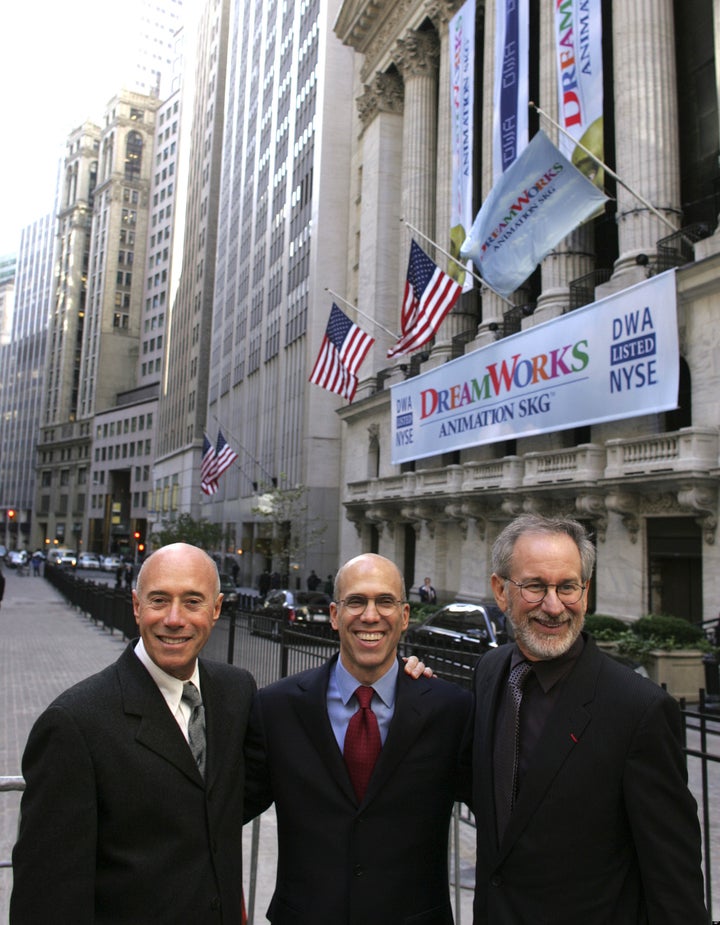 Steven Spielberg -- whose 40 years as a director have earned him fortune, fame and affection -- sat down at the Director's Guild on Sunset Saturday to talk about his career with J.J. Abrams, in the middle of opening weekend for Super 8, the film he directed and Spielberg produced, James Cameron, who revealed he not only turned down a directing job on Spielberg's Amazing Stories, but also resisted Spielberg's script notes on Aliens, and Michael Apted, well known for both documentaries (such as the Up series) and feature films.
This tribute was part of the DGA's celebration of its 75th anniversary saluting "game-changers" who have advanced the art and craft of directing. Earlier events featured Francis Ford Coppola, Clint Eastwood, and possibly the most famous guild-quitter of them all, George Lucas.
This program featured clips from six Spielberg films -- three chosen by Abrams, three by Cameron -- with Spielberg answering questions about actors, technical challenges and script development. Apted moderated.
Six clips from over 25 movies? Yet, because of Spielberg's candid answers, and the panelists' probing questions, the clips from Jaws, Close Encounters of the Third Kind, Raiders of the Lost Ark, E.T.: The Extra-Terrestrial, Jurassic Park, and Schindler's List were enough for the evening.
For Jaws, Abrams' clip showed Robert Shaw's Quint and Richard Dreyfuss' Hooper drink and compare war wounds. Spielberg told war stories of his own, including how Shaw blew the first day shooting that scene and had to be carried away to sleep off a bender, then came back the next day and basically nailed the scene in one take.
Spielberg revealed that he doesn't rehearse: "I'd rather use the first five or six takes as rehearsal," he said. "Rehearsal is what trailers are for." He doesn't want to miss the "magic that can happen on a first take." He also doesn't believe in table readings: "I did that once and it made me want to quit the movie."
Cameron's first clip was the arrival of the mother ship in Close Encounters. According to Spielberg, making Close Encounters was the fulfillment of a dream from his high school days in Arizona, when he would drive to Sky Harbor airport in Phoenix and watch planes land overhead. Sounds like an iconic scene from Lost. Could be Abrams' intentional homage: after college, Abrams took a job that apparently had a big impact on him: re-editing Spielberg's 8mm features, including Firelight, Spielberg's 1964 iteration of the story. "In one form or another," Spielberg said, "this is a story I always wanted to tell."
Spielberg confessed that if he'd been married or had children at the time, he might not have ended Close Encounters with the hero abandoning his family. He said he felt conflicted when he showed the film to his own children, years later.
But he more regretted re-cutting the ending -- part of deal to add new scenes after the film's release -- to show what's inside the ship. Cameron blamed Spielberg for the "director's cut" phenomenon; now, many movies are re-released with new material after a theatrical version.
Abrams' next choice was the "Flying Wing" fight scene where Harrison Ford faces Pat Roach, who was in the first three Indiana Jones movies, even though he's chopped to bits by a propeller here, because, Abrams said, "It has every element of a Saturday morning serial," an influential form for both Spielberg and the film's writer/producer, Lucas.
There is a metanarrative to Raiders: at 30, it's not only about old-fashioned movies, it is an old-fashioned movie. Raiders recalls when films were less complicated but filmmaking was less accessible -- when directors were behind studio walls or in exotic locations making movies in a style that was mysterious and out of reach. For this scene, Spielberg used an Arriflex camera with a 200-foot magazine. He and his collaborators ran from place to place, making it up as they went along. Spielberg said Ford did his own stunts and contributed ideas: "I just really want to bite him," Ford told Spielberg. And later, "Can I throw sand in his face?"
After the famous scene in E.T., when Gertie (Drew Barrymore) meets E.T., Spielberg said, "E.T. was the movie that made me want to have kids. I wanted to take those kids home with me." He's worked with children many times, and is, today, a proud father of seven, but his tales of occasionally scaring or surprising kids on set to get a "natural" reaction elicited the only awkward laughs of the night. Spielberg told how Henry Thomas, 10 on the set of E.T., burst into tears after he saw the finished film: "You didn't take your voice out," he cried. Spielberg realized that Thomas had so inculcated his directing - his constant talking through each scene -- that Thomas could still hear him months later.
It was moments like this, when Spielberg was undefended and open, that made the night all the more rare: no spin, no handler, just professionals talking.
Jurassic Park was a chance for Spielberg to showcase his openness to new technology: it's a hybrid of "old school" special effects and nascent "new school" digital effects.
Spielberg remains keen to try new techniques, but warned his offices might look like "a museum" to other directors, since he still cuts on film. The forthcoming War Horse is his first film to be cut on the Avid, and he plans to return to film for his next movie, Lincoln. "It's too fast," he explained of digital editing. "I need more time between changes to take a walk and think about my movie."
Schindler's List was both a personal and professional "game-changer" for Spielberg, who'd been given Thomas Kenneally's book by MCA president Sid Sheinberg 10 years before he made the film. Spielberg said he resisted making the movie until he believed he could do it justice.
Spielberg is a filmmaker with an unrivaled career, so it isn't hard to believe that he is simultaneously calculating about his career and aware of its limitations. In the '80s, when he was turning out one blockbuster after another (with the dud 1941 his only false move), he wasn't the logical choice to direct a drama about Nazi genocide. Even with the studio boss behind him, Spielberg waited. He said he made The Color Purple and Empire of the Sun to prove to himself he was ready.
The film won seven Oscars, including Spielberg's first for directing, and thrust Spielberg into a new level of humanitarian commitment when he established the Shoah Foundation, which has collected visual and oral histories of 52,000 survivors.
Despite his legendary business acumen in an industry known for backstabbing and opportunism, Spielberg is considered a real mensch. In 1999, for the New York Times, he was asked by Stephen J. Dubner if he still held to his old Boy Scout oath: ''I'm trustworthy, I'm loyal, I'm sometimes helpful, I'm sometimes friendly, I'm always courteous, not always kind, not always obedient, not always cheerful, mostly thrifty as a producer, not brave at all, always clean and very reverent,'' he answered. Add to that, he gives millions to charity, owns his own studio, and has a reported net worth of about $3 billion.

Throughout the night, Spielberg recalled scenes from old movies -- Capra's It's a Wonderful Life, and Lean's Lawrence of Arabia -- showing himself to be a student of the old masters.

But for the generation of filmmakers working today, and probably for many not yet in film school, he is the master. His films are their inspiration. Spielberg is indeed a game-changer, if for no other reason than that in his work he has found a way to reach back to the classic films of Hollywood and reach forward into a new frontier.

REAL LIFE. REAL NEWS. REAL VOICES.
Help us tell more of the stories that matter from voices that too often remain unheard.