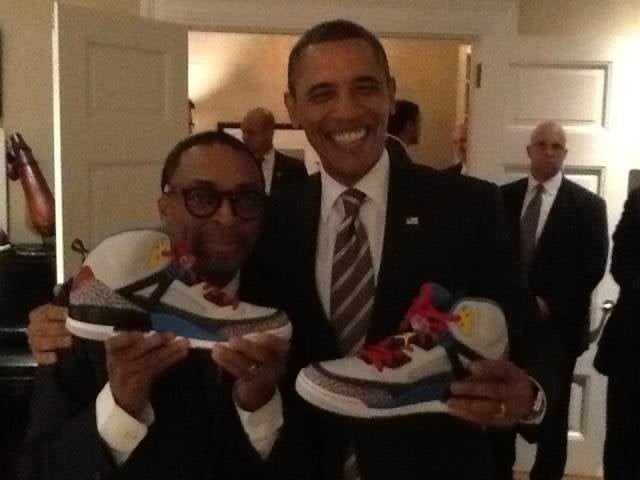 In his opening remarks, the President said that he took the First Lady to see Lee's film "Do The Right Thing" on their first date; Lee quipped that it was a good thing they hadn't gone to see "Driving Miss Daisy."
Before the event, he tweeted, "WAKE UP.DJ Speeezzzy Leeezzzy Is Dedicating Gonna Be A Beautiful Night BY Prince To The President Of These United States-BARACK OBAMA.Ya Dig."
Stars such as Mariah Carrey and Nick Cannon attended the event, which cost up to $38,500 a plate. During his speech, the President said, "Everybody in this room is going to be doing fine -- but for children and grandchildren and future generations who are going to be able to proudly say that America continues to be the land of opportunity."
During Obama's speech, Lee wrote, "POTUS Is Finishing Answering Questions To The Folks Who Wrote A Big Check.People Are Fired Up.We Have To Put On The Grind For 4 More Years."
As the event finished, he wrote, "A Great Night.I Heard We Raised 1.6 Million Dollars From The Dinner Tonight.The President After The Q&A Shook Hands And Took Pictures.Ya-Dig."
Lee also posted a photo of the President and a custom pair of Michael Jordan sneakers that were made bearing the Presidential Seal, writing, "President Obama Is A Huge Bulls And Jordan Fan.Here He Holds His Gift Of Spizikes From MJ Himself.YO."
Popular in the Community