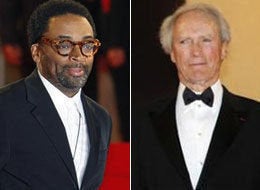 Spike Lee told King magazine that he fears his public war of words with Clint Eastwood may have cost him an Oscar nomination.
Earlier this year, at Cannes, Lee criticized Eastwood for not having African-Americans in Flags of Our Fathers and Letters From Iwo Jima, Eastwood then said Lee should "shut his face" and Lee responded "we're not on a plantation."
Now Lee thinks the controversy that followed his remarks may have ruined his Academy Award chances for new movie "Miracle at St. Anna."
"My wife Tonya told me I may have hurt my chances with the Clint Eastwood stuff... They (Oscar voters and Academy bosses) take everything into account with me. They take into account that I like the Knicks or that I'm in New York."

Lee is adamant the fact he's a Big Apple guy has cost him an Oscar Best Director nomination in the past: "If you did a survey, the bulk of the people who vote in the Academy are in Los Angeles. There's definite bias, considering that my films are typically New York-based." He's still upset that his Do The Right Thing movie wasn't even considered for an Oscar the year Driving Miss Daisy claimed Best Film.

He adds, "Nobody is watching motherfucking Driving Miss Daisy today. Do The Right Thing is being taught in classes at major universities and high schools all over the world. That's how you're supposed to test art. Does the work stand up?"
Calling all HuffPost superfans!
Sign up for membership to become a founding member and help shape HuffPost's next chapter