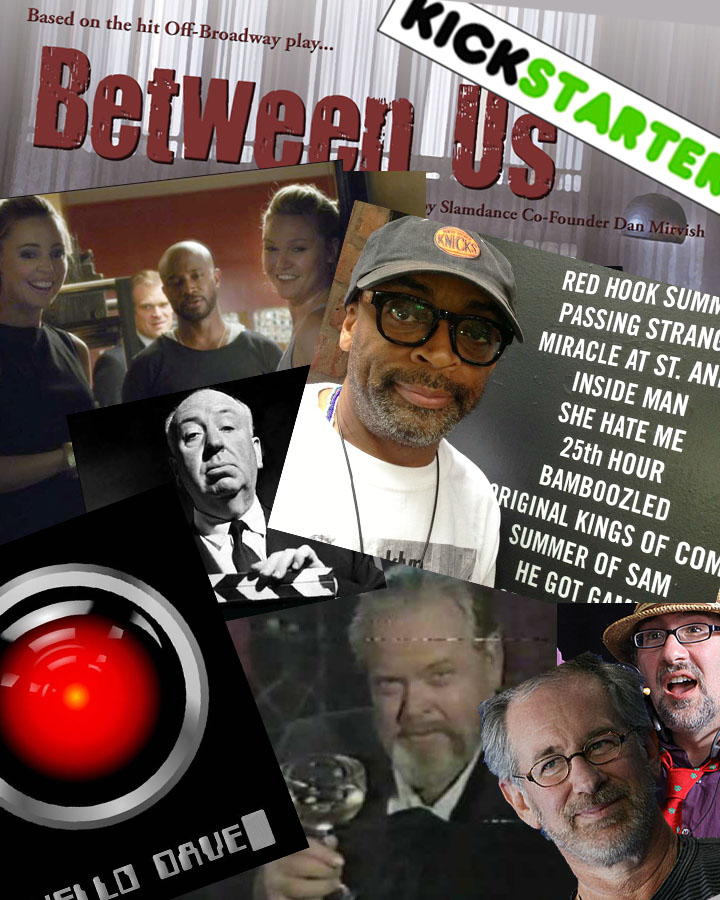 From bare-bones indie filmmakers (like me, with my film Between Us), to established actor/directors like Zach Braff and the Veronica Mars movie, the Kickstarter crowd-funding movement has now seen Spike Lee's awkward, but passionate, pitch for his new movie. So just how far up the A-list of directors will Kickstarter appeals go?
Filled with more boasts of his awesome oeuvre than any information about his new film, Spike's pitch video has the genuine authenticity (and bizarre camera angles) of any amateur indie filmmaker. With the promise of courtside Knicks seats as a perk for a $10,000 donation, or a used pair of Spike's shoes for just $750, his fans can get in on the action from the ground floor, literally. I've argued that the rise of high-profile Kickstarter campaigns is already shifting the paradigm of how movies are funded, and that's probably a good thing. But with filmmakers getting financing directly from their fans, won't the Hollywood studios lose their raison d'etre?
Sure, Spike has a "motherf--king body of work" and can't get studio support for all his movies, but the same could be said for a lot of other talented directors working today. Just as speculatively, what would some past filmmaker appeals have looked like? Let the race to the bottom begin!
Stephen Spielberg's pitch for Jurassic Park 4:
Pitch video highlight: Selfie iPhone footage of Spielberg threatening to shave his trademark beard if he can't reach his goal in 30 days.
Best Perk: For $1,000 he'll film your son's Bar Mitzvah.
JJ Abrams/George Lucas' pitch for Star Wars, Ep. 7
Pitch video highlight: George and JJ's freestyle rap: "All the Jedi dudes are shrouded, 'cause you know they're fund crowded."
Best Perk: $500 gets you a cameo in Mos Eisley Cantina dressed as a Vulcan.
Michael Bay's pitch for Transformers 4
Pitch video highlight: Glamour shots of Megan Fox at a fundraising car wash on Venice Boulevard, while Aerosmith plays in the background.
Best Perk: For $100 you get a signed script. But for only $50, you get to write the script!
Woody Allen's pitch for One Night in Düsseldorf
Pitch video highlight: Woody kvetching about his passport, trying to figure out what European city he hasn't been to.
Best Perk: For $100, you get front row seats to Woody's weekly clarinet jazz show. $200 gets you back row seats and earplugs.
Harvey Weinstein's pitch to raise money for The Butler's $400,000 MPAA fine
Pitch video highlight: Forrest Whitaker's dramatic reading of Warner Brothers' cease-and-desist order.
Best Perk: $200 named producer credit (Oscar eligible).
Adam Sandler's pitch for Grown Ups 3
Pitch video highlight: Shot in stunning black and white by Janusz Kaminski, Sandler sits under a bright red umbrella and silently cries a single tear.
Best Perk: For $100 you get to visit the set and kick Kevin James in the balls.
Orson Welles pitch for Citizen Kane
Pitch video highlight: "I will make no film before it's time."
Best Perk: $10,000 gets a ride on Orson's lap on Rosebud
Stanley Kubrick's pitch for 2001: A Space Odyssey
Pitch video highlight: A continuous long slow zoom into a glowing orange lens, as Hal's voice tells you, "I'm sorry, Dave. I can't get studio funding for this movie. I need your help, Dave. Dave, are you still there?"
Best Perk: $5,000 gets you a visit to Kubrick's secret Apollo moon set in England. $10,000 gets you out alive.
Alfred Hitchcock's pitch for Rear Window
Pitch video highlight: "Good evening, I'm Alfred Hitchcock. And this is my Powerpoint presentation."
Best Perk: $500 gets you a personal casting session with Hitch (discounted to $250 if you are blonde and promise not to scream until he tells you).
REAL LIFE. REAL NEWS. REAL VOICES.
Help us tell more of the stories that matter from voices that too often remain unheard.