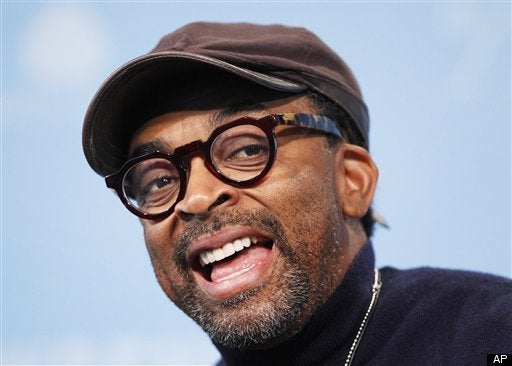 The following is the fourth in a series of celebrity roots profiles from the first season of NBC's Who Do You Think You Are? The previous profiles can be found here:
Spike Lee
For more than two decades Spike Lee has been a passionate chronicler of African American history. As a director, producer, writer, and actor, he has done more than anyone of his generation to bring the black experience to the screen. Since his 1986 debut hit, She's Gotta Have It, Spike has produced and directed twenty-six films, including Do the Right Thing, Malcolm X, and Miracle at St. Anna. His commitment to history is even reflected in the name of his production company-40 Acres and a Mule, a reference to a broken promise by the federal government to provide ex-slaves with land and a mule.
Spike's desire to document the collective black experience has fed into his curiosity to explore his own family history. ''As African Americans, we were stolen into slavery, we were stripped of our history, our language, and our religion," Spike asserted.
An uncle had already written about his paternal line, but he knew very little about his mother's side. Spike was only nineteen when his mother, Jacquelyn, died. He reflected, "I wouldn't have been who I am if my mother hadn't gone. My drive I got from my mother." His maternal grandmother, Zimmie, then became the matriarch of the family and a major influence in Spike's life. He credits her with helping him through college and contributing to his first film. Motivated by these women's influence on his life, Spike set out to explore his maternal ancestry.
Zimmie was educated at Spelman College in Atlanta, Georgia, in the 1920s, when few black women attended college, and lived to be one hundred; she died in 2006. Spike arranged to meet his sister, Joie, at Zimmie's old house in the hope that he could learn more about Zimmie's parents. At the house, Joie found Zimmie's death certificate, which recorded her father as Philip Jackson and her mother as Jessie Ann Rozier. Joie also found photos of Philip and even Philip's mother, Lucinda. Doing the math, they concluded that Lucinda had been born a slave.
Knowing that his grandmother's family was from Dublin, a town in central Georgia, Spike decided to visit and meet with genealogist Melvin Collier, an expert in African American ancestry. Melvin was able to locate Lucinda's date of death, and from there they tracked down her obituary in the local newspaper, listed under "Colored News." Melvin explained that it was uncommon for former slaves to have an obituary written during that time. Among other details, it mentioned Lucinda's three surviving sons - Wilson, Isaac, and Phil - but unfortunately nothing about her husband.
Curious about the identity of Lucinda's husband, Spike secured a copy of Phil Jackson's death certificate - and there it was: Mars Jackson. Spike was delighted that his great-great-grandfather was named Mars. When Spike was making She's Gotta Have It, he was stuck for a name for his character and called his grandmother for ideas. She suggested the name Mars and the character Mars Blackmon was born.
Heading to the Georgia State Archives, Spike set his sights on Mars Jackson. Unable to find him in the census returns, Spike widened his search to anyone by the name of Mars living in central Georgia. A number of candidates appeared, but there was one clear fit. Spike found a Mars Woodall, living in Twiggs County, with his wife, Lucy, and his three sons, Philip, Isaac, and Wilson. Clearly, this was Spike's family, but with a different surname. Since newly freed slaves sometimes began their post-Emancipation lives with the surnames of their former "masters," Spike looked for any Woodall slave owners in the area. There was just one in Twiggs County: James Woodall.
Further examination of the agricultural records revealed that despite being born a slave, Mars was a landowner by 1880, just fifteen years after Emancipation. Using an original map of Twiggs County, Spike as able to locate Mars's land. Traveling there, he donned props that transformed him into Mars Blackmon as a tribute to his ancestor. "It was not an accident that I called my grandmother and asked her for a name. That was the spirit of Mars," he explained.
Satisfied with his discovery of Mars, Spike turned his attention to Lucinda and her slave origins. Spike learned that Lucinda's parents were Matilda and Wilson Griswold. The 1870 census showed Matilda Griswold working as a cook in Griswoldville, Georgia. Matilda was recorded as a "mulatto" and living with an Ebenezer Grier and his wife, Eliza. Spike mused that if Matilda's surname was Griswold and that she was living in Griswoldville, it was highly probable that her former slave owner shared the same name. However, there was no sign of Wilson in the 1870 census. Spike met with Professor Daina Berry to see if she could shed any light on his ancestors. Daina showed Spike a slave schedule indicating that a Samuel Griswold was a large slave owner in the area. Samuel Griswold's slaves weren't used to cultivate cotton; rather, they labored in his factory that manufactured and repaired cotton gins. In fact, many of Samuel's slaves were skilled laborers and mechanics. A contract revealed that Wilson was one of them.
And there was more. In 1864, during William Tecumseh Sherman's "march to the sea," most of Griswold's factories and property had been destroyed. An affidavit showed that General Sherman, in addition to burning Griswold's factories to the ground, had also taken captive Samuel Griswold's five most valued slaves, Wilson likely being one of them. In Griswoldville, Spike learned why Griswold's factories were targeted. Early in the Civil War, Griswold had converted his cotton gin factory into a pistol factory, producing arms and ammunition for the Confederacy. It was a cruel irony that Wilson was making weapons that were used to kill those who were trying to liberate him.
Spike now turned his attention to Matilda. Records listed her as a mulatto. Could she have been Samuel Griswold's daughter? Daina thought it was possible. In 1870, Matilda was living in the "big house," where it's probable that she worked during slavery, an indication that she was favored. Daina also revealed that Eliza Grier, Matilda's employer, was Samuel Griswold's daughter and that Ebenezer Grier was Samuel's attorney and son-in-law. A memoir detailed that Samuel Griswold spent more time with his five favored "negros," including "Greasy Wilse," than with his own grandchildren. The close relationship that Matilda had with the family, in addition to Wilson's status as a favored slave, indicates that she could have been Samuel's daughter. Daina added that she had found a Griswold descendant on Ancestry.com.
Spike went to Texas to conclude his journey. There he was greeted by Guinevere Grier, the great-great-granddaughter of Samuel Griswold. Spike reflected that it was hard for him to like Samuel Griswold. "I mean, how could you own another human being? I've always thought about slavery as a huge part of American history and there's still a ton of history that we have not really dealt with. This has made me want to make a slave epic."
Popular in the Community