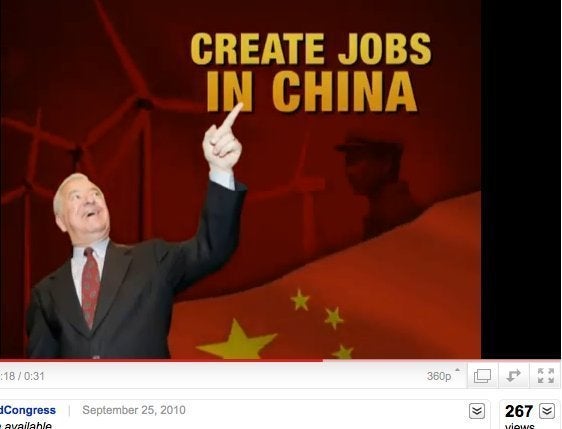 Spike Maynard, the Republican challenger to Democratic Rep. Nick Rahall in West Virginia's coal-rich Third Congressional District, is out with a new ad that seeks to tie Rahall to the outsourcing of energy jobs to China.
"It's on our jeans, even children's toys: 'Made in China.' As part of the Obama-Pelosi team, [Nick] Rahall voted for a bill that led to billions in tax breaks for foreign companies creating Chinese jobs," the ad's narrator reads over a questionably chosen musical track. "Rahall's vote helped foreign companies create Chinese jobs making windmills. With skyrocketing unemployment, only a politician who's been in Washington for 34 years would vote to help foreign companies making Chinese windmills."
The ad comes in response to one released by the Rahall campaign last week that focused on Maynard's voting record as a former West Virginia Supreme Court justice to claim that he was anti-coal. The ensuing battle has been characterized by some as the "war on coal."
Maynard's China ad is just the latest in that ongoing fight to capture the District's crucial pro-coal vote.
"People in southern West Virginia are hurting, and we thought it was important they know Rahall voted to use their tax dollars to help create jobs in China to build windmills that compete with West Virginia coal," Maynard campaign manager Mik Carpenter wrote in an e-mail, according to Politico. "Our people are furious when they find out they paid for those jobs created in China."
Maynard, a 60-something RNC "Young Gun" and a recently announced Palin-ite, is not currently expected to unseat Rahall, though Rahall's standing as a 17-term congressman may end up hurting him in the current anti-incumbent climate.
Maynard was notoriously involved in a Big Coal scandal in 2008 when pictures of him with Massey Energy CEO Don Blankenship in Monaco forced him to recuse himself from a case concerning a settlement between the coal giant and a competitor. Massey energy owns the site where 29 coal miners died in an explosion earlier this year.
Calling all HuffPost superfans!
Sign up for membership to become a founding member and help shape HuffPost's next chapter