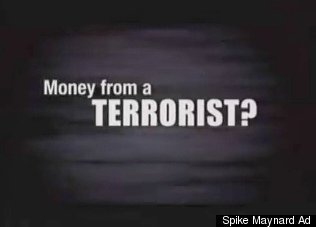 West Virginia Republican congressional candidate Spike Maynard has a new ad attacking his opponent for accepting money from a "terrorist." The problem with the ad? Democratic Rep. Nick Rahall gave the money away years ago, although the same man gave money to the National Republican Congressional Committee (NRCC), which has endorsed Maynard as one of its "Young Guns."
"Disgraced Congressman Rahall supports Obama and Pelosi," intones the narrator of Maynard's ad. "But who supports Rahall? One Rahall campaign contributor was Abdurahman Alamoudi, who is now in jail for financing terrorism. ... Money from a convicted terrorist? Does anyone know the real Rahall?"
<0--3303--hh>0--3303--hh>
In 2004, Alamoudi received a 23-year prison term for "illegal dealings with Libya that included his involvement in a complex plot to kill the Saudi ruler." Before then, he was a generous political donor, giving to politicians such as Hillary Clinton, Dennis Kucinich, and George W. Bush.
Rahall did indeed take money from Alamoudi. But in October 2003, The Register Herald in Beckley, West Virginia reported that Rahall was giving the money away:
What a jailed Muslim activist intended as a campaign donation years ago to Rep. Nick Rahall, D-W.Va., is destined for the Middle East as a means of spreading Christian gospel to Palestinian youth. Rahall offered to turn the $600 donation, given to his Keep Nick Rahall in Congress Campaign Committee by Abdul Rahman al-Amoudi, over to Memorial Baptist Church in Beckley, and its pastor took him up on the proposal. "What we're going to do is pass it on to our missionaries who work in the Middle East to help youth there," the Rev. Paul Blizzard said. "We'll pass the donation on to the Gaza Baptist Church in Gaza for spreading the gospel."
Other politicians, including Bush and Clinton, also returned the money.
Alamoudi also donated $300 to the NRCC in October 2002, and that group did not return the funds. Maybard has received the prestigious "Young Gun" status by the NRCC, meaning he's one of their top prospects. The Huffington Post contacted the Maynard campaign about whether it is also planning to condemn the campaign committee, but we did not receive a response. The NRCC also declined to comment.
This is the third racially tinged ad against Rahall, who is a third-generation Lebanese-American. As The Huffington Post reported earlier this month, the shadowy West Virginia Conservative Foundation also released an ad warning of Rahall's outreach to Arab-Americans on behalf of the Obama campaign. In September, the Maynard campaign put out a spot accusing Rahall of propping up Chinese jobs.
UPDATE: Maynard Press Secretary Matt Dabrowski sent The Huffington Post a statement on the new ad:
Nick Rahall has a pattern of supporting and associating with out-of-the-mainstream elements on the Mideast peace issue. If you look at Rahall's record, the Alamoudi donation is merely the most flagrant instance of this pattern.

Whether it be accepting money from radical sources, visiting Yasser Arafat on multiple occasions, speaking to the Saddam-controlled Iraqi parliament in opposition to the Iraq War, voting against Israel's right to defend itself, or voting against military assistance to America's allies in the region, Nick Rahall's record is outside the mainstream of American opinion on the Mideast issue. I don't think any neutral observer would consider Rahall's record "mainstream," and West Virginians have the right to debate that record.
*************************
What's happening in your district? The Huffington Post wants to know about all the campaign ads, debates, town halls, mailings, shenanigans, and other interesting campaign news happening by you. E-mail us any tips, videos, audio files, and photos to election@huffingtonpost.com.
Calling all HuffPost superfans!
Sign up for membership to become a founding member and help shape HuffPost's next chapter