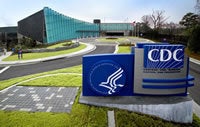 The Centers for Disease Control in Atlanta released new figures on HIV incidence in the United States, and the agency found that while the annual number of infections remained essentially flat between 2006 and 2009, there was an "alarming" jump in the number of infections among young black men who had sex with other men.
"More than 30 years into the HIV epidemic, about 50,000 people in this country still become infected each year," Dr. Thomas Frieden, the CDC's director, said in a statement. "Not only do men who have sex with men continue to account for most new infections, young gay and bisexual men are the only group in which infections are increasing, and this increase is particularly concerning among young African American [men who have sex with men.]"
The reports found no statistically significant change for black men or black women overall during the four-year period, but said that black men who are gay or bisexual were the only subpopulation to have a "statistically significant" increase over that span. The number of 4,400 new cases in 2006 to 6,500 in 2009 -- a 48 percent spike.
Although blacks make up 14 percent of the population, they accounted for 44 percent of all new HIV cases in 2009.
Popular in the Community