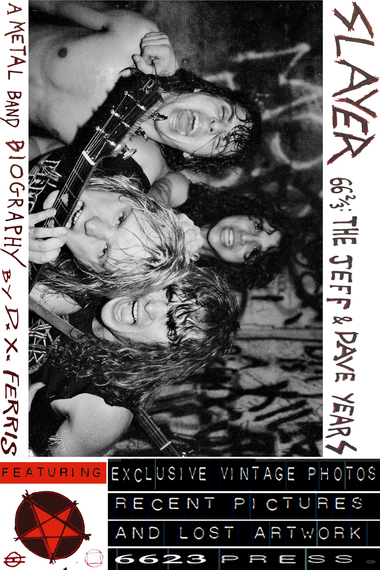 The phenomena of the thrash metal band Slayer is hard to explain to people who didn't listen to them in the latter part of the 20th century. This may be due to the fact that Slayer fans are cult-like, yet it seems that everyone knows a Slayer enthusiast. Slayer are considered one of heavy metal's all time greats beside other marquee names such as Black Sabbath, Judas Priest, Iron Maiden, and Metallica.
For those not in the know, the book Slayer 66 2/3: The Jeff and Dave Years contains two references that may be a bit hard to decode for the Slayer novice. "66 2/3" is a reference to D.X. Ferris's previous book about Slayer which came out on the prestigious 33 1/3 book series about the classic Slayer record Reign In Blood. The second part of the title refers to former band members: guitarist/songwriter Jeff Hanneman and drummer Dave Lombardo. As the title suggests, this is not a book for those who are not totally possessed by the music of Slayer. The book describes everything Slayer did from the beginning with cited sources, investigative analysis on every record, tour, side project, and the cultural context in which these records were made and publicly received.
When Jeff Hanneman passed away in May of 2013, journalist D.X. Ferris had already started the book, "It was about a fifth written when Hanneman died. When [Dave] Lombardo left the band (Feb 2013), I conceived the book as a short e-book about Lombardo's turbulent history with the band. It was going to be 12,000 words, maybe 20,000, tops... By the time it was done, I had a real rock bio on my hands -- almost by accident. I wanted to make it a niche little rock pamphlet, a small little thing for hardcore fans. But the book wouldn't let me. It wanted to be bigger. It wanted to be more."
Through original interviews and numerous sources, Ferris goes all the way back to the members childhoods in California, through the garage rehearsals, touring in a single Camaro, and into the nascent Bay Area thrash metal scene of the early 80's. Ferris investigates the bands transition from garage to the arena when Slayer was arguably the best act of the thrash metal genre. In 1986-1987, heavy metal as an art form was peaking. Slayer, Metallica, Megadeth, Testament, Exodus and Anthrax all released key records that captured the moment.
In 1986, when Reign In Blood was released, it was a 28-minute tour de force that perfectly fit onto a single side of a cassette. Reign took the ferocity and speed of hardcore, and added it to the more expansive metal sound, which the band had been crafting on the previous record Hell Awaits. Songs were shorter, lyrics were more serious, and musicianship was taken to a masterful level (Its interesting to note that Rick Rubin produced this record the same year that he produced the Beastie Boys' classic License to Ill for a perspective on how music was changing in 1986.)
After Reign In Blood came the second in what would be the trilogy of 1988's South of Heaven and 1990's Seasons in the Abyss. While several albums followed the classic trilogy, none captured the moment like these three did.
It's interesting to see Slayer deconstructed in book form much the same way someone like Steve Jobs' every move has been analyzed and dissected for meaning. The book runs out of steam just as the band ran out of steam. Years of touring and the constant revolving door of drummers ran the protagonists down. The plethora of facts presented were interesting to learn, such as that Hanneman had developed arthritis in later years from the sheer physicality of the performances and that songwriter Kerry King did something of an apprenticeship in Megadeth in the early days of Slayer.
I'm not an objective critic. I was 10 years old when my cousin Dennis played me South of Heaven on his Walkman at a family party. This record made me begin to reconsider the pop metal bands I was listening to at that time. Puberty was around the corner and the aggression of Slayer coincides with those early surges of testosterone.
To be clear, blogging about music isn't the same as being a serious music writer. You're free to be biased, opinionated and occasionally, write badly. What records that are important to the writer may not be as important to the reader. You can reinforce any of your music prejudices with facts and analysis. As far as I can tell, all successful music writing is an act of passion. Even negative music writing should really have a passion to skewer a record. The passion for a subject has to come through as it does in 66 2/3.
Ferris sticks to a solid historical narrative giving all periods of the band equal consideration. That's what we look for in journalism. This book is an historical offering to the metal gods and it will grow in importance as the genre evolves, and mutates into something totally new. This book should sit on your shelf alongside Led Zeppelin tome Hammer of the Gods and The Dirt.
Calling all HuffPost superfans!
Sign up for membership to become a founding member and help shape HuffPost's next chapter