This certainly didn't make the mail come faster.
Not knowing what the slippery substance was, post office officials evacuated the place and called in hazmat teams. Two employees felt sick after coming into contact with the gel, according to AL.com. They were hospitalized, but are now in stable condition. Additionally, 12 - 15 other packages were contaminated with the material.
The gel was addressed to someone in the "entertainment" industry, according to the Associated Press. The recipient's name has not been released.
USPS postal inspector Tony Robinson told AL.com he has no idea why the employees felt sick, since they substance was proven to be non-toxic. However, Amazon.com reviews for the product state that the gel "burned to a painful degree" and "caused a rash."
Officials say the post office will contact the sender of the gel and instruct him or her on how to properly stuff it in to prevent future package mishaps.
Before You Go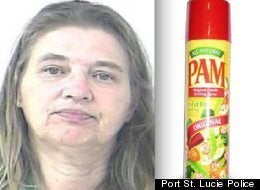 Bad Sex
Popular in the Community