 Susan Sarandon has something she'd like to tell the good people of Los Angeles. The ping pong-obsessed actress is bringing her nightclub-cum-sports venue to their town.
Sarandon and her partners at SPiN, the company behind swanky table tennis/bar hybrids in New York, Milwaukee and Toronto, have teamed up with hotelier Andre Balazs for an expansive new location, right in the heart of L.A.'s downtown.
The space will occupy the entire mezzanine floor of Balazs' Standard Downtown and be open all seven days of the week, providing both daytime availability for serious and casual ping pong players and a vibrant evening and night party scene. SPiN L.A. at the Standard, Downtown L.A. will launch early this fall.
"This is really hands-free, worry-free," Sarandon told HuffPost Entertainment in an interview. "Andre really knows what he's doing, so I have complete trust in his ability to make this the best ping pong club ever in L.A. for sure."
The actress and SPiN co-owners Franck Raharinosy, Andrew Gordon and Jonathan Bricklin, had been looking in the city for quite some time, but were repeatedly roadblocked by issues with permits and liquor licenses. "We're trying to create a community," Sarandon explained. "So people have to be able to come down during the day and park pretty inexpensively, and families can come as well as a nightclub and special events space."
Balazs, who is one of the country's most prominent luxury hoteliers and the man behind L.A.'s storied Chateau Marmont and New York's Mercer Hotel, described the project as a natural extension of his passion and The Standard's culture. "We've had ping pong tables when we opened the first Standard in Hollywood 12 years ago," he told HuffPost. "We've had a table at the Chateau for 20 years and we did the Biergarten [at the Standard New York] four years ago ... The fact that we now have 10 tables in one location as opposed to two is a minor detail."
"Minor" as it may be, the change requires the Standard to make major additions to that level of the hotel. Balazs demurred when asked how much revenue he expected the club to generate, opting instead to wax poetic about the virtues of the sport.
"It's a great physical and mental [activity]. It's kind of a very zen or Taoist game, in a very modern sense," he said. "There are very few games where, in order to play, that you have to put yourself [in the moment]. The ball moves so fast. It crosses the net in less than a quarter of a second. So even in tennis, you have a moment to compose yourself. What's interesting about ping pong, and what's euphoric about when you play it well, it's one of the few games where you're competitive, but in order to play it, your muscle memory has to be as fast as your brain. Before you have time to think you have to act. It's a remarkably compelling sport."
Sarandon herself is far and away the best known champion of the sport in popular culture. She's an avid player (though she described her approach to the game as "not training or being competitive, but sort of bouncing around") and advocate. Apart from launching SPiN's New York location three years ago and quickly fostering it to be a destination for both celebrities like Hugh Jackman and Kim Kardashian and serious players like prodigy Michael Landers and paralympian Tahl Leibovitz, she's managed to get tables and instructors in schools in New York.
"In my role as ping pong propagandist, we're going to build a ping pong nation, where kids start playing and not just privileged kids, but all kids that can play until they die," she asid. "It's not like basketball or soccer where you're limited when you get older."
A number of tournaments will lead up to the launch of SPiN L.A. The events, which will take place at other Standard hotels in Miami and New York, will feature teams from The Whitney, Milk Studios, The Webster, Vimeo and Tumblr. The winners, and a select group of players culled from SPiN Social, will compete in a championship round upon SPiN L.A.'s launch.
Team members were not officially set at press time, but Sarandon said one matchup is for certain. "I do know that Jamie Foxx has to take on [ping pong pro and model Soo Yeon Lee] again, because she bested him very unexpectedly -- from his point of view," the Oscar-winning actress said. "He claimed he was distracted by her tiny tiny skirt, which I can understand because she's absolutely gorgeous. But she also beat him pretty fair and square."
Check out some photos from a previous SPiN tournament in the gallery below.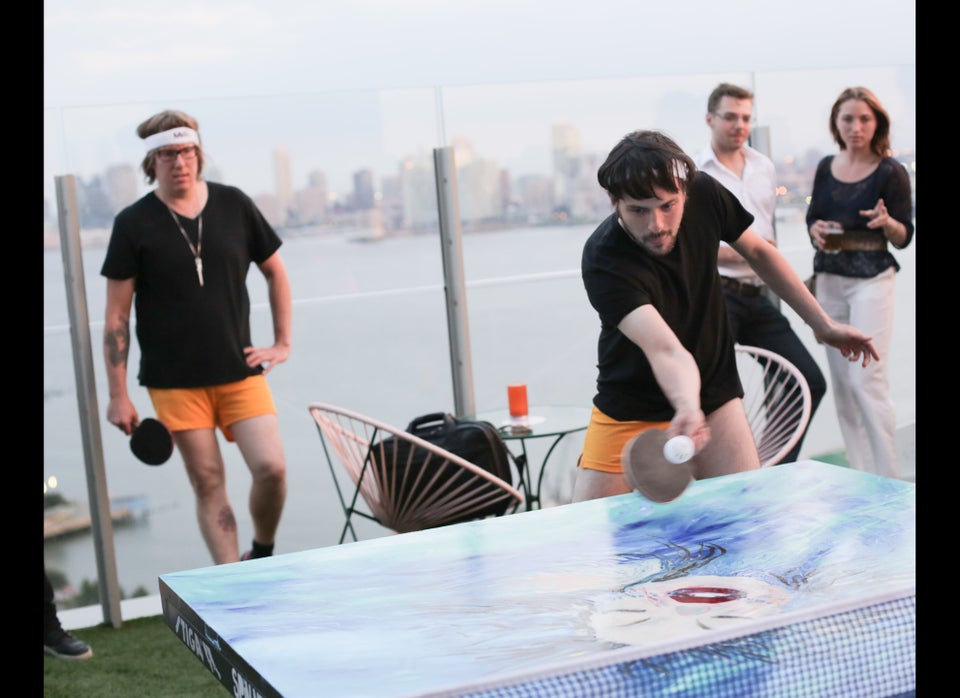 SPiN Tournament At Le Bain
Popular in the Community