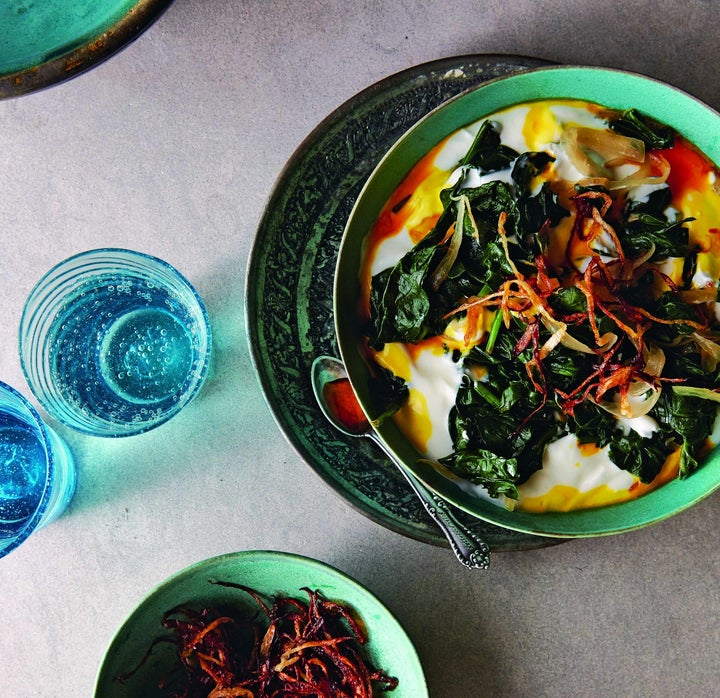 Borani is a popular cold Iranian appetizer that's made with two healthy powerhouse ingredients: yogurt and a vegetable (in this case it's spinach). Sometimes this dish is made with nothing more than those two ingredients and seasoning, but we have a recipe that makes it even more exciting with the help of gently-fried onions, saffron water and walnuts. Serve it with warm pita bread for a truly addictive experience -- and dip into just like you would hummus.
We found this recipe in the beloved cookbook Taste of Persia. And Naomi Duguid, the author of the book, let us share it here with you. Try this recipe below next time you need a healthy and delicious appetizer. And then try the Persian Ash recipe we have from the same book.
Spinach Borani

Excerpted from Taste of Persia by Naomi Duguid (Artisan Books). Copyright © 2016. Photographs by Gentl & Hyers.

Serves 4 to 6
The Persian dishes called borani are a genius combination of cooked vegetable and thick drained yogurt. They are generally topped with fried onions, and often with a scattering of lightly toasted walnuts. People rave whenever I serve them, especially this spinach version.
About 1 1/2 cups plain full-fat yogurt
2 pounds spinach
About 2 tablespoons sunflower or extra-virgin olive oil
1 medium onion, thinly sliced
1 teaspoon sea salt, or to taste
1 tablespoon water
About 1 tablespoon Saffron Water (see below)
2 to 3 tablespoons coarsely chopped lightly toasted walnuts
Drain the yogurt to thicken it: Line a sieve or colander with cheesecloth or a cotton cloth. Moisten the cloth with water. Set the sieve or colander over a bowl and add the yogurt. Set aside, loosely covered, to drain for about 30 minutes.
Meanwhile, trim the tough stems from the spinach. Wash the spinach thoroughly in several changes of water and drain well. Coarsely chop and set aside.
Heat the oil in a wide heavy skillet over medium-high heat. Add the onion, lower the heat to medium, and fry the onion until translucent and touched with color, about 5 minutes. Transfer the onion to a plate and set aside.
Raise the heat under the skillet to medium-high and add the spinach, turning it to expose it to the hot surface. Add about 1/2 cup water and cook, pressing and turning the spinach, until it is well wilted and deep green, 4 to 5 minutes. Transfer the spinach to a bowl to cool slightly.
Once the spinach is cool enough to handle, squeeze it thoroughly, a handful at a time, to press out excess water.
Transfer the spinach to a bowl, add 1/2 teaspoon salt, and mix well.
Turn the thickened yogurt out into a bowl; you'll have about 1 cup. Add the remaining 1⁄2 teaspoon salt and the water to loosen the yogurt slightly and stir. (Save the whey for another purpose or discard.) Add the yogurt to the spinach and stir gently to mix them a little, but not into a smooth blend, leaving the mixture with patches of white and dark green. Taste and adjust the seasoning if necessary.
Strew on the fried onions, sprinkle with the saffron water and toasted walnuts if you wish, and serve.
Once you find a good source of saffron—of saffron threads, as the stigmas are known—start using it. You can use them whole, but you get better color and aroma if you grind them to a powder. Just take a pinch and place it in a small mortar or bowl. Add a few grains of salt or sugar and use a pestle or the back of a spoon to grind the threads to a fine powder.
You can add saffron directly to a broth, but soaking it first in a little hot water is the best way to transform it into an effective flavoring and coloring, especially if you are using it to tint and flavor cooked rice. The proportions are roughly a generous pinch (1⁄4 teaspoon) of saffron threads to 1⁄4 cup hot water.
Pour the water over the threads or powder and stir. Transfer to a clean glass jar and let steep for at least 10 minutes, covered, before using it in a dish. As it sits, the color will deepen to a rich red-orange. Any leftover saffron water will keep in the refrigerator for a week or so, losing a little aroma over time.