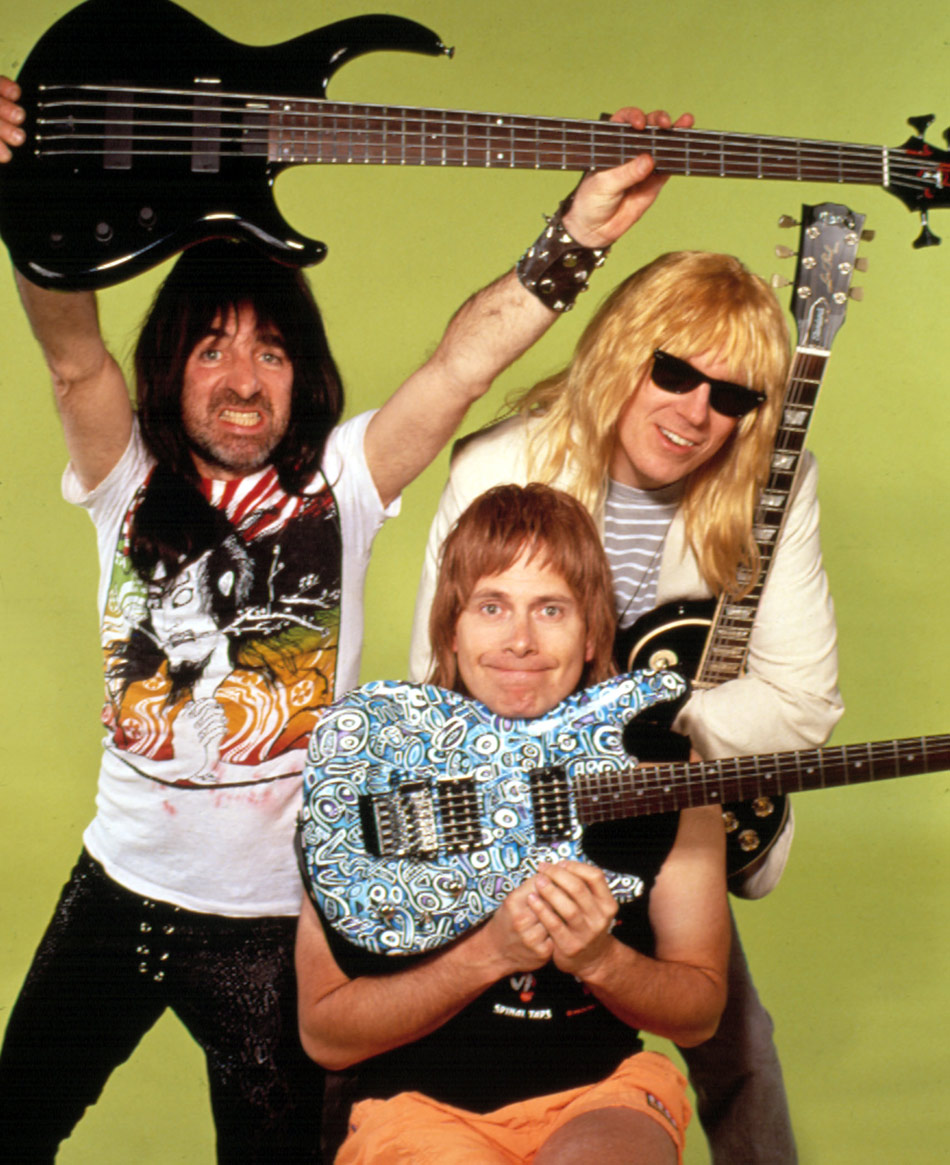 The concert event of the year in uder way: "Spinal Tap Unwigged and Unplugged" hits the road in April. OK, technically it's not Spinal Tap. Instead, Christopher Guest, Michael McKean, and Harry Shearer will be playing songs from the Spinal Tap and Folksmen catalogs. Still, it'll be the best thing on the road this year. That's because fake bands are the best bands.
When you're just faking it, you have nothing to lose. And with pretending comes a sense of abandon that most real bands can't bring themselves to summon.
Fake is different than fabricated. Many pretend groups (such as the Monkees and Menudo) are put together by some Svengali capitalize on a trend and cash in on a popular genre. While their marriage may be arranged, their history and names are very real.
Fake bands have a higher purpose. The great fake bands may start as parody or homage but soon become part of the pop-culture fabric from which they initially borrowed. Soon you can't tell where the joke ends and reality begins. And that's how it should be. Fake bands start as pure fiction, but the great ones go on to real musical victory. They end up making music that rivals that of any real band.
In honor of lead singer David St. Hubbins (McKean), guitarist Nigel Tufnel (Guest), and bassist Derek Smalls (Shearer), I bring you GetBack's Greatest Fake Bands of All Time: groups with made-up names, made-up histories but real musical genius. These bands make fake feel so good. May they always keep the fantasy alive.
THE RUTLES
Beatles tribute bands are a dime a dozen, but there is only one fake Beatles band: the Rutles. The brainchild of Monty Python's Eric Idle and Neil Innes, their 1978 mockumentary "All You Need Is Cash" is the stuff of fake band legend, spurring a wave of Rutlemania that lasts to this day. In fact, the group even inspired a fake tribute show (aptly called "Rutlemania"). Talk about a hall of mirrors. What came first, the chicken or the Chicken McNugget?

TRAVELING WILBURYS
While pop music history is filled with scores famous musicians forming supergroups, the Traveling Wilburys are the only fake band made up of a bunch of famous musicians. George Harrison took a page from his Monty Python buddies and, along with bandmates Roy Oribison, Bob Dylan, Jeff Lynne, and Tom Petty, created an elaborate and Pythonesque history. Case in point: all Wilburys were half-brothers and sons of the famed Charles Truscott Wilbury, Sr.

THE PARTRIDGE FAMILY
It's usually a TV show that spawns a fake band. Yes, it's a thin line between a group like the Monkees and the Partridge Family, but here's the difference: there really is a Mike Nesmith. There is no Keith Partridge, only David Cassidy, who made eight original albums with his fake family (his mom was really his stepmom, Shirley Jones) and became a teen idol under his real name before falling into forgettable TV and stage roles.

THE BANANA SPLITS
Sid and Marty Krofft gave us some of the trippiest shows of the late '60s and '70s, including my favorites: "Land of the Lost," "Sigmund and the Sea Monsters" and "H.R. Pufnstuf." Their greatest fake musical contribution, however, is the Banana Splits. The "musicians" were a beagle, a gorilla, a lion, and an elephant, and never have a group of talking animals played such perfect bubblegum rock. To their credit, they had a killer songwriting team: legends Al Kooper, Barry White (yes, "Can't Get Enough of You, Babe" Barry White), and Gene Pitney. There aren't a lot of real bands with have that kind of songwriting power.

THE COMMITMENTS
There are too many fake band movies to mention. However, unlike such films as "Eddie and the Cruisers," in which the cast lip-synched to music played by John Cafferty and the Beaver Brown Band (we'll save a conversation on THAT name for another blog), the Commitments were a fictional band with real musicians. It made a difference, and the fake band (or some of them, anyway) still tour as the Stars from the Commitments. One band member who isn't touring? Glen Hansard. He played guitar in the film, but has since got the "Once" and Frames thing to keep him busy.
THE WONDERS (or ONEDERS)
"That Thing You Do" was Tom Hanks' ode to early '60s rock. The film got every detail right about the '60s music scene, including the made-up history of the Wonders (originally called "Oneders," but they changed their name after everyone pronounced it "oh-NEE-ders"). In one of the great moments of fakeness becoming reality, the fictitious band had a Billboard Top 50 hit with the song "That Thing You Do," cowritten by Fountains of Wayne's Adam Schlesinger.

DR. TEETH & THE ELECTRIC MAYHEM
Debuting in the 1979 film "The Muppet Movie," the band consists of Dr. Teeth on keys, the Joni Mitchell-like Janice on guitar, Sgt. Floyd Pepper on bass, Zoot on sax, and Keith Moon's lost interspecies brother Animal on drums. Their single "Can You Picture That?" is the standard for all fake band rock songs. At least those played by Muppets.

THE BLUES BROTHERS
Probably the most famous fake blues siblings on the planet, John Belushi and Dan Aykroyd debuted the Blues Brothers on "Saturday Night Live" in 1976. Instead of their ubiquitous dark suits, they wore bee suits. Dan Aykroyd and Belushi became very real students of the blues and channeled that love into their fake group. Buddy Paul Shaffer helped them put together a collection with serious blues bona fides, and the "Blues Brothers Show Band & Revue" was born. Unlike most fake bands, the Blues Brothers toured and released an album (1978's "Briefcase Full of Blues") before making a movie that told their fake story.

GORILLAZ
"Virutal band" is just a fancy way of saying "fake band." Gorillaz are an animated ensemble made up of 2D, Murdoc, Noodle, and Russel. Each have the kind of long and complicated histories only a fake musician can possess. They've performed with Madonna at the Grammys. They played the famed Apollo Theatre in Harlem. All the while, Blur's Damon Albarn and "Tank Girl" creator Jamie Hewlett are pulling the strings from behind the virtual curtain. It's a long way from Sid and Marty Krofft.

Popular in the Community