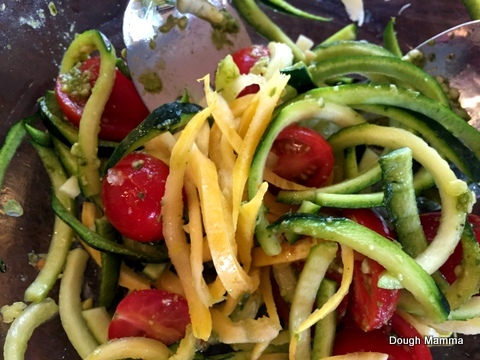 My sincerest apologies for my most recent absence. Moving is no joke, I had no idea how stressful and busy I would be. When my cousin asked why I hadn't blogged in a while, I told her I honestly didn't have a minute to spare. The longest I had ever stepped away from the computer was for two weeks post birth and two weeks for Christmas. When I saw her expression followed by, "well honey, that says something," I realized moving had kicked my ass and taken my name.
On the upside, we absolutely love Denver, our new home and our son's new school. We found a great neighborhood where we enjoy walking to the library, restaurants, shops and the grocery store. We have our health, the family appears to be thriving and we are feeling blessed to have arrived in a place that already feels like home. I have been experimenting with high altitude baking and am happy to report I have had great success with: chocolate cake, cookies, pancakes and quick breads.
This easy and delicious recipe is thanks to my lovely sister-in-law, Tracey, who served this little gem when we first pulled through Vail on our way to Denver. All you need are a few simple ingredients and a spiralizer and voila, you have an amazing summer dish to share at your next gathering.
Title: Spiralized Summer Squash Salad
Author: Tracey Clery
Prep time: 15 mins
Total time: 15 mins
Serves: 4
Notes: I have tried many spiralizers and the simpler, the better. The one I linked above is a great bargain for under $12.00. I will add, I only use the spiralizer for squash as I have found other veggies difficult to shred. Feel free to make your own pesto as fresh pesto will add brightness and flavor. If you are short on time like I have been lately, the pesto sauce from Costco and Trader Joes is pretty darn good.
Ingredients
2 lbs of summer squash
1 pint of cherry tomatoes
¼ cup of pesto sauce
Related