 Once a little-known and misunderstood tradition celebrated in Southern Mexico and Latin America, the Day of the Dead is crossing over into mainstream U.S. culture with a whirlwind of exhibitions, parties, educational projects, art classes and parades throughout the country.
In parts of Latin America, Dia de los Muertos is celebrated Nov. 1-2 with families remembering the dead with graveside picnics, all-night vigils and prayer gatherings. They decorate the graves of loved ones with marigolds, candles, sugar-coated skulls and the favorite dishes of the departed.
The pre-Columbian tradition combines themes and rituals drawn from indigenous practices and Roman Catholicism. In fact, the holiday coincides with All Saints' Day and All Souls' Day.
But the burgeoning Latin American population in the U.S. and increasing influence of Hispanic culture have propelled the tradition well north the border and given it new flavor and flourishes, the Associated Press reported:
In Houston, artists hold a "Day of the Dead Rock Stars" where they pay homage to departed singers like Joey Ramone, Johnny Cash and even "El Marvin Gaye."

Community centers in Los Angeles build altars for rapper Tupac Shakur and Mexican artist Frida Kahlo.

"It's everywhere now," says Carlos Hernandez, 49, a Houston-based artist who launched the "Day of the Dead Rock Stars" event. "You can even get Dia de los Muertos stuff at Wal-Mart."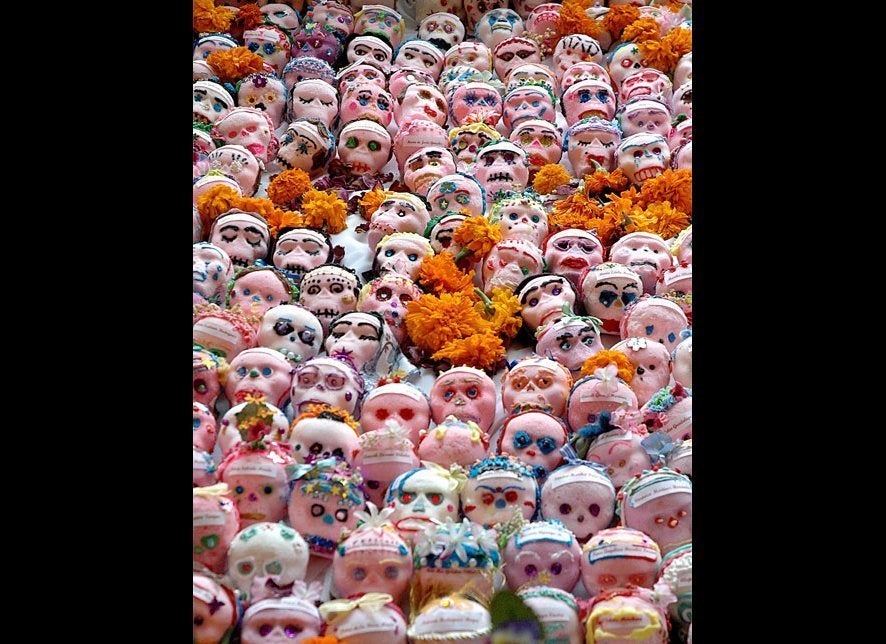 Day of the dead
In North America, decorations often center on images of La Calavera Catrina, a skeleton of an upper-class woman whose image was made popular by the late-Mexican printmaker Jose Guadalupe Posada.

She is typically seen on photos or through papier-mache statues alongside other skeletal figures in everyday situations like playing soccer, dancing or getting married.

"She is our best-selling item," said Torres, 35, who owns the Masks y Mas in Albuquerque, N.M., a shop that sells Day of the Dead art and clothing year-round. "I have artists sending me their Catrina pieces from all over."

Albuquerque's National Hispanic Cultural Center hosts an annual "Dia de los Muertos Community Gathering." This year it is exhibiting an altar by Mexican-American novelist Sandra Cisneros dedicated to her mother.

The city also hosts an annual parade where marchers dress in Day of the Dead gear and makeup, and organizes a "Day of the Tread" bike and marathon race.

Events are not limited to the Southwest. Harvard University's Peabody Museum of Archaeology and Ethnology has a Day of the Dead altar on permanent display and offers Day of the Dead art classes to students in second to eighth grades.

And in New York City, the Brooklyn Arts Council recently initiated a year-long Day of the Dead education project to heighten public awareness "on mourning and remembrance."
In Illinois, the Chicago Urban Arts Society marks the occasion with a Baile de las Calaveras, with proceeds going to the Mujeres Latinas en Accion, a bi-cultural organization.
In San Francisco, traditional Day of the Dead altars and art installations created by more than 80 Bay area artists will be part of an exhibit titled "Illuminations: Dia de los Muertos 2011." Also in the Bay area, The Marigold Project will stage its annual Festival of Altars and procession at Garfield Park.
In New Jersey, the oldest cemetery in New Brunswick will be transformed into a sea of light Saturday as the Raices Cultural Center hosts the inaugural Dia de los Muertos family arts day at the First Reformed Church and its adjacent 18th century graveyard.
"We're going to light the place up," the center's co-director Francisco Gomez told the Newark Star-Ledger. "Our ensemble will be playing songs for the dead. When we asked the reverend if we can put candles and flowers around the cemetery, I was expecting him to say no but he turned around and said he's so happy that somebody is giving attention to the graves."
Even in Mexico, where Day of the Dead continues to be a largely reverent and rural tradition intended to celebrate death, the festivities have taken on a modern, commercial feel.
"Dia de los Muertes in Mexico has become a bit of a free-for-all, a five-day weekend with parties and drinking, a smash-up where dad dons a Spider Man costume and mom dresses up as a naughty French maid -- to honor their ancestors, of course," The Washington Post reports. "It's more pop, more pagan and more commercial. There's even some trick or treating, which would have been unheard of a decade ago."
On both sides of the border, many fear the spiritual side of the tradition is being lost, supplanted by Halloween-like revelry.

In Oaxaca, Mexico, where Day of the Dead is one of the most important holidays, the cemeteries are packed with U.S. and European tourists snapping photos of villagers praying at burial sites.
"I think the more people look beyond the art and learn about it, the more people will understand its real significance," Oscar Lozoya, 57, an Albuquerque-based photographer told the Associated Press.

WATCH RELATED:
Popular in the Community