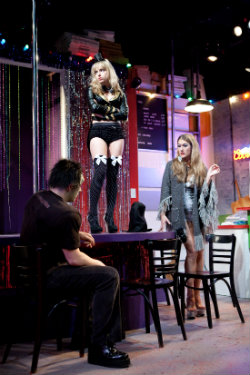 It's Halloween night in Smitty's Tittys and Pies, a New Jersey dive populated by a loser manager, two pole dancers and a drunk. The spirit of dead dancer Tina, sister to the sassy Marie Therese and former girlfriend of Agatha, eerily inhabits the seedy joint. The setting may be sleazy, but the portraits ring true.
Spirit of Exit Eleven, at off-Broadway's Lion Theater, travels in Lanford Wilson country. The despair is reminiscent of Hot L Baltimore and Balm in Gilead, though playwright Michael Puzzo doesn't hit Wilson's thematic heights. However, he successfully captures the voices of those eking out a living in a world where they can't get a break -- and nicely addresses the complicated issue of our hidden selves.
These are strippers with crappy lives -- "living g-string to g-string" -- but caring hearts. Butchy (Michael Carlsen), the woeful bouncer/manager, laments the guises we wear. He projects a bemused decency, augmented by a subtle melancholy personified in his Halloween choice: a quasi-Frankenstein. Marie Therese (Deborah Rayne), who has a complicated relationship with Butchy, offers an air of Jersey Girl defiance. She is costumed as an Eskimo, partially covering the body louts pay nightly to view. She is least known, Butchy ruefully notes, when stripped bare.
Agatha (Nicole Balsam), meantime, dreams of escape in the Olympics, deluding herself into thinking she can compete as a pole dancer. Tommy (Stephen Payne), the club's resident drunk, rouses himself periodically to engage in unexpected poetic pontification.
When a crippled man (Shane Patrick Kearns) applies for a job, he acts as a catalyst to confront buried truths. Spirit of Exit Eleven is about crushed lives and fragile hopes. It's more of a day-in-the-life slice of pathos than a drama with a conventional story arc, but it has its moments. There are funny bits, coupled with occasional insights and flights of literary fancy, which warm the air at Smitty's, a frozen wasteland where dreams go to die.
Puzzo has created credible characters and David Meyer a perfect set. Director Frank Licato gets his ensemble to click. Arch mother figure Marie, like Butchy, is street smart; together, they fumble toward a connection in a world of limited options. Rayne's tough vulnerability and Carlsen's brusque empathy play off each other well. Puzzo, a playwright to watch, has packed some interesting ideas into his latest work. But he needs a stronger construct to give this Spirit life.
Support HuffPost
The Stakes Have Never Been Higher
Related
Popular in the Community