When W New Orleans French Quarter hotel first revealed its redesigned Marie Laveau themed room, hospitality staff entering to clean the room saw the giant image of the Voodoo Queen and responded: "Oh, HELL no." The design team noted that the difference between a nod to Voodoo and full on Voodoo is significant in New Orleans. Rooms were redesigned accordingly, with more subtle touches. Anurag Nema, principal at nemaworkshop, says you can see Laveau's eyes on the guest room placard, or her headdress on a directional sign but there is no giant Voodoo Queen watching you sleep. This makes the W's comfortable beds far more restful. On alternate floors, the jazz-themed rooms have a nod to New Orleans musicians with a floor-to-ceiling image modeled after the brass bell of a horn.
The W Brand specializes in design intertwined with the cities it lives in, and in New Orleans that means honoring the music, magic, food and cocktails that have been seducing our visitors for centuries. The 97 renovated guest rooms, exercise facility, pool and restaurant underwent a $9 million renovation celebrated in an unveiling last weekend. I was angling for a reading of our tarot design ceiling, but took a rain check as the tarot card reader was one of the most popular features of the event. W French Quarter must pleased the spirits, with stellar weather for the gala. "We tried, they're taking care of us tonight," said Carlos Becil, Vice President of W North America Brand Management.
What informs hotel's redesign after 12 years? "Music definitely does," Becil said. "Not only in the rooms and the design but the programming, but in how we bring it to life for our guests. For us it's how do we bring that experience to life in the room and show guests insider things they wouldn't necessarily know about." New Orleans musician Shamarr Allen and local writer Keith Spera led reporters on a musical junket through the city as part of the unveiling. "We always look at it as, for our guests, it's what they experience during their stay, not just what happens in our four walls," Becil noted.
In addition to room renovations, new restaurant SoBou is a major part of the W French Quarter redesign. "Food is a big part of the experience, as well as cocktails," Becil said. W French Quarter's SoBou (short for South of Bourbon Street) is billed as A Spirited Creole Experience. "It's a cocktail city to begin with, and you want to be sure you hit that out of the park. That's why we work with Ti (Adelaide Martin). "How do you really weave yourself into the fabric of the city and what really matters? You find partners in the city to work with who can really do that with you. With food and cocktails - if you screw that up in New Orleans, you're in trouble."
SoBou restaurant is helmed by Executive Chef Juan Carlos Gonzalez, who has over a decade with the Commander's Palace family of restaurants under his belt; and consulting chefs Martin, co-owner of Commander's Palace and co-author of "In the Land of Cocktails, and Tory McPhail of Commander's. "We call it our modern Creole saloon," Martin explains. "This is cooking with Louisiana DNA and adult beverages. We're serious about a well-made cocktail." Bar Chef Abigail Gullo favors making bitters and tinctures in-house, and SoBou's bar snacks can be as outrageous as the Crystal Hot Sauce cotton candy with a Smokin Hot Apricot cocktail comprised of tequila, smoky mezcal and apricot liqueur. Either one will have your taste buds standing at attention.
SoBou's walls feature cocktail ephemera from the Museum of the American Cocktail, and a glass installation with glowing bottles that multiply into infinity. Infinity plus one, after an evening of craft cocktails. The beer garden is where foodie meets techie with self-service enomatic wine machines along the wall and beer taps built into the tables. General manager for W New Orleans French Quarter James Wroblewski notes that the W brand's hotels from Paris to Singapore are committed to providing the cutting edge. "The renovation is critical to enhancing the overall guest experience while also drawing in locals with a very personalized touch."
Becil notes that the New Orleans community has been supportive of W in NOLA. "We're happy to have two hotels here. These are an early part of the hotels that helped build the brand and create the energy and inspiration of what we are today. That's why it's important for us to continue to invest." Renovations are completed well ahead of this winter's abundance of events in New Orleans.
"We're ready for the Superbowl. We're good to go and we're excited," He says. "Obviously W has a strong following, and the events we're talking about -- the numbers for Mardi Gras alone are mind boggling. Our investment here is an investment in New Orleans."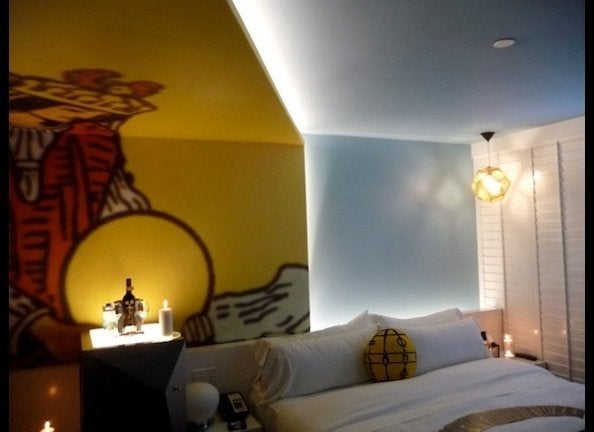 W New Orleans - French Quarter