I recently bumped into Peter Max in a vegetarian restaurant on the Upper West Side of New York City. After a friendly wave, Max invited me over to his table and generously asked if I'd like to share his corn on the cob. I politely declined, as my friend was waiting for me back at our table. I did, however, take the opportunity to connect with Max, who enthusiastically spoke of his new biography: The Universe of Peter Max.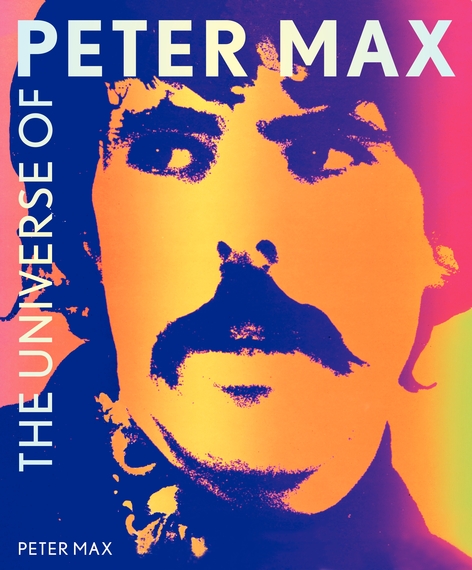 Last year around this time I first met and interviewed Max for the PBS series Market Warriors. In a Canton, Texas episode of the show, I'd purchased an outdoor thermometer I thought was one of his designs. That purchase led me to his studio for further investigation. As fate would have it, I quickly learned the thermometer was in the 'style' of Max, but not one of his own creations. That said, I wasn't fretting over it, because that Max wannabe created an opportunity for me to meet a living legend, and, as it turns out, a great guy.
Interviewing Max that first time was not an opportunity I took lightly. After all, how often does one get the chance to spend a significant amount of time with the man who is widely regarded as America's most successful commercial artist? After his first poster sold eight million copies worldwide, 72 companies began licensing his designs -- which graced everything from postage stamps to pantyhose.
As I began to ask Max questions during that interview a year ago, he directed the conversation back to me, and made sure to get my name, rank and serial number in just a few moments. He then smiled, looked me up and down, and said. "We should get together and work on something." This exchange embodies the kind of open and curious nature that defines Peter Max.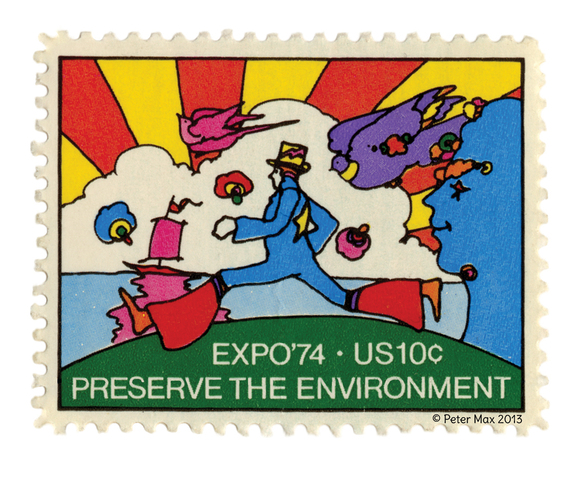 THE JOURNEY IS THE DESTINATION
After we reconnected at that restaurant, I made an appointment to return to Max' studio. This time I came to discuss his biography -- an entertaining, inspiring read released by Harper Collins just last week.
As we sat in his Art Deco conference room, I listened to his stories, and was quickly reminded that with Max the journey really is the destination. He told me that while he appreciates his completed work, he's at his happiest when he's in the middle of creating, so he has many projects going on at once.
"Being in the creative moment, I love much more than the finished piece," Max said. "As I create art, it is like a love affair. My days go by loving what I do."
At 76, Max is a fit, agile man with an enormous amount of positive energy. He feels quite ageless and has an electric quality about him that is palpable. He spoke in low, soft tones, and carried himself with quiet strength. A vegan, Max is attests he's got at least 30 more years to spend on this planet, and I'm inclined to believe him. But perhaps what I get most from Max is that he's happy, content and motivated to keep working.
I feel the art of Peter Max is quite spiritual, and when I shared my opinion with him, he smiled and leaned in closer. It seems I hit the nail on the head, because that's when our conversation really took off.
With the work of Max being so ubiquitous, it's hard to believe that just 47 years ago he was relatively unknown. At the time, Max was experimenting with collage and a filmmaker in Paris saw one of his pieces and invited him to come and make a movie. Max went to Paris, but instead of a movie, he came back with a Swami. Being Peter Max, he invited the Swami Satchidananda into his home, and in very little time, he helped him become established in New York.
Max told me the Swami shared with him concepts that were "poetic, without rhyming" He said they were "about the sun and the universe" and "who we are -- the infinity of life." (Sounds an awful lot like Peter Max artwork, doesn't it?)
"I called all my hippie friends and told them I brought a Holy Man to talk with us. I invited 30 people, and 80 showed up." Those friends included the likes of Carole King and The Rascals' Felix Cavaliere. Max went on to tell me that every one of the guests who had ever used any drugs, immediately stopped, and half of them became vegetarian.
In what sounds like the blinking of an eye, Max formed the Integral Yoga Institute, of which he became President. Max recognized that in order to keep what he had found, he needed to share it with others.
It was shortly after working intensely with the Swami that Max was tapped to create his first poster for the mass market. After the first million sold in the U.S., another 7 million were quickly snapped up internationally. Then came the cover of Life Magazine, then guest appearances on Ed Sullivan and Johnny Carson. Next up there was a contract with GE to create clocks, and so on, and so on...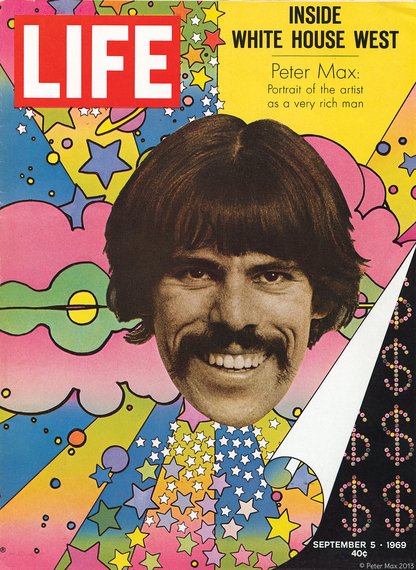 Max the commercial artist had arrived.
Is there a spiritual connection in the work and success of Peter Max? Absolutely.
While his Swami passed away at the age of 90, Max said he is still very much with him. "This holy man brought the cosmos to my heart. He lives in me... I close my eyes and begin breathing... and I know that pleasant place he brought out in me... it's still there. It's in my work... and in everything I do."
As for the Integral Yoga Institute, it is alive and well and continues to pass along the Swami's teachings on a daily basis.
As our conversation about spirituality blossomed, Max shared a recent story with me that showcased his gentle nature. "I am very concerned about our planet and am about respecting all living things," Max told me.
He then talked about a recent plane trip where he found an unexpected stowaway... It seems a creature that fell somewhere between a moth and a butterfly was loose in the cabin. Max saw at least three passengers trying to swat and kill it, and he asked them to please spare "her" life. He asked the stewardess for a cup a piece of paper, and gently captured her inside. Max then held her on his lap for the duration of the trip.
When he landed, he drove to remote area and set the creature free. "She flew out and into the woods, and I never saw her again... and I was pleased for hours and hours... "
Again, with Max, the journey is the destination.
In fact, Max is a bit like that butterfly. His family fled Nazi Germany when he was a child, and they landed in China where they spent a decade. There his artistic life was encouraged and developed. His parents hired a nanny who was just three years his senior. They lived in a Pagoda and he was taught that his work didn't have to have boundaries or limitations (what a gift!). His nanny's name was Umba, and Max channeled pure gratitude when he spoke of her.
Leaving his nanny and mentor at a young age wasn't easy for Max: "When the ship pulled away, I cried my eyes out missing her." His family then headed to Israel for three years, and then onto Paris, where Max studied at The Louvre. After Paris, his family came to New York (Bensonhurst) and then Max moved to New York City.
Max was formally trained as an artist and studied expressionism and realism. He showed me examples of the diversity of his work in the studio, and his artistic range is pretty jaw dropping.
POP ARTIST or COSMIC ARTIST
Max told me he always wanted to be an astronomer, and that idea of unknown galaxies and planets continues to fascinate him. As such, he prefers the phase "Cosmic Artist" to "Pop Artist." It seemed to me that his work allows Max to go places he can't physically get to in this lifetime. He pointed to an image of a man flying among a sea of stars on an image of the Woodstock stage he created, and smiled as he shared the joy of creating it with me.
Since Max hit in the late 1960s, I asked about the word 'psychedelic' in relation to his work. "I don't hear that very much," Max said. "I really prefer the word cosmic." Judging form the hundreds of magazine covers framed on the walls of the studio, most of which had a celestial theme, this phrase seemed pretty right to me.
I was also curious to get his thoughts on whether his first explosion of successful work in the 1960s was a reaction to what was going on in the world at the time, or whether the world reacted to his art. It was a hard question to phrase, but Max has heard it before.
He smiled and humbly said, "My work and that time in history were like two waves that hit at the same time... which part hit first... who can say? It all just became one piece of water."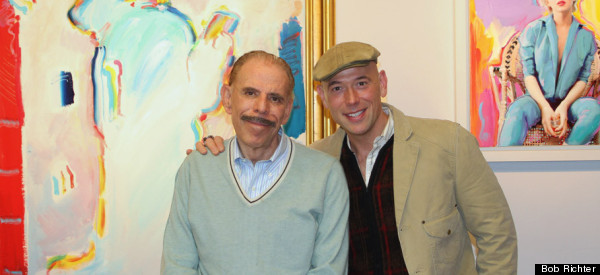 It's hard to imagine a young artist who wouldn't see Peter Max as a role model. I've heard him quoted as saying, "Draw a lot and get someone to represent you." When I read that quote to Max, he nodded and added, "Get into your own creativity. Sketch and paint with different mediums and follow your heart."
Max absolutely embodies the "Anything is Possible" mentality about career. Since I relate, I felt quite connected to him on that front. It seems that for Max, that philosophy also applies to his personal life. He smiled as he showed me a framed photograph of his lovely wife Mary. He told me that 13 years ago he spied her on the street outside in the vicinity of his studio, and he said to a friend who was with him, "I'm going to marry that woman." And he did. Max told me that his wife continues to be one of his greatest inspirations.
With Mary at his side and the Swami in his heart, it seems there's no stopping Peter Max.
For more about this man's incredible, inspirational journey, I highly recommend picking up a copy of his new book. Of course, there are also many photos of some of his best cosmic creations.
Related
Popular in the Community