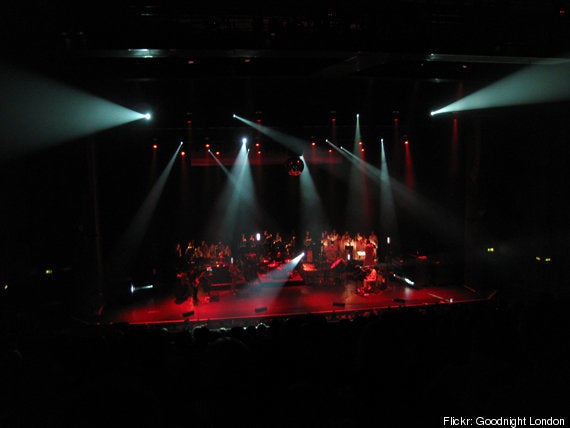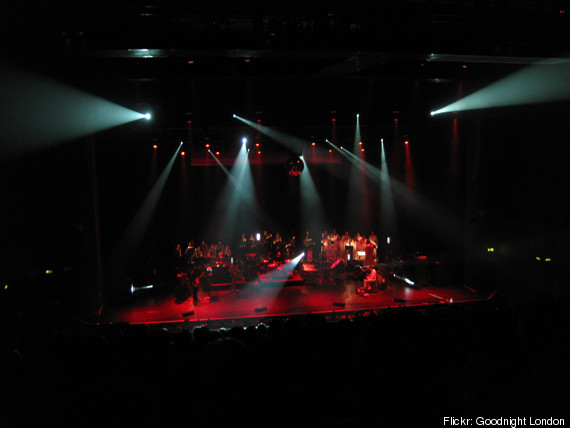 In the final night of Spin Magazine's weeklong 25th anniversary celebration, it could only end one way -- epically. Through the week Spin has been featuring concerts at New York's Terminal 5 including; The Flaming Lips, Smashing Pumpkins, The National and The Black Lips. Yet, it was this final show that culminated into one of the most ambitious concerts New York City has seen all year: Brit rocker J. Pierce -- aka Spiritualized -- performing his 1997 breakthrough Ladies and Gentlemen We are Floating in Space, in it's entirety for the final time, with a full orchestra and choir at Radio City Music Hall.
Spiritualized came during the height of the Britpop/rock movement of the late 90's alongside Oasis, Blur, The Verve, Pulp and others. Yet Spiritualized was not received well in the States initially, and were barely remembered during the early 2000s British music renaissance that birthed bands like Kasbian, The Libertines and The Arctic Monkeys. Nevertheless, years later, they returned with 2008's Songs in A&E, and fans around the world reinvested interest in the daring space rock musical outfit. Performances of Ladies and Gentlemen in full began a few years ago with gigs in the UK, and finally made it to the US. Friday night being the final time Ladies and Gentlemen would be performed, nothing was held back.
The audience was rapture ready to transcend into an unknown musical odyssey. Ladies and Gentlemen is a layered and complex record, yet Jason Pierce and his symphonic assistants brought out each layer and then some. For many, this live performance felt like the first time hearing the record, no matter how many times they had listened before. Nothing could prepare the audience for what they were about to witness. Spending most of the night on a stool with guitar in hand, Pierce and company took the audience from one planet to another. Songs like "All of my Thoughts" and "Electricity" left such a sense of wonderment that all you could ask was, "how does he top this now?" Each song outdid the previous; however, the highlight was the epic "Cop Shoot Cop," which became the night's benchmark and massive first set closer. By night's end, after an hour and half on stage with a two song encore that included "Out of Sight" and "Oh Happy Day," every jaw in the room was on the floor. Ladies and gentlemen, Spiritualized brought you to space and back again -- hope you enjoyed the ride.
Calling all HuffPost superfans!
Sign up for membership to become a founding member and help shape HuffPost's next chapter