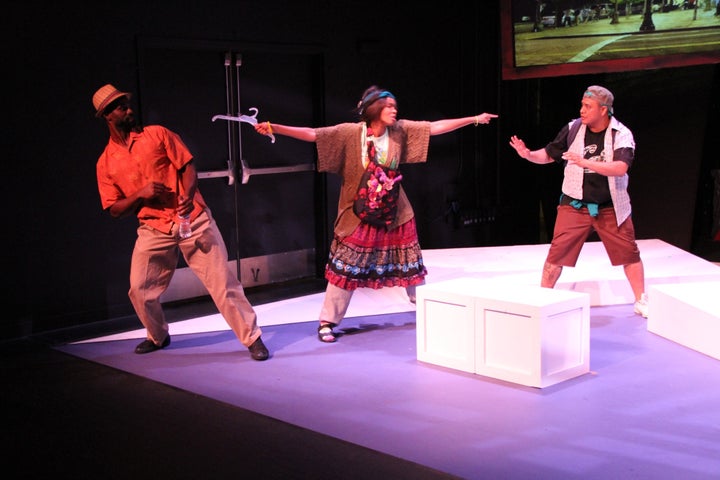 An interview with playwright and actor Alex Alpharaoh and director Claudia Duran about their new spoken word play "Don't Talk About It, SP!T About It," at Casa 0101 Theater. They discuss low expectations faced by the playwright as a Latino in South Central, experiencing homelessness, and transcendence through art.
What does "spit" mean? It seems what you're doing—making spoken word poetry into a play, hasn't been done before. Can you talk about how "Don't Talk About It, SP!T About It" originated?
Alex Alpharaoh: To SP!T is to speak in rhymes, usually done in the moment, off the top of the head. It's in freestyle form and may or may not be accompanied by a beat. The term was originally coined by Urban Theatre Movement member Amery Thao when the very first SP!T showcase was produced in 2010. I've performed in every SP!T show since then with the exception of the Hollywood Fringe Festival 2015 show, where I took on the roles of writer and producer.
This full-length play version originated when I decided to combine my love for both acting and hip hop music. I had a series of spoken word pieces based on vignettes. Then Claudia challenged me to create a linear plot and story for the characters and make this into a full-length play.
Is there a connection to Shakespeare?
AA: I wanted to introduce audiences to the beauty of heightened language using modern common vernacular, just as Shakespeare did in his time. Like Shakespeare, I wrote in iambic pentameter and prose. As an actor, I studied classical text and acting with many coaches including Lisa Wolpe of the LA Women's Shakespeare Co., Robert Beltran of the East LA Classical Theatre Co., and Armin Shimerman of Antaeus Co.,
Shakespeare is a literary mentor of mine. He is to me what Virgil was to Dante.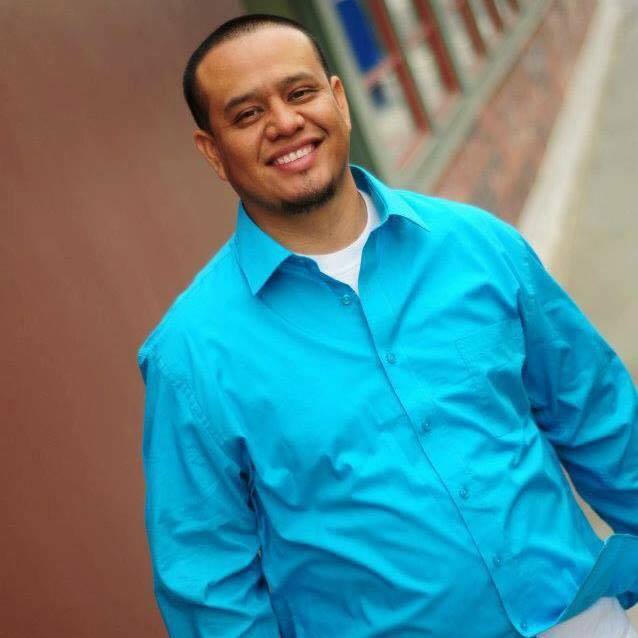 One of the most profound moments for me was when the teenage girl at a Planned Parenthood, with her boyfriend waiting outside, decides she's going to keep her child even though she knows from personal experience as a child of a single parent how this will set back any professional goals she has. She decides keeping the child is her only chance at experiencing unconditional love, which she doesn't get from her partner. Is that from real life?
AA: I was at a Planned Parenthood with an ex-girlfriend when I wrote the lines:
Of course children aren't allowed inside abortion clinics. It's unnatural and cynical, for the laughter of innocence doesn't mix well with the screams of the suction machine, while the would-be mother dreams a white dream, all the while the procedure is done by the medical team.
I was 17 years old. We were scared. It was a mutual decision to go through with the procedure. I would have a son today who would be about 17 years old if my ex and I would have chosen to keep it. Angel would have been his name. I felt Angel would be an appropriate name for the character who plays the would-be father to Elaine (the teenage girl who is pregnant during the show). The trajectory of these two characters in the show is a "What If" of my life's journey.
How much of what is in the play is inspired by real life experiences?
AA: I'd say about 95% of it. The play is derived from my experiences and observations growing up in South Central LA in the '80s and '90s.
The story of Gee, the homeless vet, is based on my personal experiences with homelessness and loosely based on my childhood best friend who's a vet.
I grew up very poor, which meant that my family moved around a lot. I wouldn't be able to keep friends for more than 6-12 months at a time. There was a time in my life when we were homeless and sleeping in an old '87 Oldsmobile and we wore clothes from the Goodwill because my father would get bags of clothing for a couple of bucks.
There is a scene where Gee and Lonnie run into a mentally ill homeless woman looking for her wheelchair. They're about to beat her, because she won't leave them alone and is creating a loud raucous at 3am. A rookie cop stops them just in time. His story is important because not all police officers are bad. I witnessed this scene play out on the streets of the Tenderloin District of San Francisco, where I lived while I studied acting there.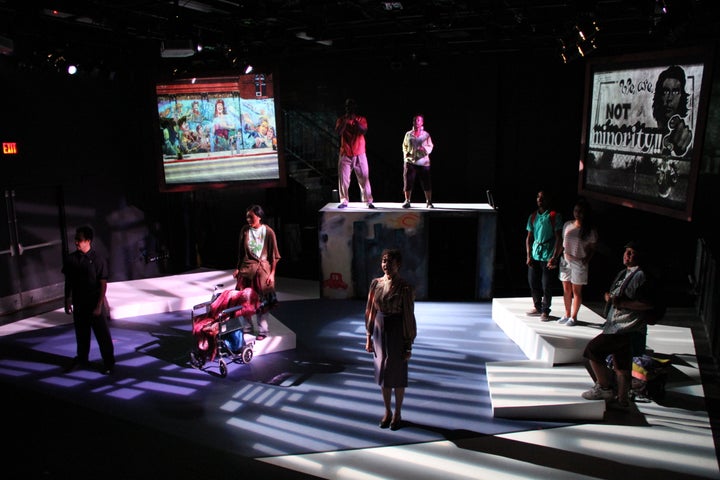 The play is happening at Casa 0101 Theater. Is "Don't Talk About It, SP!T About It" a Latino play?
AA: My play is about social economical disparity which is not limited to race, creed, religion, or country of origin—although these factors play huge roles. Casa 0101 is in Boyle Heights, a neighborhood that's primarily Latino and experiencing gentrification. But my play is relatable to anyone who's ever experienced the pressures of social inequality.
As a Latino raised in Los Angeles, I've seen the LA I grew up in slowly eroded by gentrification. The culture of the immigrant, whether from Latin America or another part of the world, is being replaced by pop culture and consumerist mindsets that have taken what we brought from our homelands, and given it an "Americanized" facelift.
When I was a child, I was always told to keep my head down, to speak only when spoken to, and to work hard and long. If I did this, one day I would be able to maybe finance a nice used car that would be mine in 7 years, and I would maybe be able to afford to live in a rented house. Even with an education, I needed to learn and know my place in society, and a life like this would be considered more than enough for someone like me. This was the American Dream my immigrant family was fed and accepted. This is the singular story about the fate I refuse to give into.
Today, aside from being an actor, writer, producer, poet, and director, I do medical social work for people that are on hospice. I'm putting together another ten-week workshop to teach The Fundamentals of Spoken Word and Performance Poetry, while being a full-time dad to a teenage daughter that lives with me. Thankfully, she is an artist as well, and is very understanding of my artistic plight.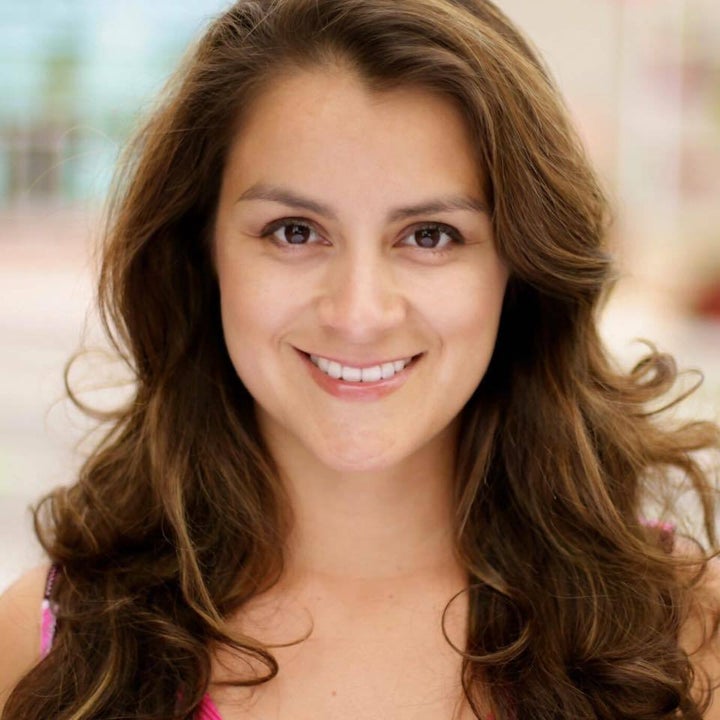 Claudia, what drew you to direct this piece?
Claudia Duran: I first had the opportunity to hear Alex perform a rendition of his CHANGE poem and I felt it was so beautifully moving. And then last summer I saw the vignettes he wrote for the Hollywood Fringe Festival and I knew we had to produce a full-length play! The issues, the words, the characters, were so prevalent in our community. I honestly felt he was writing about my family and life experiences. Alex had tapped into such an honest voice and classical approach that I knew it had to be shared with more audiences. So we spent the following year working out the details.
Were there any particular challenges or high points in bringing this work to fruition?
CD: We faced the matter of finding actors who were also spoken word artists. We needed pros at performance poetry in order to lift the epic poem from the page. That was a challenge because you can find a gifted performer, but they might not understand the nuances of poetry or vice versa, you'll find a brilliant poet who does not necessarily all-out perform their work by creating characters. We were looking for Shakespearean-type performers who could handle rhymes, cadence, nuance, and give full-on emotionally moving performances.
The performances were very affectingWas there a particular approach you used to directing this piece?
CD: In order to properly direct this piece, I had asked Alex to host a class in The Fundamentals of Spoken Word at Casa 0101. It was a 10-week course in writing and performing spoken word. I observed and partook in the class in order to properly speak with actors on how to build a moving, quick pace poem. I had already had years of experience with elevated classical texts and had myself written plenty of poetry, so I had many different techniques to use with each actor. However, I wanted to specifically be able to motivate performers to go into their own deepest subconscious so that their performances were strong, vulnerable, and genuine. It had to seem like each character wrote the poems [they performed] from their personal experiences - which is the beauty of Spoken Word - it's so personal and globally relatable. I'm so proud of each actor in SP!T. They give their whole heart with each performance.
"Don't Talk About It, SP!T About It"
Written by Alex Alpharaoh
Directed by Claudia Duran
Presented and Produced by Lok's Angeles Production and Casa 0101 Theater
Starring Alana Duvernay, Alex Alpharaoh, Andrea McGee, Angel Lizarraga, Antonio Glass, Mardy "McFly" Miller, Shanara Sanders, Wali Habib
CASA 0101, 2102 E. 1st Street, Los Angeles, CA 90033; (323) 263-7684
Performance Times
Fridays and Saturdays at 8pm, Sundays at 5pm; Until Sunday, August 28.
Interviews were condensed and edited
Related
Popular in the Community