If puppets, mannequins and dummies give you the creeps, we highly suggest looking away now. For all the rest of you, join us in this sinister stew of three dimensional caricatures, courtesy of photographers Andrew Bruce and Anna Fox.
The subjects on view are all remnants of "Spitting Image," a British satirical television show that aired in the 1980s and 1990s, poking fun at the relevant politicians and celebrities of the time. When the series was cancelled in 1996, the British gallerist James Hyman kept hold of the biting mockups that characterized the show, bold and dopey portrayals of a Who's Who of England, from Margaret Thatcher to cabinet minister Norman Tebbit.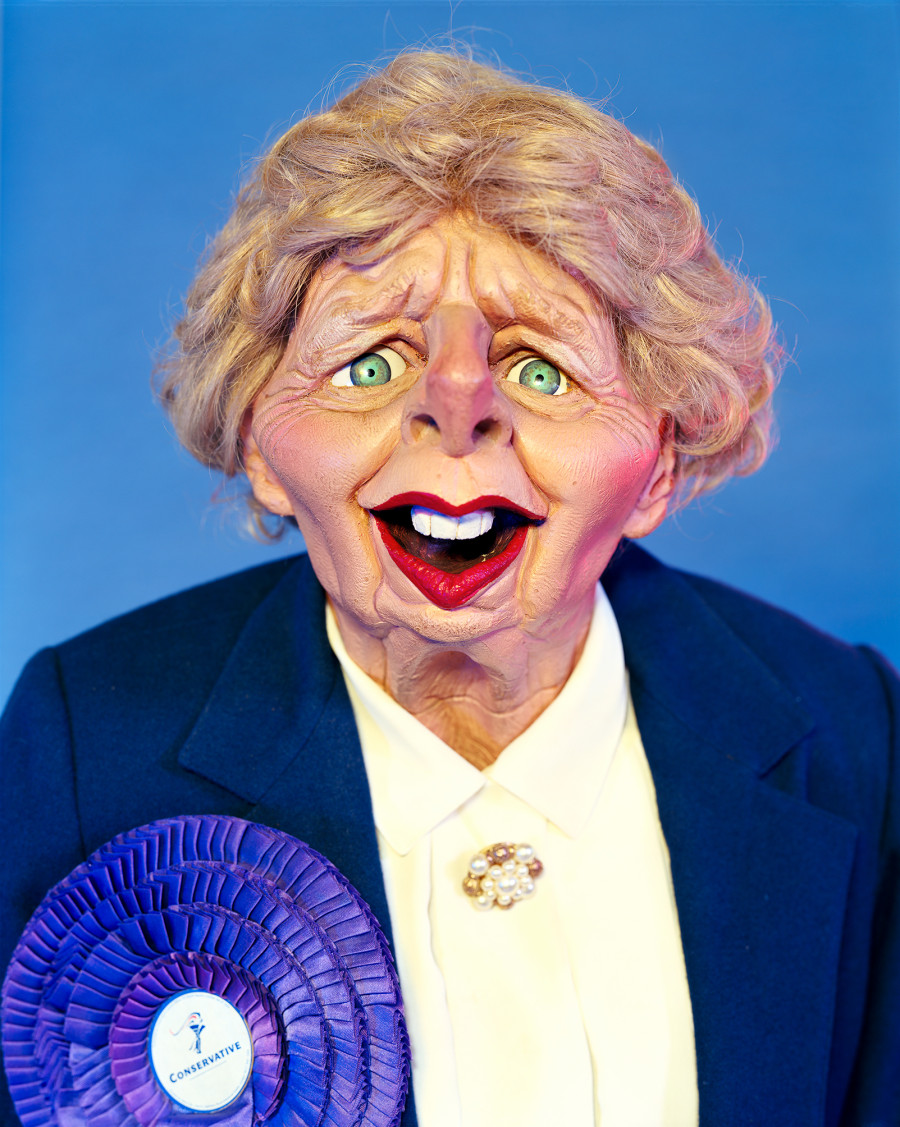 Andrew Bruce, Anna Fox, Margaret Thatcher, Pigment Print, 2015
And now, almost twenty years later, the puppets are coming out to play. For a series entitled "Spitting," photographers Bruce and Fox capture lustrous and unforgiving portraits of the decaying facades of obsolete cultural figures. Propped up against bright colored backdrops, the eerie puppets act as crumbling artifacts of another time. The juxtaposition of their inflated expressions with their faded and withering flesh is hard to face, yet impossible to look away from.
"Once we had them out of their packing cases, lying on the studio floor, the puppets looked broken, aged, decrepit and lacking any glimmer of life," Fox and Bruce explain in a statement. "The orange latex protruded pathetically from underneath their clothing as we re-arranged them on the stand. At one point, Norman Tebbit's head came off as if he was being decapitated by some unknown force. The glamour faded, the sheen gone. Failed characters abandoned in storage..."
"Spitting" runs from April 22 to May 8, 2015 at James Hyman Gallery in London. Catch a preview below.
Calling all HuffPost superfans!
Sign up for membership to become a founding member and help shape HuffPost's next chapter
BEFORE YOU GO
PHOTO GALLERY
Matthew Rolston