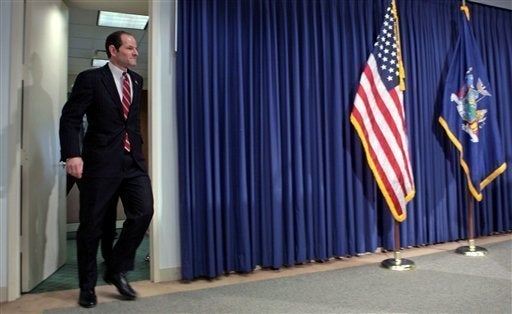 According to sources, Eliot Spitzer has spent up to $80,000 on prostitutes, and may have used tax dollars for the meet ups (meet Kristen, his Feb. 13 liason):
As Gov. Spitzer held the state hostage to negotiate a sweet plea deal Tuesday night, probers looked to see if he used tax dollars for trysts with high-priced hookers totaling up to $80,000.

A source familiar with the probe said IRS and FBI investigators found at least nine instances going back 18 months in which Spitzer made multiple cash transfers linked to Emperors Club VIP, a high-priced prostitution ring.

Although the cash used to pay for a $4,300 prostitute named "Kristen" apparently came from Spitzer's account, he used taxpayer dollars to fly to and from his illicit rendezvous.

Investigators are looking to see whether he used state money for the hotel rooms.
It is unclear how he was able to carry out his meetings with his ever-present security detail:
Since Eliot Spitzer was sworn in as governor in January 2007, he has been escorted by a four-person detail of state troopers assigned to keep watch over him during all his waking hours. (Mr. Spitzer also had a security team during his eight years as attorney general, but it was beefed up when he moved to the governor's mansion.)

So where were the troopers on the night of Feb. 13, when, law enforcement officials say, Mr. Spitzer was entertained by a high-priced prostitute at the Mayflower Hotel in Washington?

The affidavit that outlines the governor's contact with the Emperor's Club V.I.P. prostitution ring and a brunette known as Kristen makes no mention of his security detail. But in one instance, he appears to have called the club to arrange a date within a half-hour of leaving a public event, suggesting he would have been dialing while being driven by a trooper.

What remains unclear is whether protocol would dictate that the officers stand sentry outside his hotel room overnight, or have them call it a day once the governor retires,
He has been with seven or eight prostitutes in recent years:
Gov. Eliot Spitzer had at least seven or eight liaisons over the last several years with prostitutes supplied by an international call girl ring based in New Jersey, according to sources familiar with the investigation into Spitzer's relationship with the ring.

The liaisons between Spitzer and a number of different prostitutes occurred around the country, including in Washington, D.C., and Florida, the sources said. For each encounter, Spitzer paid several thousand dollars, the sources said; The Associated Press cited a source that said the total could be as high as $80,000.
Spitzer got busted because of his wire transfers. He reportedly went out of his way to cover his tracks, triggering the bank to alert the IRS:
Last year, Spitzer wired more than $10,000 from a Manhattan bank account to a front company for the Emperors Club VIP, which hired out prostitutes to high-end clients, according to a newsday.com report.

But in an apparent effort to evade federal regulations requiring that transactions involving $10,000 or more be disclosed to the government, Spitzer broke up the money into a series of smaller transfers on numerous occasions over at least a year, sources said.

Despite that, Spitzer got worried that he could be tied to the transfers and asked the bank to remove his name from the transactions. The bank reportedly refused, not only because of regulations, but also because the money had already gone out.

The millionaire, married politician has been hopping into bed with harlots for as long as a decade and traveled as far as Florida for steamy trysts, sources said.

One of them, a 22-year-old call girl who goes by the name "Sienna" on her Web site, told ABC News that Spitzer paid her for sex two years ago when he was still attorney general.

He tipped big and "didn't do anything that wasn't clean," she added.
The night of his meeting with "Kristen," Spitzer was searching for classical mood music:
Shortly before his pre-Valentine Day's Washington, DC, hotel tryst with the call girl now publicly known as "Kristen," Spitzer asked his aides in the Mayflower Hotel if they had a classical-music CD he could bring to his room, a witness said.

Between 9 and 9:15 p.m. on Feb. 13, Spitzer came down to the hotel bar and asked his contingent of about eight for a CD, which no one had, the witness told The Post.

The governor - normally a rock fan who last year attended a Bruce Springsteen concert in Albany - was said to be wearing a blue sweatshirt and jeans.

"At the time, he claimed it was to help him focus and concentrate," the source said of Spitzer. "He said he was going to work late into the night."

The governor was seeking the mood music just minutes before the prostitute arrived at the hotel.
One high-priced call girl named Kristen is deyning she's Spitzer's Kristen.
Popular in the Community