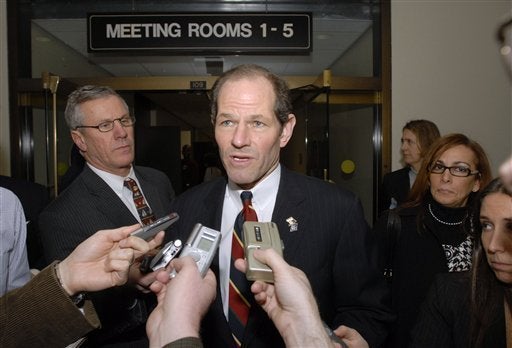 "Gov. Eliot Spitzer has been caught on a federal wiretap arranging to meet with a high-priced prostitute at a Washington hotel last month, according to a person briefed on the federal investigation," the New York Times reports in a blockbuster revelation.
The wiretap recording, made during an investigation of a prostitution ring called Emperors Club VIP, captured a man identified as Client 9 on a telephone call confirming plans to have a woman travel from New York to Washington, where he had reserved a room. The person briefed on the case identified Mr. Spitzer as Client 9.

The governor learned that he had been implicated in the prostitution probe when a federal official contacted his staff last Friday, according to the person briefed on the case.

The governor informed his top aides Sunday night and this morning of his involvement. He canceled his public events today and scheduled an announcement for this afternoon after inquiries from the Times.

The governor's aides appeared shaken, and one of them began to weep as they waited for him to make his statement at his Manhattan office. Mr. Spitzer was seen leaving his Fifth Avenue apartment just before 3 p.m. with his wife of 21 years, Silda, heading to the news conference.

The man described as Client 9 in court papers arranged to meet with a prostitute who was part of the ring, Emperors Club VIP, on the night of Feb. 13. Mr. Spitzer traveled to Washington that evening, according to a person told of his travel arrangements.

The affidavit says that Client 9 met with the woman in hotel room 871 but does not identify the hotel. Mr. Spitzer stayed at the Mayflower Hotel in Washington on Feb. 13, according to a source who was told of his travel arrangements. Room 871 at the Mayflower Hotel that evening was registered under the another name.
Read the alleged conversations between Spitzer and the prostitute here.
Report: Spitzer Indicted, Will Resign: New York's CBS 2 reports that "Spitzer was not expected to continue as governor and may resign by Monday evening ... Lt. Gov. David Paterson could be sworn in as governor as early as 7 p.m. Monday."
New York State Assembly Republican Minority Leader James Tedisco has already called for Spitzer to resign.
Spitzer Responds: Spitzer today made a brief public appearance during which he apologized for his behavior, and described it as a "private matter."
"I have acted in a way that violates my obligation to my family and violates my or any sense of right or wrong," said Mr. Spitzer, who appeared with his wife Silda at his Manhattan office. "I apologize first and most importantly to my family. I apologize to the public to whom I promised better."

"I have disappointed and failed to live up to the standard I expected of myself. I must now dedicate some time to regain the trust of my family."

Before speaking, Mr. Spitzer stood with his arm around his wife; the two nodded and then strode forward together to face more than 100 reporters. Both had glassy, tear-filled eyes, but they did not cry.

The governor spoke for perhaps a minute and did not address his political future. He declined to take questions and promised to report back soon. As he went to leave, three reporters screamed out, "Are you resigning? Are you resigning?", and Mr. Spitzer charged out of the room, slamming the door.
Implications For 2008 Race: Spitzer has endorsed Sen. Hillary Clinton in the Democratic primary, and is a superdelegate at the Democratic national convention.
"I don't have any comment on that, but I obviously am sending, you know, my best wishes and thoughts to the governor and to his family," she said.

When asked whether she thought the beleaguered governor could survive the scandal, the senator declined to comment.

"Let's wait and see what comes out over the next days, but right now I don't have any comment, and I think it's appropriate just to wish his family well, and we'll wait and see how things develop," she said.
Obama also responds: "I really haven't seen the details of it, so I don't know what's going on," he said. "I'm a little in the dark."

HuffPost's OffTheBus reports: Bev Davis reports on wife Silda Spitz's position at her husband's side:
Naturally, Spitzer's wife, Silda Wall, was at his side, which seems to be de rigueur for these sorts of unsavory political sex stories.

A Harvard law graduate, as is her husband, Silda looked as if she was about to cry before Governor Spitzer began his prepared remarks. Actually, their arms were wrapped around each other! As Governor Spitzer read his prepared speech, her face turned a frozen, stoic mask. She looked intelligent. She looked hurt. Why do they do it?
More On Emperor's Club Sting: The Times reported last week that federal authorities had arrested four people on charges of running an online prostitution ring "that serviced clients in New York, Paris and other cities and took in more than $1 million in profits over four years." [Read all about the Emperor's Club.]
The ring, known as the Emperor's Club V.I.P., had 50 prostitutes available for appointments in New York, Washington, Miami, London and Paris, according to a complaint unsealed on Thursday in Federal District Court in Manhattan. The appointments, made by telephone or through an online booking service, cost $1,000 to $5,500 an hour and could be paid for with cash, credit card, wire transfers or money orders, the complaint said.

According to the office of the United States attorney in Manhattan, Mark Brener, 62, of New Jersey, was the leader of the ring, but delegated day-to-day business responsibilities to Cecil Suwal, 23, also of New Jersey. The office said that Ms. Suwal controlled the bank accounts, took applications from prospective prostitutes and oversaw two booking agents, identified by the authorities as Temeka Rachelle Lewis, 32, of Brooklyn, and Tanya Hollander, 36, of Rhinebeck, N.Y. ...

The ring's Web site showed pictures of the prostitutes, cropped so faces were not visible, and listed names like Sienna and Christine. The Web site, which was disabled shortly after the arrests were announced, ranked the prostitutes on a scale of one to seven "diamonds." A three-diamond woman, for example, could command a fee of $1,000 per hour. A seven-diamond woman cost more than $3,000 an hour.

For its most valued clients, the Emperor's Club offered membership in the elite "Icon Club," with hourly fees starting at $5,500, according to the federal complaint. The club also offered clients the opportunity to purchase direct access to a prostitute without having to contact the agency.
Popular in the Community