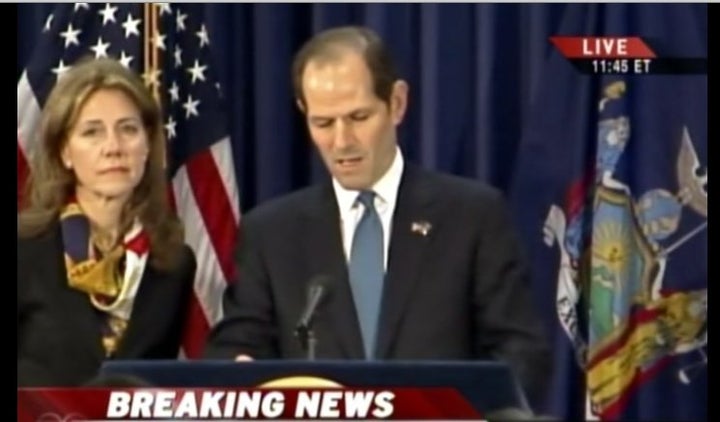 Wife Silda again by his side, he faced the cameras and press with apologies, but did not specify for what.
"I look at my time as governor with a sense of what might have been," Spitzer said, with his expressionless wife Silda standing at his side. "There is much more to be done, and I cannot allow my private failings to disrupt the people's work."
Lt. Gov. David Paterson will become the 55th governor of New York and the state's first black governor.
"I am deeply sorry that I did not live up to what was expected of me," he said.
More details today about Spitzer's use of prostitutes and bank activity that triggered his downfall.
In the two days since news of Mr. Spitzer's involvement in the prostitution ring surfaced, he has been engaged in an intense legal and family debate about whether to resign or, as aides said his wife was urging, to stay on.

Mr. Spitzer, who had been holed up at his apartment at Fifth Avenue and 79th Street in Manhattan since issuing an apology on Tuesday, emerged at about 11:15 a.m. Wednesday with his wife by his side and got into a black S.U.V. [watch], which headed for his headquarters on Third Avenue as news helicopters followed above.

On Tuesday, as Mr. Spitzer, a first-term Democrat, contemplated his next move, the New York political world remained in a suspended state, with cries -- even from fellow Democrats -- growing louder for him to step down.

In one of the last and desperate rounds of the end game, a top Spitzer administration official reached out to Assembly Speaker Sheldon Silver's staff on Tuesday to see if the governor could avoid an impeachment vote. But the prospects were grim.

Republicans have pledged to try to have Mr. Spitzer impeached and only 34 of the more than 100 Democrats in the Assembly would be needed for the matter to be referred to the Senate for an impeachment trial. It was clear during the discussions that 34 or more Democrats were almost certain to vote against the governor.
What Charges Could Spitzer Face: Slate outlines the possible crimes that Spitzer may have committed:
Spitzer may have violated any number of federal laws. If prosecutors do go after him, they're most likely to focus on the Mann Act (18 U.S.C. § 2422), federal structuring laws (31 U.S.C. § 5324), and federal money-laundering statutes (18 U.S.C. § 1956).

The Mann Act: This series of laws, passed in the early 1900s in response to hysteria over "white slavery," proscribes the knowing persuasion, inducement, enticement, or coercion of "any individual to travel" from one state to another "to engage in prostitution, or in any sexual activity for which any person can be charged with a criminal offense." If, in fact, Spitzer arranged for Emperors' Club VIP "employee" Kristen to travel by train from New York to Washington, D.C., to engage in illegal sex (and, particularly, if he paid for her train ticket), his actions would almost surely fall within the range of conduct prohibited by the Mann Act.

A violation of 18 U.S.C. § 2422 is punishable by up to 20 years' imprisonment. Under federal sentencing guidelines, however, Spitzer would probably face just 15 to 21 months if convicted.

Read more about each law in relation to Spitzer's actions.
Spitzer is considering a plea deal with the government, the AP reports:
Whether U.S. Attorney Jeffrey Taylor, who prosecutes federal and local laws in the District of Columbia, will bring charges against Spitzer likely depends on the plea deal the governor is negotiating with the government in New York, two senior law enforcement officials said.

In a statement issued after Spitzer's resignation, U.S. Attorney Michael Garcia said there was no deal with the fallen governor: "There is no agreement between this office and Governor Eliot Spitzer, relating to his resignation or any other matter."
Clinton Offers Sympathy: Fellow New Yorker Hillary Clinton commented on the Spitzer affair:
Democratic presidential candidate Hillary Rodham Clinton _ no stranger to political sex scandals _ sounded a short, sympathetic note Wednesday for disgraced Gov. Eliot Spitzer, saying she is thinking of his family.

"I'm deeply saddened by this turn of events and my thoughts are with Governor Spitzer's family during this painful time," Clinton said in a statement.
FBI Previously Watched Spitzer: "Weeks before a hotel meeting with a prostitute that threatens to derail his career, the FBI staked out New York Gov. Eliot L. Spitzer at the same hotel in an unsuccessful effort to catch him with a high-priced call girl," the Washington Post reports. "The FBI placed a surveillance team on Spitzer at the Mayflower Hotel for the first time on Jan. 26, after concluding from a wiretapped conversation that he might try to meet with a prostitute when he traveled to Washington to attend a black-tie dinner, the source said Tuesday."
Paterson An Unlikely Governor: Here's a HuffPost bio of the new governor.
Spitzer will be replaced on Monday by Lt. Gov. David Paterson, who becomes New York's first black governor. He also will be the state's first legally blind governor and its first disabled governor since Franklin D. Roosevelt.

Paterson said in a statement that he was saddened, but would move forward. "It is now time for Albany to get back to work as the people of this state expect from us," he said.
The Politico's Ben Smith profiles Spitzer's successor David Paterson:
"He comes in with certain strengths - he knows state government, he knows the formal and informal rules, he knows the players," said Doug Muzzio, a professor of public affairs at Baruch College in New York. "The question is, does he have the strength as an executive to get it done. There's a big difference between being governor and being minority leader in the state Senate [Paterson's previous job]. The minority leader in the Senate is nothing."

The relief and trepidation in New York share a common source: Paterson's charm, his quick wit and his eagerness to please. Those traits could be an asset after Spitzer's 14 months of bitter conflict. But at a time when the state is wrestling with a difficult, multibillion-dollar budget, there are drawbacks to having a new governor who describes his own worst failing as a difficulty in saying "no."
New Yorkers Wanted Spitzer To Go: A SurveyUSA poll taken yesterday found that 67 percent of New York residents wanted Spitzer to resign.
Popular in the Community