When I think of a summertime cocktail, I think of something cool and refreshing while I chill on a sultry evening. Light, of course. And filled with delicious seasonal ingredients. Perhaps citrus, or maybe fruit flavors such as peach or watermelon or berries or, um ... Avocado?
Seriously? Avocado? Yes! It may seem momentarily shocking and hard for some people to wrap their heads around, but surprise...avocado, shaken with ice, adds a really wonderful freshness to a summertime drink.
The avocado-based California Roots cocktail is the perfect example of a delicious vodka drink. The ice breaks down about 90% of the avocado, and it brings a natural creaminess to the mix unlike anything else you'll experience. What you get is a beautiful texture with a little bit of the avocado mingling with all the other ingredients. If you're imagining drinking guacamole, stop! It's nothing at all like that. It's very smooth and creamy and delicious.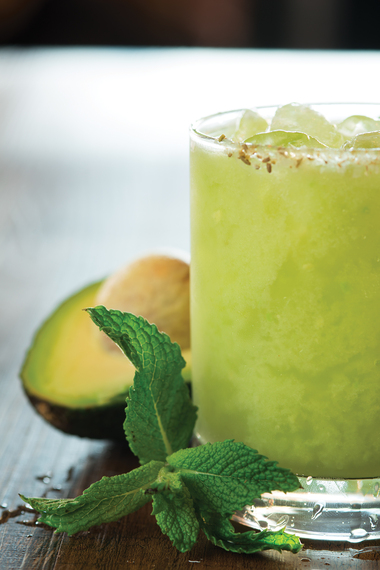 I also wanted to use a natural sweetener in this drink. Organic agave nectar is a big part of the equation here, as is fennel salt and fresh squeezed lime juice, which provide an amazing flavor burst. Garnish with a sprig of fresh mint and you have another reason to love summer.
Another cocktail to enjoy on a summer evening after work or while on vacation is the Blueberry Ginger Smash. Amber spirits, such as whiskey and rye, are making a huge resurgence and this cocktail features one of my favorites: Jack Daniels. And one of the main ingredients in the Blueberry Ginger Smash is Domain De Canton ginger liqueur.
For the Blueberry Ginger Smash, I started with the Jack Daniels. Then I thought about seasonal ingredients that would work well with whiskey. And again, I wanted to use fresh fruit in this cocktail. So I decided on combining blueberries and lime. Oh, and like the California Roots cocktail, with its avocado and fennel, there's a healthy aspect to the Blueberry Ginger Smash, too. It contains agave, which is a natural and organic sweetener, fresh blueberries, lime juice and cranberry juice. These are all very nutritious ingredients. It may not be the reason to enjoy this cocktail, but it's a benefit.
Summertime is for everyone, so if you want a non-alcoholic cocktail which is still totally refreshing, there are spirit-free drinks that truly celebrate the season. Consider the Fresh Strawberry Mango Cooler. This is a hand-shaken drink using Fresca, fresh strawberries, guava, passion fruit, ginger and mango. It really hits all the right notes for a perfect summertime beverage. Kids love this one too, but it's still sophisticated enough for an adult.
We seem to be getting back to our roots in cocktail development. Cocktails from the 1800s and the 1900s are back in vogue but are being reinvented. And I think the current spirits trend will see a lot more experimentation with the amber spirits like whiskey and the rye.
And don't forget the garnish. Whether it's candied ginger or a fresh Hawaiian sugar cane stalk, garnishes play a big role in the allure of the cocktail. They really accentuate the drink in the glass.
Summer will be over too soon. Enjoy the season ... and the drinks!
¼ tsp Fennel Seeds
¼ tsp Kosher Salt
1. Using a small blender or mini food chopper, crush fennel seeds until coarsely chopped.
2. Mix the crushed fennel seeds with the kosher salt.
3. Place fennel salt on a plate.
1 ea lime wedge (for rim)
1 ½ oz Vodka
½ oz Fresh Lime Juice
1 ¼ oz Agave Nectar
¼ of an avocado, cubed
1. Rub lime wedge on the outside rim of half of the rocks glass.
2. Place glass upside down on the plate with fennel salt.
3. Rotate the glass to coat half of the rim (avoid getting any fennel salt inside the glass).
4. Fill a cocktail shaker with ice.
5. Add vodka, fresh lime juice, agave nectar, and avocado.
6. Cover and shake until mixed and chilled (about 30 seconds and the shaker turns frosty).
7. Strain over ice into the rocks glass.
8. Garnish with a mint sprig.
9. Enjoy!