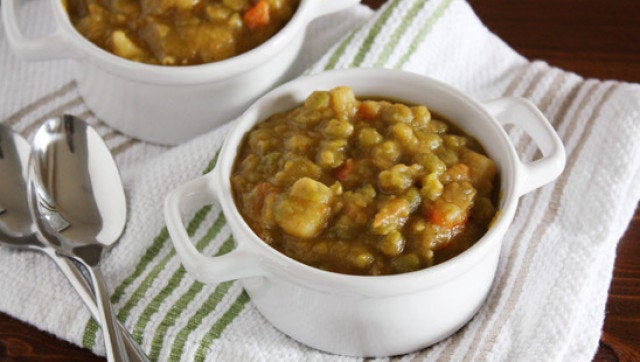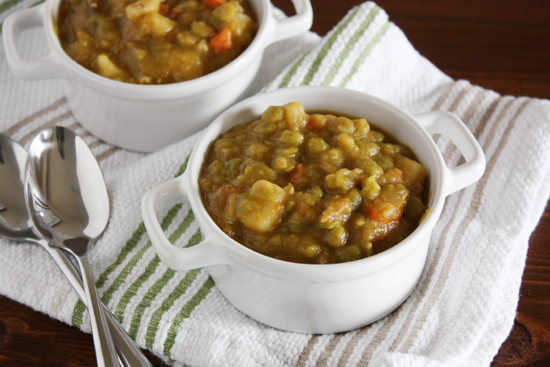 Happy New Year, everyone! Let's get healthy and buy gym memberships and start eating salad every day and yada yada yada.
Or, we can just make some soup.
There really isn't much to say about split pea soup that you probably don't already know. It's hearty. It's savory. It's comforting. But split pea stew? Take everything you know about its soup sister and triple it. It's so hearty, it sticks to your spoon. It's so savory, you won't be pining for more flavor. It's so comforting, you'll want to wrap yourself up in it like a blanket and cuddle there for the rest of the day. In other words, it's a great way to start the new year: Satisfied, full and cozy.
What I love most about this recipe, apart from its inherent simplicity in both ingredients and method, is that it's healthy, but it doesn't taste healthy. Now, I know everyone says this and in many cases it's just not true (no matter what, to me, a lettuce wrap will always taste like a LETTUCE wrap, even if you stuff a cheeseburger inside of it), but I can assure you this is a different situation. Sure, it's made with green peas and potatoes and carrots and other good-for-you ingredients that are, by all accounts, vegetables that taste like vegetables. But when they mingle together on the stovetop for a couple of hours, they transform into a super-rich, super-indulgent soup-stew that tastes like it shouldn't be good for you. And yet, it is. There are no ham bones thrown in, no bits of bacon, no sprinkles of cheese. Just wholesome, basic, hearty winter vegetables. The perfect formula for feeling satisfied, full and cozy - to me, one fine New Year's resolution on its own.
So Happy New Year, everyone! Go ahead and buy your gym memberships and eat your salad and yada yada yada. But when you're in need of a little bit of comfort (or just something to balance all those salads), this soup will be right here.
1 medium yellow onion, chopped
2 teaspoons minced garlic
2 tablespoons olive oil
1/2 teaspoon dried oregano
Salt and pepper
2 cups diced carrots (about 3-4)
1 cup peeled and diced baby red potatoes (about 3)
1 lb dried split green peas
8 cups water, plus more as needed
In a large, 4-quart stockpot over medium heat, add onion, garlic, olive oil, oregano and salt and pepper to taste. Saute until onion is translucent and lightly browned, about 10 minutes.
Add carrots, potatoes, half the split peas and 8 cups water; bring mixture to a boil. Reduce heat and simmer uncovered 40 minutes, stirring occasionally. Skim foam off the top with a slotted spoon as needed.
Add remaining split peas; stir. Simmer another 40 minutes or until peas are soft, stirring occasionally. Add more water as needed to thin the soup. Remove from heat; add salt and pepper to taste. Serve immediately.
Recipe adapted from The Barefoot Contessa Cookbook.
Popular in the Community