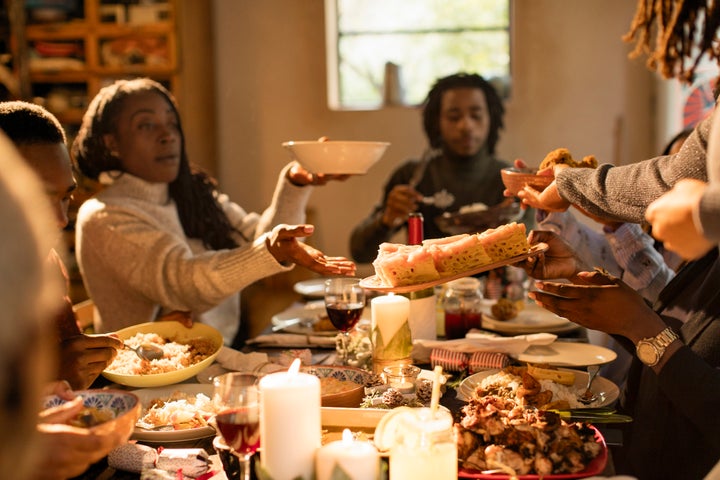 The holidays can be a hectic time of year for many, between the shopping, cooking, traveling and partying. And when you're part of a couple, trying to figure out how to divide time between your respective families adds a whole other layer of stress. For couples with divorced parents, it gets even more complicated.
The first step is making a plan with your significant other. Broaching the subject of how to split up the time ― especially if both of you have family plans and traditions you don't want to give up ― can be tricky. Therapist Kurt Smith recommended opening up the conversation by first asking your partner what he or she has in mind, instead of going straight to what you want.
"Starting off by seeing what your partner is thinking about time with their family and then afterward expressing your wishes for time with yours is a gentle approach that can lead to a mutually acceptable compromise," he told HuffPost. "Whatever you do, don't start off by announcing your plans. Put your partner first, and it's most likely to lead to a win-win for both of you."
So how do you make the effort to spend time with relatives without running yourself ragged or offending family members? Psychotherapist Elisabeth J. LaMotte emphasized the importance of establishing boundaries and expectations with family.
"It is reasonable to explain [to family members] that making two trips during one holiday will feel too overwhelming and simply won't be possible," LaMotte said. "This boundary can be set with kindness and respect and can include a suggestion for an alternative plan next year or next holiday."
We asked couples to tell us the different ways they divvy up the holidays between their families. Here's what they told us:
If your families live a few hours from each other:
"For the major holidays, it's important to both of us to spend quality time with each of our families. Since my husband and I started dating, we split the holidays. Thanksgiving Day is spent with his family and we celebrate with my family the following day. We spend Christmas Eve with his family and Christmas Day with my family.
The first year of us dating definitely presented some challenges with how to spend the holidays because each of our families had been used to things being celebrated a certain way for a long time. For example, he used to spend both Christmas Eve and Christmas Day with his family prior to us dating. There was never anger from our families, but rather a feeling of hurt and disappointment. We never wanted any relatives to feel unappreciated or left out, which was why splitting the holidays is so important to us." ― Elizabeth I.
If your families live very far apart:
"My husband's family lives on the opposite coast, so getting together with them during the holidays involves a big trip. When we were married but had no kids, we went back East a few times at the holidays. But after kids, we decided it was best if we didn't travel that far, especially at Christmas, because the kids like to be home. It's hard because we love seeing his family, but once you have kids, things really change.
My family lives about an hour away, so we do get together with them at Christmas. Since my sister and I both have kids, we decided that everyone would celebrate Christmas morning at their own houses, then we would get together in the early afternoon and spend the rest of Christmas together (and have Christmas dinner together). This has worked out really well.
For Thanksgiving, we go to Hawaii with our friends (a family who has kids the same age as our kids). At first, I think this bothered my family because they liked having everyone together on Thanksgiving. To their credit, they came around and are now OK with it. One thing I learned is that there is no easy way to say, 'Hey family, we won't be joining you for Thanksgiving because we will be in Hawaii with friends.' The first time I told them, they were kind of shocked. But we've gone several times now, so it's become routine.
Since we don't get to see my husband's family at Thanksgiving or Christmas, we do try to see them other times — like New Year's Eve or the Fourth of July. Times when it's a bit easier to make that trip." ― Adrienne Hedger
If your families live very close together:
"We live really close to our families, just a couple of streets away from each parents' house. On Christmas, we wake up at home and head straight over to my husband Rob's parents' house. We have coffee and open presents and head straight over to my parents' house for breakfast and more presents which takes us to lunchtime.
Rob heads home and eats an early dinner at his parents' house while I stay back and prepare food with my family. We prepare a meal for around 10 to 12 people most years, so the extra pair of hands are needed! Rob then comes back around 6 p.m. for Christmas dinner No. 2. I don't know if you've ever seen 'My Big Fat Greek Wedding,' but that is pretty much my life. You can't leave the table without having at least two platefuls. Then, for dessert, Rob's family comes to my parents' house and we all eat cake together and play Heads Up until we're all drunk and tired enough to head back to our sofas for some typical Christmas TV specials!" ― Lily Butcher
If your families live close-ish but driving is a pain in the butt:
"My wife and I alternate holidays each year. This year we are doing Thanksgiving with my family and Christmas with hers, and next year it will be vice-versa. Our families live an hour apart, and after eating, I don't feel like getting up off of the couch, let alone driving that far. My family is Italian ― my mom gets upset if I don't call her once a day, so of course they are disappointed when we aren't there for a holiday. It is tough because I miss the tradition of my mom asking, 'Is something burning?' but as the years go on it gets easier.
Seriously though, my advice is: Explain to your family you love them both and wish you could spend every holiday with them but let them know they are always in your thoughts." ― Dan Regan
Responses have been lightly edited and condensed for clarity and length.
Before You Go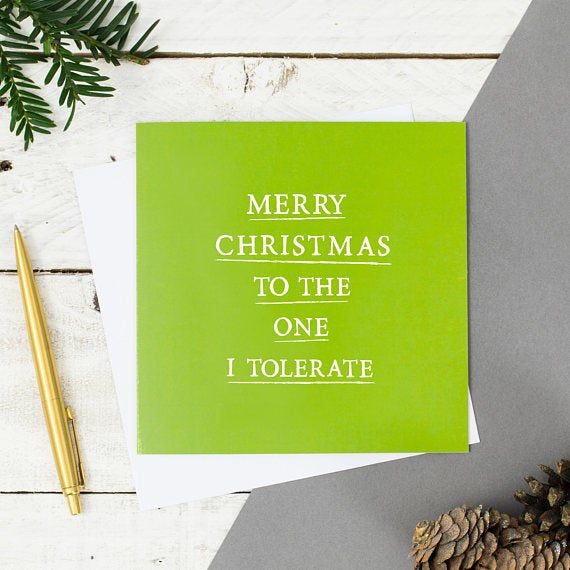 Funny Holiday Cards For Couples