Consider Black Friday and Cyber Monday warm-up for the Olympic games that are the holiday season. From the tree acquisition to the candle lighting, to gift-wrapping lines that coil around several street blocks, holidays bring about frenzy, mania and anxiety over finding the perfect gift.
As the years pass, I find myself focusing less on fine ribbons, lavish bows and displaying my affections with my wallet. Instead, I've opted to give my friends the gift of memories.
Recently, I hosted a potluck dinner in my home and every guest left with a miniature cookbook - a collection of all the recipes from the dishes served that evening. Last year, I held a clothing swap, where over a hundred pieces of clothing were donated to a local shelter, and suits to Dress For Success. While these may not be gifts one could ferret out from under a tree, or exchange for a gift card, they are investments in ourselves and in our friendships. They offer us a healthy dose of perspective.
Our relationships bind us on the foundation of mutual love and respect, not the gifts we give. It has been years since my friends and I have exchanged presents, and thus each holiday I've opted to splurge on myself.
Whether it's a jasmine illumine, a luscious body scrub or a honeysuckle cream, I acquire miniature treasures, objects that I wouldn't ordinarily purchase during the year, as I'm the pragmatic sort.
This season I invite you to consider giving more of yourself and your time to others and then reward yourself with a little retail therapy. In part two of my Splurge-On-Me gift guide, I'm offering a fantastic list of must-have items for your holiday list.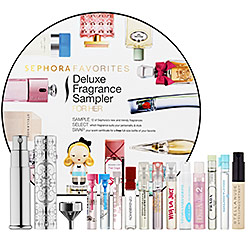 Acquiring a new fragrance gives me vertigo. It's an extraordinary commitment to remain with one bottle of perfume for over a course of a year, and I rarely have more than three bottles on rotation. What I adore about Sephora's Deluxe Fragrance Sampler ($50) is the fact that it offers twelve deluxe samples of Sephora's best-selling scents - from the subtle florals of Donna Karan's Cashmere Mist to Prada's citrus infusion, to Stella's delicate rose bouquet, to the ultra-glam spicy Michael Kors' Very Hollywood, you're bound to find your new signature scent. Once you've elected your scent d'jour, you then can snag a full-sized version of your covetable scent. Another delicious option, especially for book-lovers? Exquisitely bound in a faux-book, Memoire Liquide Reserve Vacances Liquide ($95) immediately transports you to a bleached-white shoreline, glinting wave crests and freshly-cut coconut. The bespoke fragrance is a intoxicating blend of Tiare flower, Tahitian vanilla and coconut milk. Scents have this uncanny ability to breed and evoke memories. You will want to envelop yourself in this delicious elixir.
If you're on a quest for the crown jewel of illumination, look no further than Diptyque's Violette ($60). I've always been enraptured by the line's distinct, subtle fragrances, which warm and fragrant your surroundings, and when my sweet friend Jamie opened the box of her luscious candle, I nearly passed out in her cubicle. Although the price-tag is gasp-worthy (read: punch in stomach, hole in wallet), I resolved to purchase this divine bit of luxury. Formulated with lush violets that harken back to childhood memories, Violette gives off a strong, sweet and subtle fragrance, a delicate blend of humus, undergrowth and shadow. Diptyque craftsmen blend the wax with very rare natural essences from Grasse to ensure that each candle releases the perfect amount of scent for as many as 60 hours of burning.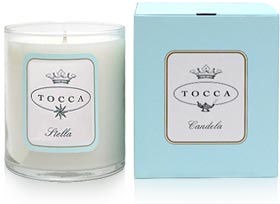 Equally captivating is Tocca's Stella Candle ($36), which reminds me of Mediterranean orange groves. Captivating, warm and undeniably fresh, this luscious blood orange candle is the antidote to the frenetic holiday season.
Believe me when I say that I am not the weekly manicure/pedicure sort. It's an extravagant, temporary indulgence and the idea of paint chipping might possibly drive me mad. As I'm always looking for ways to create my own D.I.Y spa experience, I look to Yes To Carrots Tender Touch - Manicure Make Over Kit ($19.99) for my manicure fix. Formulated with a delicious, warm blend of carrot seed oil, pumpkin, sweet potato, fig, and dead-sea mud, the paraben-free scrub and moisturizing cream will leave your cuticles, hands and elbows cashmere-soft and buffed. Invest in the carrot!
For the woman who craves a sensible, lightweight handbag, I offer the Botkier Clyde Trigger ($455): Although this bag exudes more of a downtown flair, Type-A gals like me j'adore its multiple compartments, subdued grommets, and distressed texture. I recently scored the Trigger in Oxblood (view left) for a song, and I'm obsessed with my new purchase.
From shooting footage of the office puppy to holiday party antics to your beloved by the tree, I'm smitten with Creative Lab's Vado HD 8G Pocket Video Camera ($129). Compact, with a wide-angle lens and high-definition 720p, this miniature camera offers phenomenal picture clarity in natural light (however, the camera doesn't perform as well in low light) and ease of filming and instant sharing. As I tend to do much of my shooting during the day, the Vado is a formidable find.

My recent acquisition of Jouer's Love.Inspire.Give Bath & Body Set ($75) is the embodiment of pure luxury. Many creams and oils formulated with botanicals tend to be heady and overwhelming, but Jouer's luscious whipped cream is rich in jasmine, honeysuckle and gardenia. What I love about this set is the fact that the scent lingers, it seeps into your clothes, perfumes your bathroom. Christina Zilber, Founder + Creative Director of Jouer Cosmetics and Unicef Advisory Board Member for Southern California Chapter, has donated a portion of Jouer sales from 2009 to the US Fund for UNICEF.
For me, the ultimate in affordable luxury is the environmentally-conscious Origins. Origin's Ginger Delights collection ($42.50). At turns crisp, spicy and delicately sweet, the ginger and citrus concoction will awaken your senses while the olive, grape seed, rice bran, and apricot kernel oils will keep your skin luxuriously smooth and nourished. As temperatures tumble and our skin becomes parchment, this divine collection will provide supreme moisture and spa-like delirium.
As one of my friends said last night, Every time I use Origins, I feel as if I've left a spa. So why not create a little DIY self-indulgence by acquiring the collection and creating your own spa experience?
Popular in the Community