Most men agree: Finding the ideal gift for a woman is no walk in the park. Romance aside, how about the perfect gift for the most important woman in our lives? We're talking, of course, about your mom.
With Mother's Day approaching (Sunday, May 10th -- mark your calendar), it's time to recognize that special lady. Like most of us, your busy schedule has kept you from having time to buy a gift or reserve a table at the best brunch spot in town. At least, that's what you keep telling yourself. No worries, here's a better idea.
Instead of wasting money on an item that may or may not suit her fancy, provide her with an experience she'll never forget. We're not talking about an afternoon at a crowded restaurant with a hundred other patrons. Think of it this way: Mom has spent her entire life providing for you. On Mother's Day, she deserves to be pampered.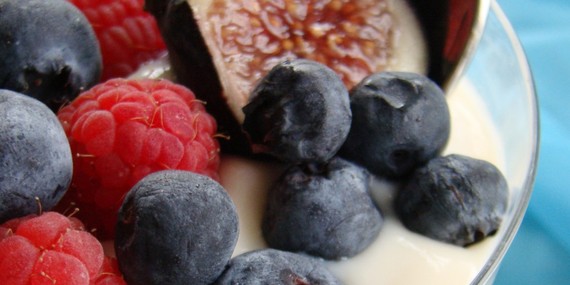 Here is a brunch menu with recipes that'll rival anything you'd find at your favorite restaurant, yet it's simple enough for the novice cook to pull off in the privacy of their own home. Serving a thoughtfully prepared meal to your mother is a true demonstration of love and appreciation. Remember what Mom always told you: Actions speak louder than words.
Let your mom take a load off by offering up a cocktail while you finish up the brunch recipes in the kitchen. Of course, feel free to imbibe. There's no telling what kind of questions she may throw at you.
1 part chilled champagne or Italian prosecco
1 part chilled orange juice
Orange peel twist (garnish)
Combine chilled champagne and orange juice in a champagne flute. Garnish with twisted orange peel.
Brunch Recipe: Lemon-Rosemary Roasted Potatoes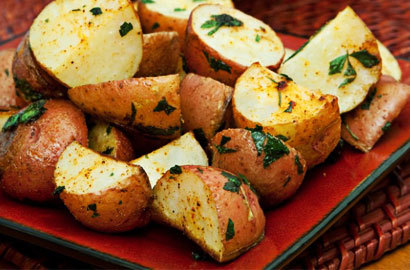 An elegant play on traditional hash browns, these potatoes add some heft to an otherwise light meal.
2 lbs small red new potatoes, scrubbed and quartered
¼ cup extra virgin olive oil
Kosher salt
Fresh cracked pepper
½ lemon
2 cloves garlic, crushed
2 sprigs fresh rosemary
Preheat oven to 425 F (218 C). Put quartered potatoes in a roasting pan or cast-iron skillet. Drizzle with olive oil and season liberally with kosher salt and fresh cracked pepper. Next, add the lemon half (including juice) and garlic; toss well with potatoes until evenly coated. Add sprigs of fresh rosemary on top and roast uncovered, 40 to 45 minutes, or until potatoes are browned and fork tender. Remove rosemary sprigs and lemon. Serve.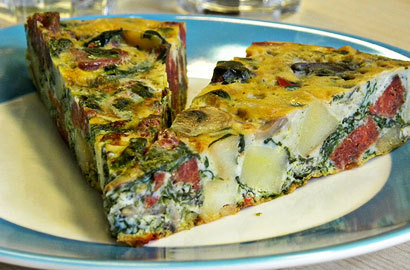 Think of a frittata as a baked omelet. Simple in form and quite versatile, this Italian egg dish makes for easy entertaining. It's best to use an oven-proof, nonstick 10- or 12-inch skillet. We've suggested our favorite options; however, feel free to improvise with your own ingredients. Keep in mind that the basic method for making a frittata remains the same, regardless of ingredients.
2 Tbsp extra virgin olive oil
8 large eggs
Kosher salt
Fresh cracked pepper
¼ lb mild Italian sausage, casings removed
¼ cup red onion, finely diced
½ cup vine ripe tomato, diced
1 cup loosely packed fresh spinach
½ cup feta cheese, crumbled
When potatoes are thoroughly cooked, remove from oven and tent with foil to keep warm. Set the oven to broil. Meanwhile, add 2 tablespoons of extra virgin olive oil to skillet over medium high heat. Beat the eggs thoroughly and season with salt and pepper. Brown the sausage, 3 to 4 minutes, and drain off any excess fat. Next, add the onions and tomatoes and cook 2 to 3 minutes until the onions are tender. Add spinach and cook for another minute, or until the leaves begin to wilt.
Pour eggs into the pan and stir with a wooden spoon or spatula. Cook 3 to 4 minutes, or until egg mixture has set on the bottom and begins to set on top. Next, top with cheese, and place in the oven for 2 to 3 minutes, until the frittata is lightly browned and fluffy. Remove from oven. Cut into even portions and serve immediately.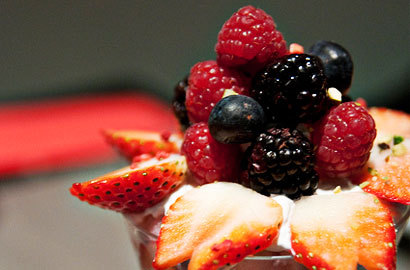 Light and refreshing, this dessert will serve as the perfect ending for such a special occasion. Feel free to substitute the dark chocolate with a drizzle of top-notch balsamic vinegar.
1 pint fresh mixed berries (strawberries, blackberries, raspberries, and blueberries)
2 Tbsp mascarpone or ricotta cheese
Dark chocolate bar, shaved
Add a generous portion of mixed berries into the bottom of two bowls. Follow with a dollop of mascarpone on top of the berries. Carefully arrange chocolate shavings on top. Serve.
Still searching for the perfect gift? Here are some more ideas for Mother's Day surprises...