 So who's responsible for the catchiest holiday song to come along in years? Would you believe Michael Vick and South Carolina Rep. Joe Wilson (who -- you may recall -- shouted "You lie!" at President Obama back in September 2009 as our Commander-in-Chief was addressing a joint session of Congress)?
Strange but true, folks. During a recent phone interview, Tom Kenny -- the actor / comedian / songwriter who's probably best known for voicing SpongeBob SquarePants -- revealed that it was Vick and Wilson's bad behavior which helped inspire the creation of that new Xmas classic, "Don't Be a Jerk (It's Christmas)."
"This was back in 2009," Tom recalled." And my songwriting partner Andy Paley and I were knocking around some ideas for a SpongeBob Christmas album. I mean, why should Alvin & the Chipmunks and Charlie Brown have all the fun?"
"Anyway, what with Vick being sent away to prison for dogfighting and Wilson being so openly disrespectful of the president, it just felt like civilization was falling down around our ears. That everyone on the planet was now acting like a jerk," Kenny continued. "And I wondered : What would SpongeBob SquarePants -- a character who's so sincere, so earnest -- have to say about this? Especially if people began behaving badly around Christmas?"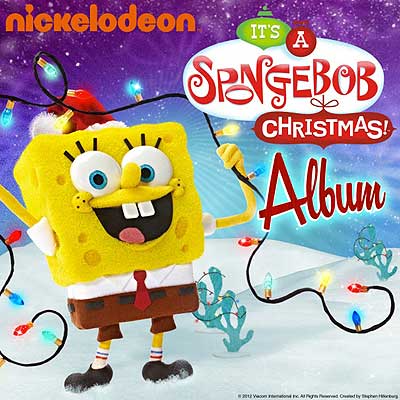 So Tom put his head together Andy and came up with a holiday-themed comical plea for courtesy. A Martha and the Vandellas / Phil Spector-inspired tune which featured lines like:
When others are talking, never interrupt
Don't put people down or leave the toilet seat up
It's the time for family and holly and turkey
Tis the season to be jolly not jerky
But when Kenny & Paley played their "Don't Be a Jerk (It's Christmas)" demo for Russell Hicks, the Executive Vice President of the Nickelodeon Group ... Hicks thought that this song had far more potential than just being the hit single from some SpongeBob Christmas album. Russell thought that "Don't Be a Jerk" was the sort of tune that you could build an entire SpongeBob holiday special around.
"And not just any holiday special," Kenny enthused. "Hicks wanted to do something just like those old school, stop-motion Rankin-Bass holiday specials, 'Rudolph the Red-Nosed Reindeer' and 'Santa Claus is Coming to Town.' Which I watched over and over again when I was a kid growing up in Syracuse."
And given that Screen Novelties had previously done some stop-motion pieces for 2008's The SpongeBob SquarePants Movie as well as the opening titles for the SpongeBob 10th anniversary television special, it only made sense that Nickelodeon would then recruit this L.A.-based animation studio to handle It's a SpongeBob Christmas!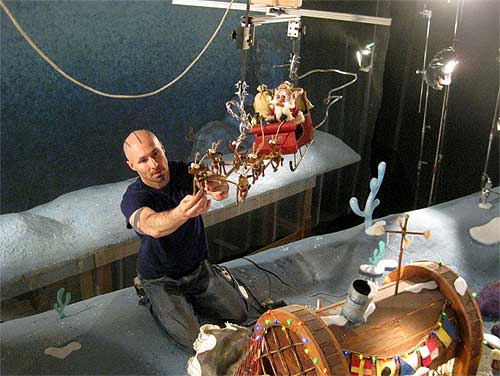 "Mark Caballero and Seamus Walsh -- the guys who co-directed this holiday special -- do such amazing work," Tom said. "During the four months that it took Mark, Seamus and their team to hand animate this show, I used to invent excuses to go by Screen Novelties and just watch these guys work. I'd bring my 15-year-old son along, who wants to be an animator someday, just so he could see how labor intensive the process is."
Mind you, to help support and promote It's a SpongeBob Christmas! -- which premiered last night on CBS starting at 9:30 p.m. ET / PT -- Nickelodeon finally agreed to let Kenny and Paley produce a full-blown SpongeBob SquarePants Christmas album.
"And we really went all out for this holiday album," Tom stated. "To get just the right sound, we chased down Liberace's old harpist, the guy who played the harmonica for the opening theme of Sanford & Son. We've even got members from the 'Wrecking Crew,' that legendary group of session musicians who played on some of the biggest recordings in history to contribute to the It's a SpongeBob Christmas! album."
And to help spur sales of this seasonal recording (which -- as Kenny put it during our phone interview -- is " ... is available from Amazon and iTunes as well as any of the other online music retailers where your finer digital albums can be purchased from"), Tom and Andy are actually touring the country right now with their band, SpongeBob & The Hi-Seas. In fact, they'll be appearing at The Mall of America in Bloomington, MN this Saturday. Where -- starting at 1 p.m. CT -- Kenny, Paley and their band will be performing selections from It's a SpongeBob Christmas Album! at The Patio.
When I pointed out that Tom and Co. will be performing "Don't Be a Jerk (It's Christmas)" at one of the largest malls in the United States on what is sure to be one of the busiest days of the holiday shopping season, Kenny just laughed and then said:
"I guess we'll just have to sing that part of the song about how 'There's a sign above the line that says Express. That means 10 items or less' extra loud and then hope that this message sinks in."
Popular in the Community