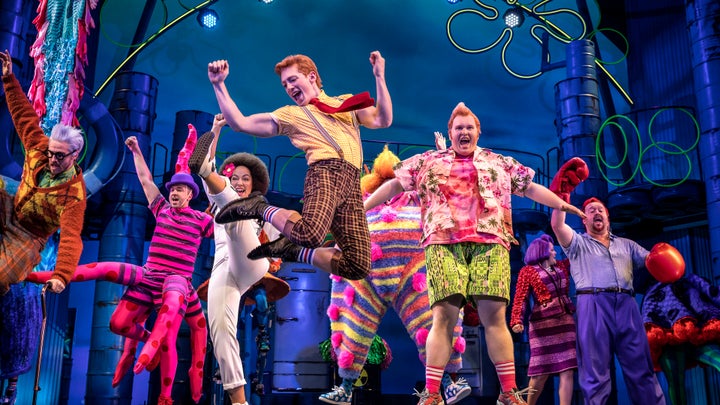 I am of the generation that does not remember a world before Spongebob. Therefore I was extremely skeptical when I heard that Tina Landau was going to adapt the beloved anthropomorphic sea sponge into a Broadway musical. Like many, I had high expectations and was expecting to be disappointed.
To quote a very emotional child during intermission: "I didn't want to like it this much!" Watching this new musical comes with an overwhelming mix of emotions: you go in thinking it can't possibly be good, but during the show you are swept up and captivated, you dance along, you root for your favorites, you laugh and you smile. Although it is certainly unexpected, "Spongebob Squarepants: The Musical" is a hit. It is magical and colorful and fun. It has sophistication and nuance amidst childish jokes and physical humor. Just like the original cartoon, it is an incredible visual spectacle with some real substance underneath. It's perfect not only for children but for families, for adults, for anyone; this musical is for everyone.
This new musical, which opened at the Palace Theater on Monday, is probably not the Spongebob musical most people would expect. Unlike Disney musicals such as "The Lion King" and "Beauty and the Beast" there are no large masks or giant costumes shaped like sponges, seastars, and other fish. Instead, director Landau has imagined a world inspired by the cartoon, translating the 2D world into something 3D. With the help of costume and set designer David Zinn, the entire theater is transformed into Bikini Bottom; the entire set is remarkably made from pool supplies, beach toys, and trash. The costumes are all every-day clothes that evoke the cartoon, making the characters feel grounded. This translation of flat, sea-life cartoon creatures into live performing humans is a remarkable feat, a point that cannot be understated. The director, designers, and actors have accomplished something extraordinary, perhaps one of the best examples of "suspension of disbelief" ever seen in theater.
Ethan Slater, who plays Spongebob, mimics the voice, gestures, physicality, and laugh of his character, fitting with a costume that evokes the cartoon in a subtle way. Lilli Cooper replaces Sandy's spacesuit bubble with an Afro. Brian Ray Norris wears big red boxing gloves to represent Mr. Krabs' claws. Wesley Taylor, briefly holds a small puppet of Plankton, but after the scene discards it; he is in a shiny green suit with an eyepatch, but through the magic of this musical, the audience accepts that he is actually a microscopic single-celled plankton. Disbelief is suspended, the magic is washed over the audience, and we delight in our two and a half hour trip to Bikini Bottom.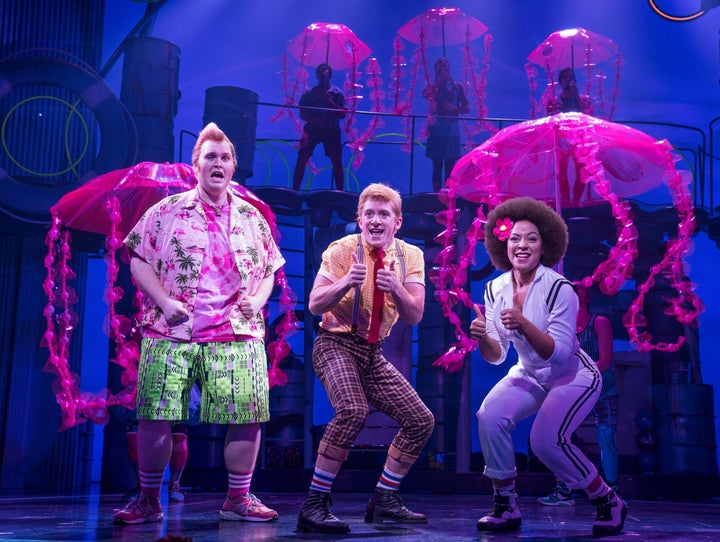 To help flesh out the entire experience there is lighting by Kevin Adams, sound by Walter Tarbach, projections by Peter Nigrini, and live Foley sounds by Mike Dobson. Both Nigrini and Dobson prove that we need more design Tony awards, since their work in projection and live sound design are unparalleled. Dobson has a visible booth in what was once a orchestra-level seating box that is now filled with every sort of odd percussion instrument, which he uses to make live sounds during the show ranging from the squeak of Spongebob's shoes to the crashing of boulders to the echoing stomp of Pearl the whale (played by the extremely young but vocally fierce Jai' Len Christine Lo Josey). He's got chimes and whistles and drums and squeakers and even a gong. The live and visible element of these sounds makes the show feel like a cartoon, complete with a ridiculous and comedic soundscape.
Although the musical does have a plot, it isn't very important; this musical is all about the experience and the enjoyment. We want to live in the world of the musical, regardless of what happens in it. But to summarize: the show starts with an ordinary Bikini Bottom day, but soon turns apocalyptic as a volcano threatens to destroy the town. As the citizens struggle to save their society, friendships are tested, frenzied townspeople are exploited for capitalist gain, and political crisis ensues. In yet another unexpected twist, the musical tackles large themes like xenophobia (the fish protest against Sandy, the land mammal), religious fanaticism (the Sardines form of a cult of devotion to Patrick, played by Danny Skinner), political abuses of power (the somewhat corrupt mayor played by Gaelen Gilliland), and even fake news (represented by the paranoid reporter Perch Perkins, played by Kelvin Moon Loh). So somehow "Spongebob Squarepants: The Musical" turned out to be a politically-relevant, educational comedy.
Although the design, direction, and writing--the songs are all by various artists ranging from Cyndi Lauper, Aerosmith, Sara Bareilles, David Bowie, Panic! At the Disco, Plain White T's, T.I., and more--are all exemplary, significant praise must be given to the actors, who make the cartoon come alive. Where would "Spongebob Squarepants: The Musical" be without Ethan Slater? He is an amazing singer, has the Spongebob walk—danging arms included—and the laugh mastered, exhibits an impressive physicality--including singing while climbing ladders upside down--and has an energy level that is unprecedented. In short, he captures everything audiences have loved about the Spongebob cartoon for the past two decades. By his side are the amazing Lilli Cooper as Sandy, the hilarious Danny Skinner as Patrick, and the superb Gavin Lee as Squidword, complete with a false set of second legs that somehow manage to tap dance. Even the villain couple of Wesley Taylor's Plankton and Stephanie Hsu's Karen the Computer Wife are spectacular. (Praise must be given to my alma mater, Vassar College, which produced both Slater and Cooper.)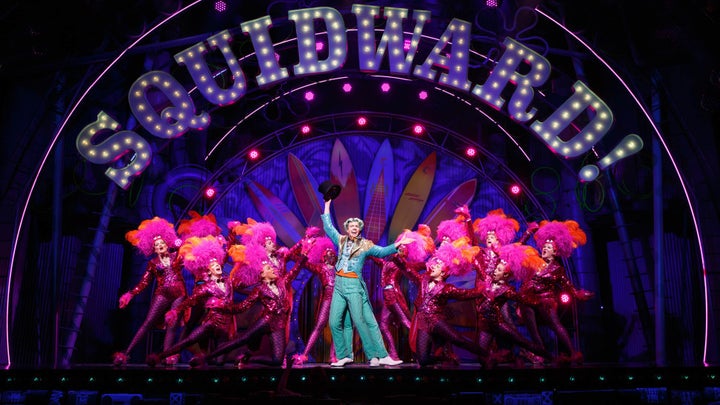 More than anything else, the ingenious direction, well-thought design, and amazing performances of the actors prove how shows like "Charlie and the Chocolate Factory" or the closely-related but not nearly as good "The Little Mermaid" failed. This musical creates a bright and vivid undersea world that feels real. It combines massive spectacle with well-placed low budget gestures, like kelp made from pool floatees, boulders created by large bouncy balls shot down tubes, or debris as confetti placed in front of a fan.
When people heard that Spongebob was getting a Broadway musical they laughed. But the joke is on them, because "Spongebob Squarepants: The Musical" is one of the best musicals on Broadway right now, and is certainly the best musical of the season. Quite simply, it is extraordinary. Go take a trip to Bikini Bottom, you will not regret it for a second.