Seventy-two hours after it rains, a "toxic cocktail" of pollutants from the land, including pesticides, herbicides and fecal-contaminated sewage runoff, makes its way into the ocean, according to the Surfrider Foundation.
What if you could clean some of that mess up just by going for a swim?
A team of engineers at the University of California, Riverside is partnering with the Eray/Carbajo design firm to make an itsy-bitsy dent in ocean pollution with a new invention: the SpongeSuit.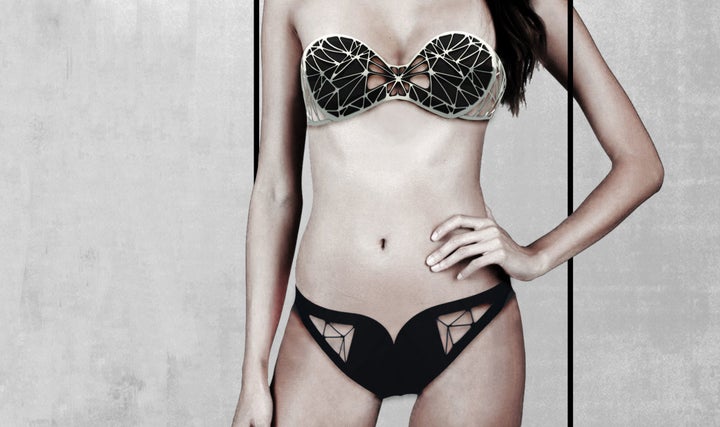 The Sponge is derived from heated sucrose, a form of sugar. According to the product's contest entry, it has a highly porous structure that can absorb "everything but water" and hold up to 25 times its own weight.
Mihri and Cengiz Ozkan, who are married engineering professors at UC Riverside, worked on the Sponge with two other researchers. The team originally conceived of the absorbent material as a means of desalinizing water or cleaning up oil and chemical spills.
They were working on several architectural products that would make use of the Sponge when they heard about the Wearable Technology Competition, which made them decide to start small.
"Why not create an environmentally proactive swimwear and clean as you swim?" Inanc Eray, founding architect at Eray/Carbajo, told The Huffington Post.
To make the swimsuit, Eray and his partners at Eray/Carbajo took the Sponge material and fitted it into a 3D-printed elastic cage in the shape of a swimsuit.
In order to empty the material of the absorbed contaminants, however, the Sponge must be heated to a temperature of more than 1,000 degrees Celsius, or more than 1,832 degrees Fahrenheit.
Since that kind of heat isn't exactly accessible to the average bikini buyer, the swimsuit's elastic cages are designed for easy removal of the used Sponge material. Once the pad has absorbed all it can, the wearer can replace it with a new Sponge filter and recycle the old one, according to UCR's press release.

The university, which has filed patents for the invention, also claims that any contaminants absorbed by the SpongeSuit will not touch the wearer's skin, since they will be trapped within the inner pores of the material, preventing the wearer from being harmed by the concentrated levels of contaminants.
"The Sponge material itself is very low-cost, as its main precursor is sugar," Cengiz Ozkan explained in an email. "The replacement pads will be highly affordable, especially when we are talking about manufacturing in larger scale."
Ozkan also insisted that "there is no feeling of unusual discomfort" that results from wearing a bikini that gets heavier with each swim.
So far, the team has only used the Sponge for the swimsuit, but Eray/Carbajo is looking for more ways to create ocean-cleaning products with it.
"On an individual level, surfboards and other swimming gears are next steps to explore," Eray said. "On the large scale, incorporating this technology into naval architecture will create an opportunity to create more impact."
But even if the inventors have good intentions for the SpongeSuit, at least one expert is skeptical about its effectiveness in cleaning the ocean and about how the used pads will be discarded.
Chelsea Rochman, a marine ecologist and expert in ecotoxicology at UC Davis, says the SpongeSuit's success will depend on how well it soaks up pollutants relative to other items already used in the ocean, such as foam surfboards and boogie boards.
"I also wonder how many bathing suits would have to be out there to make a difference," she added.
Still, she acknowledged that given the sheer magnitude of the problem, any little bit can help. The oceans, Rochman says, are like giant toilet bowls collecting waste -- "almost any contaminant of concern can be found in the ocean, including remote areas," she says.
"It's worth a try," she continued, "if it's actually safe and there are healthy ways to dispose of it that makes sense for waste management."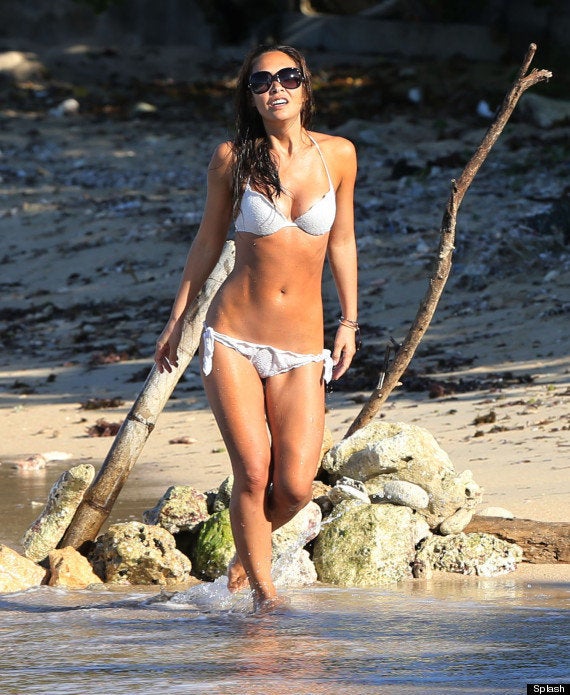 Celebrity Bikini Bodies
Popular in the Community