The spontaneous gesture, the offhand remark, the happy accident: These are the reasons why we pay attention to pop culture. These are the things that we remember, that we talk about decades later. After all, why would we see live music that we've heard dozens of time before? Why do we watch interviews with our favorite artists? Why are we obsessed with arcane trivia? We'd argue that it's the endless possibility for spontaneity, the glimpse of realness behind the glamour.
In partnership with Juicy Fruit, we're bringing you eight moments in music history that gave the phrase #spontaneousfun new meaning.
1956: The Million Dollar Quartet holds a once-in-a-lifetime jam session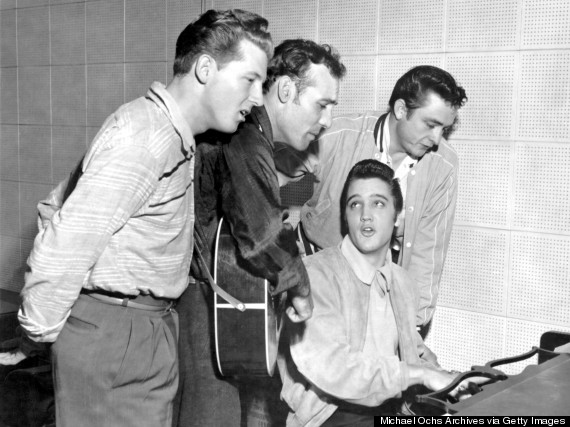 Elvis Presley, Carl Perkins, Johnny Cash and Jerry Lee Lewis walk into a room….
Elvis Presley (now signed to RCA) was at the peak of his popularity, Johnny Cash and Carl Perkins were certified stars, and Jerry Lee Lewis was a relative unknown, but all of them found themselves at Sun Records on this fateful December day. The temporary supergroup jammed on country and gospel songs; luckily, Sun Records owner Sam Phillips was savvy enough to hit "record" and bring in a reporter to ensure this was preserved for posterity.
1960: Ella forgets her lines in Berlin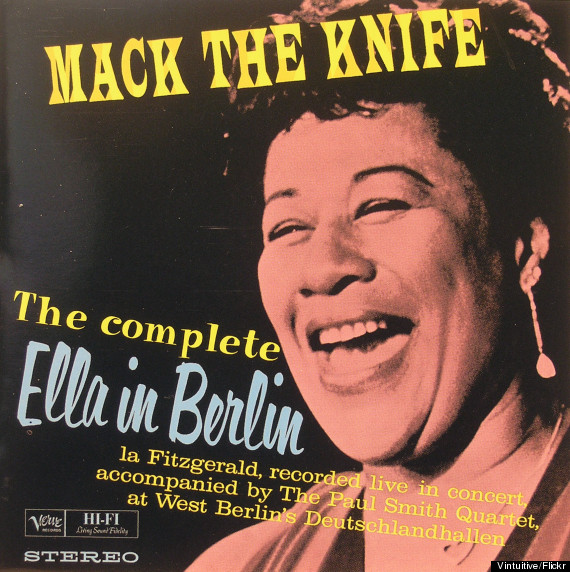 "But it was a swingin' tune / And it's a hit, too / So we tried to do / Mack the Knife."
Ella Fitzgerald's performance of "Mack the Knife" begins innocently enough:
"We haven't heard a girl sing it, and since it's so popular we'll try to do it for you," she says, the band vamping quietly behind her. "We hope we remember all the words."
Well, she makes it through one verse seamlessly, but soon enough, the wheels come off and she's improvising new lyrics with cheerful abandon: "We're makin' a wreck / A wreck / Of 'Mack the Knife.'" By the middle of the song, she's moved on to a singing history of the song, a dead-on impression of Louis Armstrong, and some more metacommentary on her performance. By the end, she's completely brought down the house. This charming "wreck" won two Grammys for Best Female Vocal Performance in 1959.
1969: The Beatles take over the roof of the Apple Corps Building
"You've been playing on the roofs again and that's no good. 'Cause you know your Momma doesn't like that. She gets angry! She's gonna have you arrested!"
To be fair, the Beatles' infamous final public performance, on Jan. 30, 1969, wasn't spontaneous on the band's part; they had long planned a live show as the conclusion to their Let It Be sessions and settled on the Apple rooftop four days before the performance. The session, and the crowd reaction, is fully documented in the film.
Given that it was their first performance in nearly three years, Londoners on their lunch break -- and the London police -- were certainly surprised. Quickly, a crowd formed down below, and their reactions are captured in the documentary, from "Fantastic!" to a grumpy "This type of music has its place."
1973: Keith Moon of "The Who" is replaced by a random fan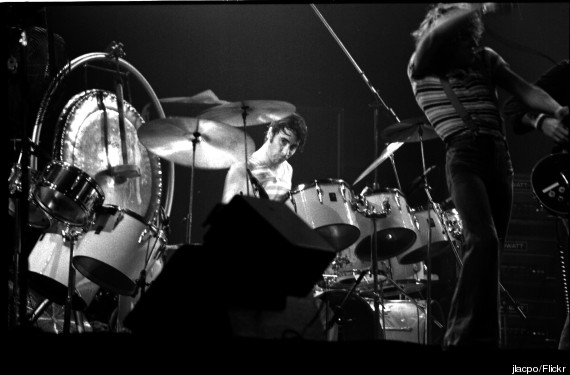 Talkin' about my generation? Talkin' about being in the right place at the right time.
When The Who's legendary (and legendarily reckless) drummer Keith Moon passed out on his drum kit halfway through the set, Halpin ended up on stage. Promoter Bill Graham simply asked: "Can you play?" And the next thing he knew, Halpin was up on stage playing "Smokestack Lightning," "Spoonful" and "Naked Eye" with the band that was left standing.
1979: The Sugar Hill Gang records "Rapper's Delight" in a single take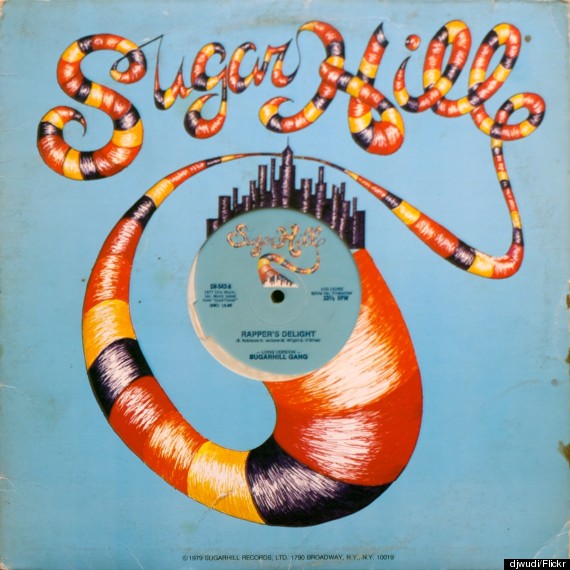 I said a hip hop / Hippie to the hippie / The hip, hip a hop, and you don't stop, a rock it
Widely considered to be the song that popularized hip hop. Contrary to popular belief, the Sugar Hill Gang did not "sample" Chic's "Good Times"; rather, the group used a studio musician to recreate the infamous bass line -- for 15 minutes straight. Luckily, they finished the whole thing in one take.
1984: 'This Is Spinal Tap' premieres
This Rob Reiner-directed movie will forever define "cult hit." It tanked with test audiences, but upon its 1984 release, it received rave reviews from critics and became mandatory viewing for music geeks of all stripes. Fun fact: the cast shot the movie with a four-page treatment and the rest is completely improvised. In 2002, the film was deemed "culturally, historically, or aesthetically significant" by the Library of Congress.
2005-2013: Kanye West does well … anything. But mostly this:
What more can we say? Since breaking through the culture in the mid-2000s, Kanye West has made sure that we would never be bored. Whether he was pontificating on sneakers, television, commerce, or leather sweatpants, West's spontaneous speeches ensured that the spotlight was focused squarely on him.
But West REALLY outdid himself at the 2009 MTV Video Music Awards when he stole the glory from Taylor Swift's win for Best Female Video. After grabbing the mic from Swift's hands and infamously insisting "imma let you finish," West gave his honest opinion: "I'm sorry, but Beyoncé had one of the best videos of all time."
Brutal, Yeezy. Just brutal.
2011-2014: Live entertainment comes to a plane (or train) near you
They really got their wish right now (wish right now, wish right now).
To be honest, spontaneous moments on public transportation are usually a bad thing. However, the rapper B.O.B. gave Delta travelers a pleasant surprise when he serenaded them with his hit song "Airplanes" on a NYC to LAX flight. Although flash mobs and spontaneous performances have become pretty much ubiquitous, some, like the above and, of course, the Broadway cast's subway rendition of "The Circle Of Life" can be epic for those lucky enough to witness them.
Sometimes, the best things in life are unplanned. Check out Juicy Fruit's website for some more #spontaneousfun.
REAL LIFE. REAL NEWS. REAL VOICES.
Help us tell more of the stories that matter from voices that too often remain unheard.