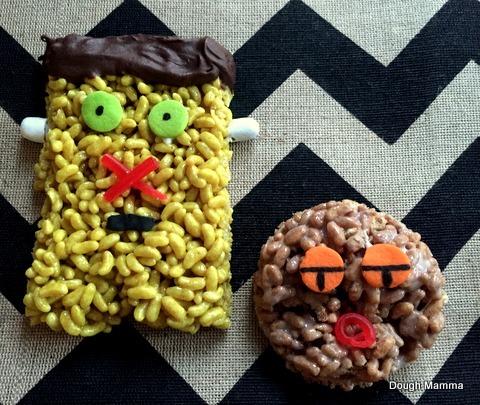 We look forward to Halloween every year and this year is no exception. Since it's our last Halloween in Santa Barbara, we thought we would make it extra special and invite some friends to join us for a mini Halloween bash prior to trick-or-treating. I wanted to make something festive and fun for the kids, without adding too much sugar to an already "insulin"-challenged affair. These cute little crispy treats are the perfect solution, as they are easy to make and can be created using mostly organic ingredients. These will also freeze well if you need to make these in advance.
Happy Halloween!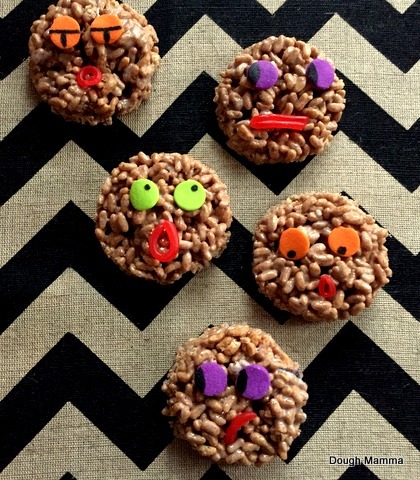 Title: Spooktacular Rice Crispy Treats
Author: Dough Mamma
Prep time: 1 hour
Cook time: 5 mins
Total time: 1 hour 5 mins
Serves: 24
Notes: I used plant-based natural food colors for the Frankenstein treats. Natural food colors will not come out as vibrant as artificial food dye. You can find plant-based food coloring at your local health food store, Whole Foods or online at amazon. India Tree and Color Garden are two brands I recommend. You can purchase organic cocoa crispy cereal and plain rice crispy cereal at most health food stores. You can purchase natural marshmallows or make your own organic version by following my "Bourbon Marshmallow" recipe post. Natural licorice, both red and black, can be found at your local health food store. Michael's Craft store and some grocery stores carry edible googly eyes.
Ingredients
Frankenstein Treats
3 Tbsp of butter
10.5 oz Marshmallows
6 cups of plain rice crispy treats
green plant-based food dye
12 oz semi-sweet chocolate-chopped fine
red licorice
black licorice
Yogurt covered raisins
edible eyes
Alien Faces
3 Tbsp butter
10.5 oz marshmallows
6 cups of cocoa crispy
red licorice
black licorice
edible eyes
Instructions
For both treats, you will heat your butter in a medium size pot over medium heat. Add your marshmallows and stir until completely melted. If using food coloring, add now and mix thoroughly. Remove from heat. Stir in rice cereal.

Press mixture into a wax-paper lined 13x9 pan. You can use a piece of wax paper to help press the mixture flat. Allow to cool for 25 minutes.

Cut into rectangles for Frankenstein and circles for aliens. Set aside cutouts on wax paper.

Heat your chocolate in a microwave dish in 30 second intervals, stirring in between. When smooth, you can dip the tops of the Frankenstein cutouts in the chocolate or carefully spoon the chocolate on to the tops of treats. Take a toothpick or something similar in size and dip the hot chocolate on the back of the eyes. Now adhere eyes to the treats. You may also use royal icing to "glue" eyes if its easier for you to control drips.