Fall is officially here, and you know what that means...Halloween! it is time for the ghosts and ghouls to come out and frolic. Want to know where you have the best chance of finding something spooky in Pittsburgh? Keep reading and bundle up while you are out searching for your next haunt.

University of Pittsburgh's Cathedral of Learning Oakland, PA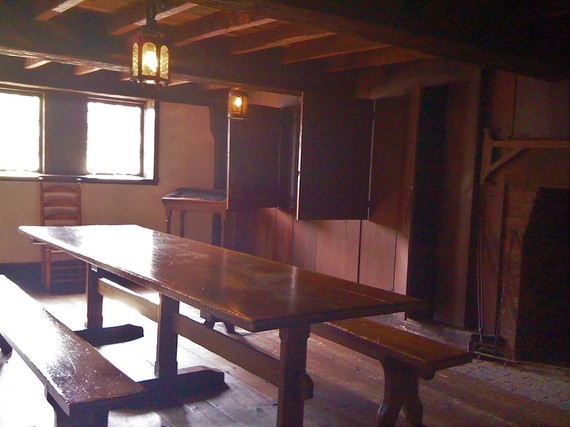 If you are in Oakland, a must stop (besides The O) is Pitt's Cathedral of Learning. Anyone wanting to catch a glimpse of the ghost needs to book a tour since the Early American Room isn't open to the general public.
The Early American Room is actually one of two rooms that are said to be haunted, but the second is completely closed to the public. It is said to be haunted by Martha Jane Poe a distant relative to Edgar Allan Poe.
Martha dies in 1936, but her spirit is said to hang out in the Early America Room where her wedding quilt is proudly displayed on the bed. There are reports of coverlets flying off the bed, objects falling from their places, photographs mysteriously cracking and a rocking chair moving on its own.
This stately home was built by Charles Congelier in the 1860's on Ridge Avenue in Pittsburgh's Manchester neighborhood. Prior to it being demolished in an explosion in 1927, it had quite the haunted history. Today, people still say the spirits roam the ruins looking for the peace they never found in their lifetimes.
Congelier lived in the house with his wife, Lyda and their maid Essie. But when Lyda discovered an affair between her husband and their maid, she went mad and killed them with a knife and meat cleaver. It was said that when Lyda was found days later, she was humming lullabies to Essie's severed head. Nothing is known of what became of Lydia. The house; however, took in quite the interesting occupant following the murders.
After being converted into apartments, the house was abandoned because of mysterious sounds and noises. In 1900, however, Dr.Adolph C. Brunricter purchased Congelier House. Dr. Brunrichter's reclusive nature meant that he never left the house. But just a year after he bought the house, screaming could be heard followed by an explosion from the house. When police arrived, Dr. Brunrichter disappeared leaving behind decapitated heads. Like many serial killers, Brunrichter was quiet, friendly to neighbors and kept to himself.
Find the remnants of the home, and maybe some spirits, at 1129 Ridge Ave. on the North Side in Pittsburgh.

Carnegie Library Munhall, PA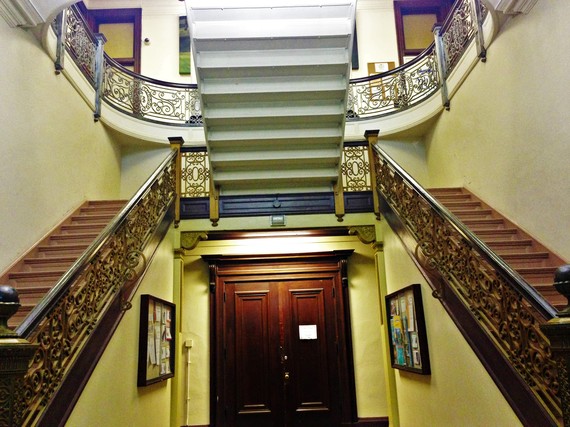 When it was built in 1898, this beautiful library only cost $250,000 to construct. This library was Carnegie's gift to the workers and families of the nearby Homestead Steel Works. The Homestead Strike of 1892 had left many townspeople angry with Carnegie and they did not want to accept the gift. In the end, the amazing building ended up being well used and loved. It is home to a library, pool, gym, and music hall.
Shortly after the building opened, November 28th, 1899, the first tragedy occurred. Robert Peebles "was found dead in eight feet of water" in the pool under mysterious circumstances.
Books fly off the stacks and switch positions on the library shelves for no apparent reason, and doors open and close without any human intervention. Loud disembodied voices have been reported. The ghosts of old steel hands, still dressed in their sooty mill outfits, wander about the structure.
Outside of the library, strange things also occur. The housekeeper claimed to have seen a shadow moving in the back steps of the old music hall in the library; shadow figures of both sexes are regularly sighted in the building. Syfy Channel's "Ghost Hunters" toured the library and also caught the voices of ladies giggling in the basement locker room.
Head over to Munhall to check out a book and maybe check out a ghost! Don't forget to verify library hours before you go.
Giant snakes, apparitions, suicides, murders and mysterious disappearances are all part of this beautiful, but frightening, 400 acre nature preserve's tainted history.
Throughout the years, many visitors have reported strange experiences while visiting the Dead Man's Hollow area. Some of the most common occurrences involve unusual noises and unexplained movement. Visitors often find themselves baffled by tree branches that begin to shake when there is no wind or wildlife to cause the disturbance. Others have felt as if they were being watched by an unseen presence while hiking on the trails.
Dead Man's Hollow has many mysteries and lore associated with it. Some passed down from generation to generation. To read each story, check out the Dead Man's Hollow website here before you embark on a fall hike in the woods!
Broughton School South Park, Pa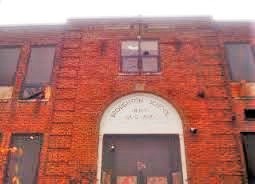 Although this building is off limits to the public, it is home to many haunted tales. Previously, is was open to paranormal investigations and they said it was lit up with activity. Now, the building is closed off, but the spirits are still inside.
The school is said to have been built on the same grounds where people died during the Whiskey Rebellion. The 1929 school was not the original school on the grounds. The first school dated back to the 1800s, but according to South Park resident Nicole Weisbrod of Allegheny County Paranormal Investigators, because of a miners' strike, the original school was shot up and torn down and another built there.
Besides the Whiskey Rebellion deaths, Weisbrod says, "There are several other deaths that are reported to have taken place on the grounds after the school was built, but there are no reports of any deaths having actually occurred in the school." Many who have investigated reported hearing children's voices inside.
The elementary school has been vacated by the living for over a decade, but the spirits of children and teachers alike are said to roam the building, running, shouting and moving objects around. Paranormal investigators who visited the building report capturing chilling voice recordings telling them, alternatively, to "get out of here," and "don't leave."
Since the Broughton School is closed off to the public, there is no official access to the building. No trespassing!
The legend states that the spirit of Charlie No-Face wanders this road and tunnel, along Piney Fork Road in South Park, PA. He is bathed in a green light. This legend, like most other urban legends, is rooted in some truth. The story of Green Man's Tunnel has a solid basis in fact: a boy named Raymond Robinson was climbing power lines as a boy when he suffered an electrical injury, giving him the appearance of a person without a face. There are conflicting stories about where the "green skin" idea came from. Some accounts say he always wore his favorite green plaid shirt or other green clothes that reflected the color onto his pale skin while others say his skin was a pale shade of green.
As old age slowly crept up on him, Ray ventured out for his walks less and less. By the 1980s, he moved into the Beaver County Geriatric Center (now called Friendship Ridge Nursing Nome) in Beaver, Pennsylvania. It was there where Ray passed away on June 11, 1985, at the age of 74. He was buried back in Beaver Falls at Grandview Cemetery, just a short distance from the location of the bridge where he met with his tragic fate as a child.
Today, people say Ray's spirit walks along that lonely stretch of road looking for someone to talk to. Take a drive out and see if he will chat with you.