A Nebraska mom's spooky Facebook post is enlightening parents about the simple yet important details in car seat safety.
Last week, Ashley Kulm posted side-by-side photos of a small decorative Halloween skeleton sitting in her daughter's car seat -- along with a safety message for parents and caregivers.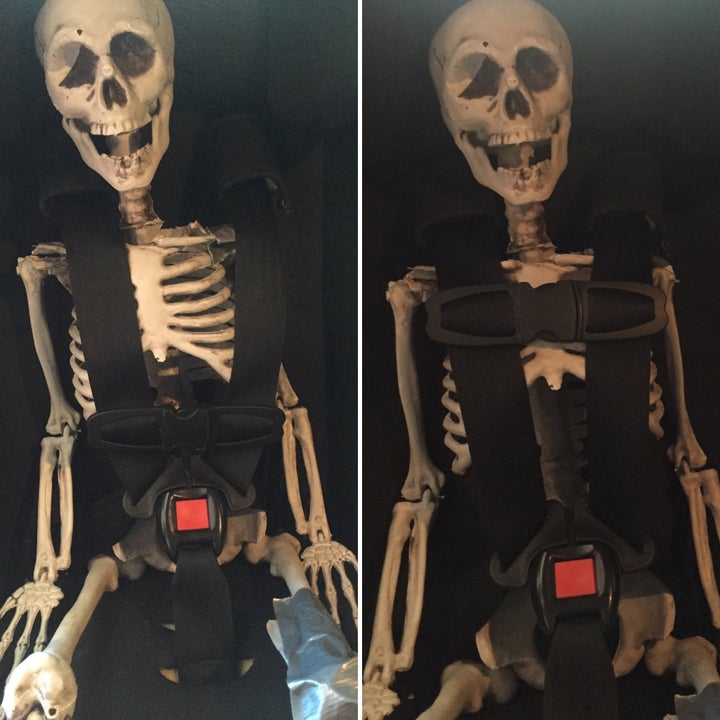 In the caption, she wrote:
A nice visual as to WHY chest clip placement is so important. Mr. Bones here is demonstrating on the left why his chest clip sucks. He would have internal bleeding to his vital organs. Mr. Bones on the right has the chest clip properly placed and his organs protected by his rib cage. Please place your child's chest clip properly with the top of the chest clip being at armpit level.
The mom's post, which she has since made private, reached over 20,000 shares, inspiring her to create "Mr. Bones Safety" -- a Facebook page dedicated to educating parents and caregivers about the proper use of car seats.
Kulm told The Huffington Post that her passion for car seat safety began around the time her now-3-year-old daughter was born. "I had a friend from work tell me about the Car Seats for the Littles website, and from there I absorbed every single piece of information on safety that I could get my hands on," she said. "From that moment on, I wanted to share my knowledge with friends and family as best I could."
One day, the mom hopes to get her Child Passenger Safety Technician (CPST) license, but for now, she is a devoted advocate who keeps up with the latest information from Car Seats for the Littles, The Car Seat lady and conversations with other child passenger safety experts.
"I have learned a lot of valuable information that every parent, family member, care giver -- anyone who is transporting your child -- should know," said Kulm.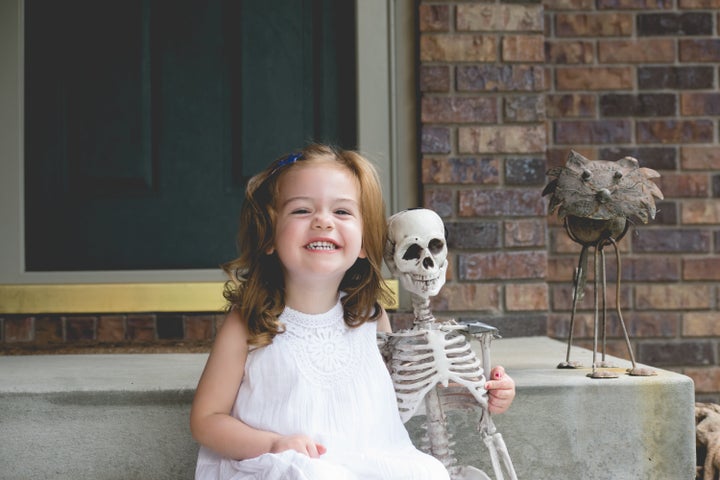 The mom said she purchased "Mr. Bones" at a party supply store for Halloween a few years ago, before her daughter was born.
The idea for the side-by-side photos came when she was preparing to transport the skeleton to her office for a themed event. "He's been through many Halloweens and has been a guinea pig for a lot of stunts, so he's kind of falling apart now which is why one will notice his duct-taped leg," Kulm explained.
"So, as I was loading my car up with supplies for our event, I thought to myself 'what better way to transport a skeleton then my daughter's Clek Foonf car seat?'" she added.
As the mom was buckling in the skeleton, she realized Mr. Bones offered a great visual for proper chest clip placement and took the two photos to post on Facebook. At the urging of friends and family who wanted to share the photos with their social networks, Kulm temporarily made the post public, and watched it spread from 40 shares to over 20,000 in the less than a week.
Though the mom's post is certainly eye-opening, car seat safety experts have noted that the main reason why chest clips are important is the fact that they keep the harness straps properly spaced at the child's shoulders for maximum protection.
Kulm told HuffPost she hopes people who read her post come away with a greater understanding of the overall importance of car seat safety. She said she urges parents to educate themselves about the proper use of car seats by reading their car seat manuals, as well as car manuals.
"Nobody is a perfect parent, and it takes a village to raise a child," she added. "Together each of us can make a life saving impact on the children we love, and even the ones we do not know."
Related
Before You Go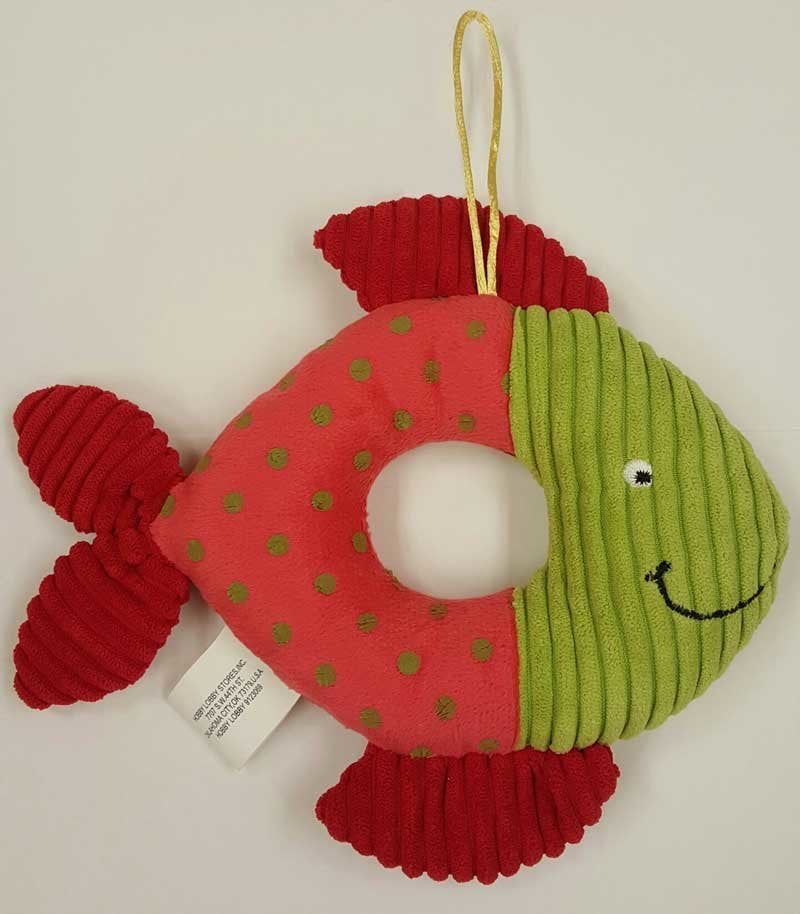 Recent Recalls Of Baby And Kid Products