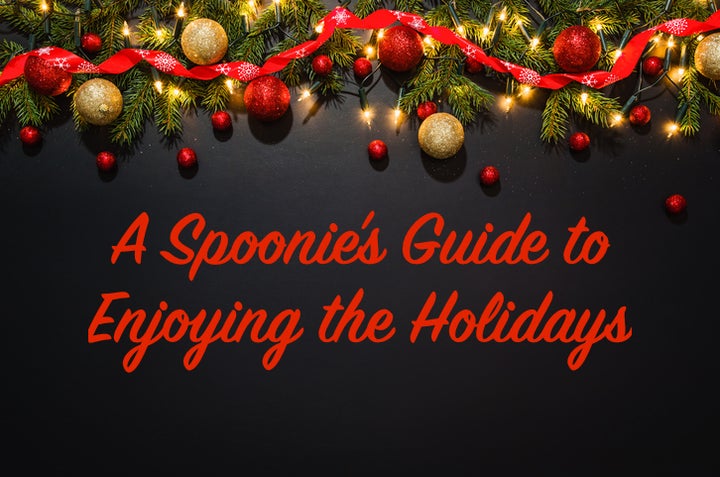 It's the most wonderful time of the year, or is it? According to a 2015 survey, it's actually the most stressful. Sixty-two percent of respondents described their stress level as "very or somewhat" elevated during the holidays due to a variety of factors like increased financial demands, complicated family dynamics and overloaded schedules.
The ultra-hyped holiday season is hard on almost everyone, but it's especially challenging for people living with chronic illness. The reality of medical bills and physical limitations can feel at odds with the anything-is-possible magic of the time. But just because it's difficult to reconcile the season's stress with the season's delight doesn't mean you can't find moments of holiday joy to savor and cherish forever.
So, in the spirit of giving, here are 12 gifts you can give yourself. Not only will these 12 tokens of self-care help make your season a little brighter, they're much more practical than a partridge in a pear tree.
Help put your best foot forward each and every morning by prioritizing a full night of restful sleep.
Keep your water bottle within reach so you never forget to hydrate, no matter how distracting your to-do list is.
It's not easy, but staying true to your regular routine throughout the holidays can often help in curbing symptom flare-ups.
Grant yourself "permission to miss out." Put your health first so when you are present, you're fully present.
Go ahead and indulge, in moderation. Just be sure to balance it out with nourishing food that makes you feel good.
From pre-made piecrust to the gift-wrap option at checkout, shortcuts are your friend. Don't let anyone tell you otherwise.
Don't do it all yourself. The holidays are about togetherness and your loved ones want to a part of the plan.
If things start feeling out of control, try engaging your body with a short walk or even five minutes of mindful stretching.
Whether you're shopping, cooking or planning, it's never too early to get a head start.
Losing steam at a family party? Ask the host if there is a good place to close your eyes.
'Tis the season of unrealistic expectations. Don't get caught up in unattainable ideals, imperfection is a lot more fun.
Speaking of fun, have some. After all, it's the holidays!
Related
Popular in the Community