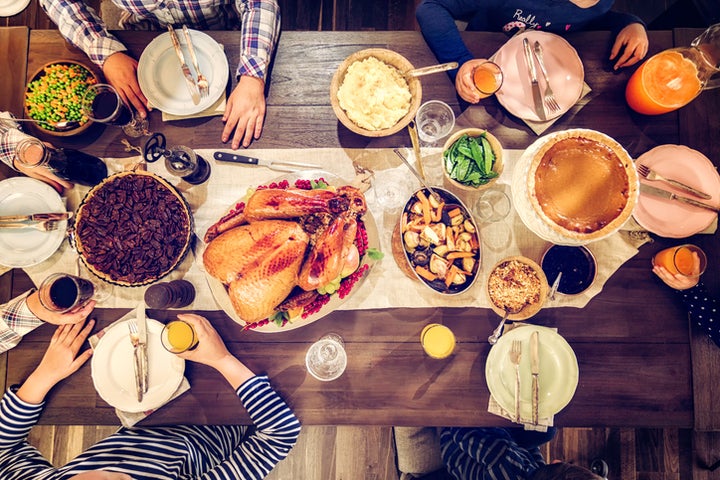 How to Manage Thanksgiving with Chronic Illness
For many of us, Thanksgiving is a highly anticipated holiday filled with food, fun times and family togetherness. But for people struggling with cancer, rare disease, or chronic pain and illness, Thanksgiving can be quite stressful. If you're a "spoonie" it means you have an illness that limits the energy you have each day. Whether yourself or a family member suffers from a disease, there are some crucial things that can be done to ensure you can participate in Turkey Day without risking health in the process.
"Clients often ask for support on how to bring ease to the holidays, particularly when family members don't understand the full picture of the client's pain or illness," says 32-year-old Noelle Janka, a certified life coach who focuses on health and wellness. As someone with chronic illness herself, Janka relates to the concerns of her clients. For many years she suffered from debilitating symptoms that were eventually attributed to Lyme disease and Janka needs to implement certain strategies during chaotic times like Thanksgiving.
"My biggest challenges are around food, energy and travel," says Janka.
Janka will be driving from her current home state of Massachusetts to Virginia to see her family for Thanksgiving. To help preempt a flare up of her symptoms, Janka plans on taking a lot of breaks while on the road and splitting up the driving with her partner. She is also taking a couple of days after the trip to decompress and doing yoga every day to keep her body relaxed. Since she has a lot of dietary restrictions due to her diagnosis, Janka discussed those needs with her mother and planned her holiday menu ahead of time. Nonetheless, she knows it will still be a hard for her to be around so much tempting food she can't eat.
For Cindy Steinberg, the challenges of Thanksgiving revolve more around the labor it takes to prepare the meal and get-together.
"I love to cook – especially at Thanksgiving," says Steinberg, who suffers from a serious thoracic spine injury. "But standing or sitting for the many hours it takes to cook a large meal for family and friends is extremely taxing for my back and could result in severe pain and muscle spasms."
The nature of Steinberg's injury restricts the amount of time she can stand or sit upright. In the past, Steinberg attempted to push past her tolerance level of being upright to cook during holidays. However, she paid for it by provoking pain so severe she would be confined to her bed for days afterwards. As a result, Steinberg learned that she needed to refrain from taking on more than she could handle so as not to aggravate her condition.
In fact, as the National Director of Policy and Advocacy for US Pain Foundation, Cindy Steinberg notes that pacing and understanding one's limits are crucial in helping to make the holidays the joyful event it's meant to be.
In particular, Steinberg encourages people with chronic illness to speak with their family and friends about their abilities and needs related to the holiday ahead of time, so they can make a game plan. There is no shame in opting out of labor altogether if it's too much for one's health.
"Taking some short-cuts you wouldn't have done in the past like buying pre-cooked or pre-made items you may have made yourself in previous years can help," says Steinberg.
In her case, Steinberg makes sure to enlist the aid of others during the holiday and tends to break up the cooking several days in advance of Thanksgiving instead of cramming it into one marathon-like day.
Sharing the holidays with those you love is one of the great pleasures in life. After Katherine found out that her 12-year old daughter Sara's illness required that she receive a kidney transplant, her family suddenly also needed to find a home within 30 minutes of her medical team in case a transplant becomes available. Working with the Travel Assistance program for patients with chronic disease, Good Days provides their family with lodging assistance near Sara's hospital.
"Our family is huge into the holidays and normally we are that house on the block with all the stuff in the yard and all the lights and the whole craziness. But this year is a little different because we don't have a yard to decorate and we can't leave town," says Katherine. "Good Days has enabled us to be together. We have a space to pile in for the holidays and have that sense of family while being 10 minutes from the hospital just in case that kidney arrives. So our family will be coming here and I think that the important thing to remember is that we need to be grateful for every minute."
"It doesn't matter if you are cooking a turkey in a tiny little oven. It doesn't matter. We have so much to be grateful for this year. It's brought about a new sense of gratitude in our family that we can be together for the holidays even if it's not at our home. We can all pile in here and just be a family and celebrate. We are just doing it different this year," says Katherine.
Related
Popular in the Community