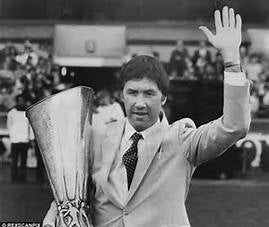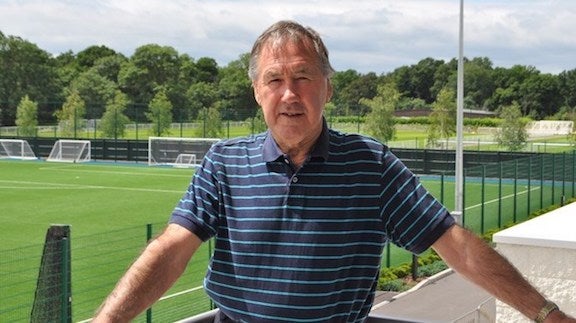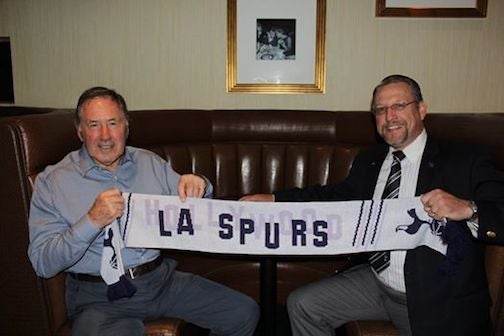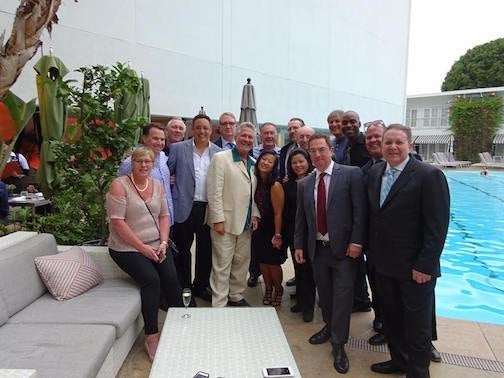 "At the recent White Hart Lane finale, I was talking to pop duo Chas and Dave, who I helped bring into the Spurs fold to first sing that Ossie's Dream FA Cup song in 1981. The Lane has been a fantastic place for years and years. Jackie and I were nearly in tears, the finale ceremony was very touching. It rained, it stopped and then that rainbow crossed the sky — it was special. But I look forward to the new stadium." — Keith Burkinshaw during his visit to Los Angeles
"we always knew/that good times came/with termination contracts/even if we weren't quite ready to sign it" ― Turquoise Silence
You know that look, that happy but sad, wistful look.
It was May 23, 1984, and Tottenham Hotspur FC had just gloriously won the UEFA Cup for the second time, by defeating Andelecht in PKs at White Hart Lane — the venerable stadium which is now being demolished, making way for a massive, state of the art new arena. While the delirious fans and joyous players danced and celebrated, captain-for-the-night Graham Roberts handed the magnificent trophy to manager Keith Burkinshaw. There's an image of proud, and brilliant Burkinshaw holding the trophy in one arm, while he raises a hand — not just in celebration but also in a wistful and thankful goodbye.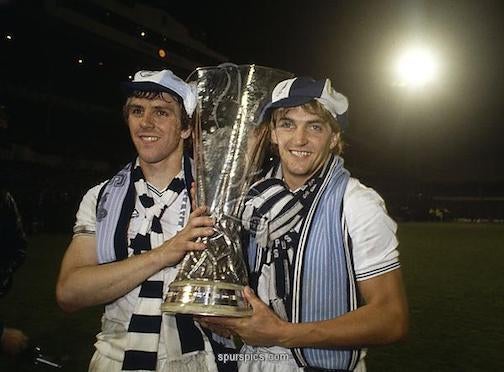 What, you ask — he'd just managed his Spurs, playing football in that gloriously unique "Tottenham way," to their third major trophy in four seasons, and management was saying goodbye to him?
Well, Yorkshire-born and straight-shooting Burkinshaw, who ranks as the Spurs manager with the second most trophies in Spurs history, began his tenure as first team manager watching his club getting relegated from England's First Division in 1977. After immediately returning to the top-flight after the next season, in a massive coup, he signed Argentinian World Cup winners, Ossie Ardiles and Ricky Villa. Combining these Latin dynamos with their footballing elan and sense of flair, with a backbone of superb British players like Glenn Hoddle, Steve Perryman, Graham Roberts, Chris Hughton, Mickey Hazard, Garth Crooks, Gary Mabbutt and Scotsman Steve Archibald, Burkinshaw brought the glory glory days back to Spurs.
Recently visiting America on a cross-country train vacation trip, cordial Burkinshaw and his affable, fun wife Jackie visited Los Angeles. Taking photos with us poolside at the swanky Beverly Hills Hilton, he graciously answered every question till late into the night. These are some of his talking highlights: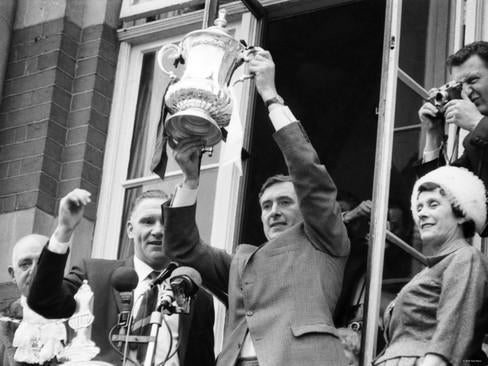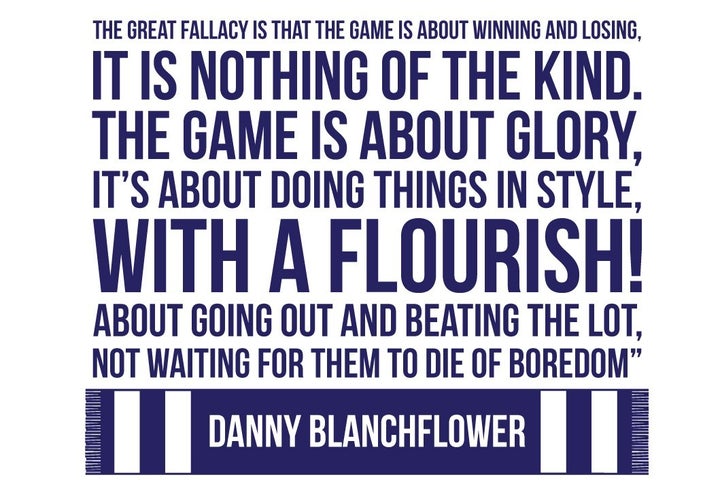 Danny Blanchflower was an elegant player and great captain. He came to our school when I was growing up in Barnsley, and he inspired us kids. His boss, Bill Nicholson, a fellow Yorkshireman, wanted Danny to take over Tottenham's reigns when he retired from management. When they didn't, Bill buggered off. I later brought him back to Spurs as a consultant and he recommended several key players for us including Graham Roberts, Tony Galvin, Gary Mabbutt and Glenn Hoddle.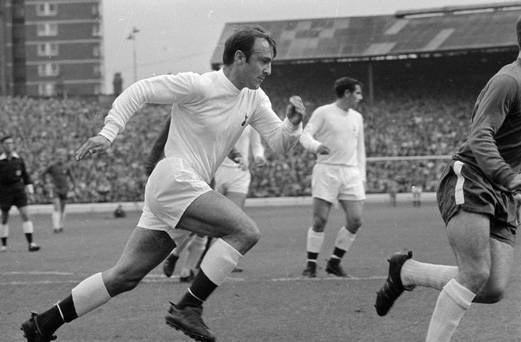 He was as a good a scorer as I've ever seen. When I was coaching at Newcastle, I wanted us to play the 'Tottenham way,' and Greaves scored a hat-trick against us. It was so easy for him with such natural talent. After he left Spurs, he went to West Ham and then some other smaller teams. But he turned out for Tottenham great, goalie Pat Jennings' testimonial in 1976, and he still had it. I tried to sign him again for Tottenham but he was done with it.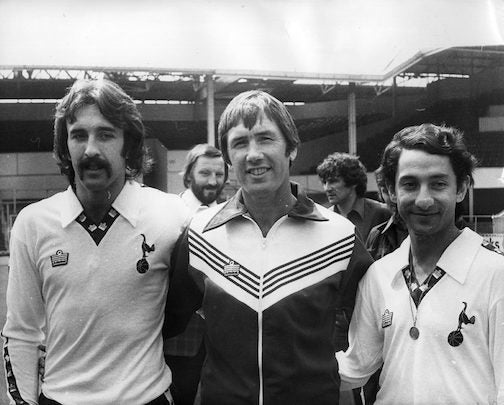 When I flew to Argentina to speak to Ossie after the 1978 World Cup, I spent two hours trying to convince him to come to Spurs. His wife had a big influence and she wanted to come to London. Next day, I met with Ossie again and he agreed to come but he also asked, 'Would you like to meet my friend, Ricardo Villa?' And that's how we got two great players to join us. By the way, they do so much sports science and stretching etc these days. Guess which players couldn't touch their toes? My captain Steve Perryman and Ossie.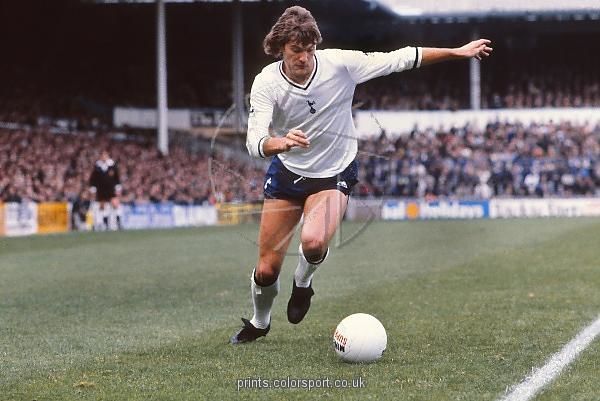 Glenn was a lovely player, the best technical footballer I've ever seen. He could pass and hit the ball with both feet and I never knew if he was really right or left footed. He had it all. The best goal I ever saw scored under my watch was Glenn's chipped goal against Watford. I could watch it, again and again.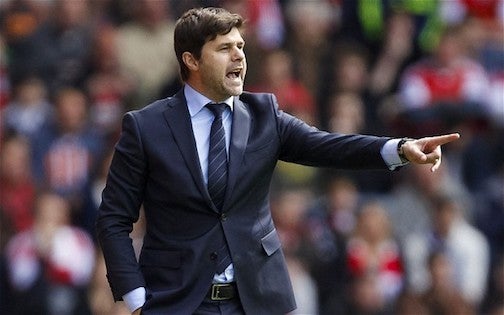 Ossie Ardiles invited me to Tottenham's magnificent training fields — I've never seen anything like it in my life — and he introduced me to Mauricio Pochettino, who's a terrific manager. Spurs finished second in the Premiership last season but gave up the least amount of goals and scored the most goals in the league. They're the fittest team and the most technical team. I feel Pochettino is the best manager in the country. And I'm really proud he has so many English players in his starting line-up.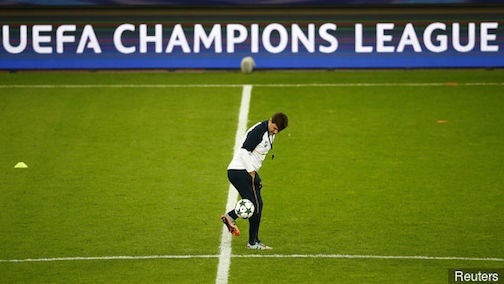 Pointing to his head, when asked what it'd take for Spurs to take the next step in Poch's revolution:
They're a fantastic side and it's all up here. Ninety percent of any sport is mental. Like with Spurs temporarily playing at Wembley, when you've got 80,000 fans supporting you, it's eventually going to come through, and they'll find the confidence to do well. They don't need much more in terms of players, it's now mental. I feel that when they win their first Cup, there'll be many more, and they could be like the great Liverpool teams of the 70s and 80s.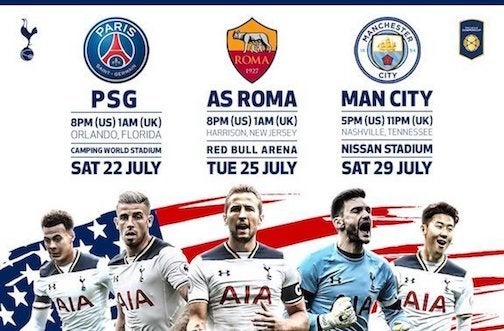 Burkinshaw's former team, Tottenham, competes in the ICC tournament this summer in America.
Popular in the Community