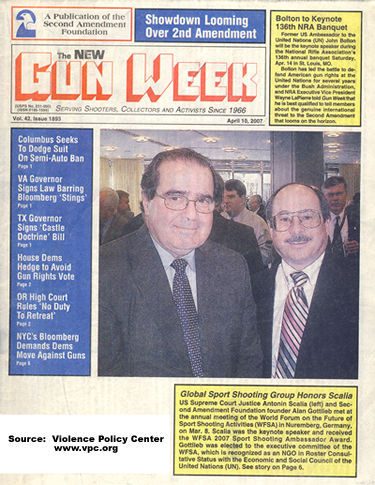 In authoring the opinion overturning Washington, DC's handgun ban, Justice Scalia leaves little doubt as to why he was honored with the Ambassador Award, which offers "public recognition of the social contribution made by some of the many public figures who have a longstanding interest in the shooting sports." The WFSA is an international organization comprised primarily of gunmakers and pro-gun organizations (including the National Rifle Association) from around the world. Scalia was awarded the honor and gave the keynote address during the WFSA's 2007 annual meeting in Nuremberg, Germany, held in conjunction with the Internationale Waffen Ausstellung (IWA), "the world's leading exhibition for hunting and sporting arms." The previous year's winner was Ugo Gussalli Beretta, president of the Italian gun manufacturer Beretta. The award consists of a silver reproduction of a 16th century pistol with powder flask.
According to the April 10, 2007, edition of The New Gun Week, Scalia's keynote address "focused mostly on trends and threats to the international traditions of sport hunting." The cover of the issue features Scalia posing with Second Amendment Foundation founder Alan Gottlieb, a convicted felon who at one time lost the ability to possess guns. (He later regained the ability to own guns through the now-defunded federal "relief from disability" program, a multi-million dollar program that re-armed convicted, often violent, felons, at taxpayer expense. The program was defunded after being exposed by my organization, the Violence Policy Center.) In the background of the picture appears to be pro-gun attorney and National Rifle Association grantee Stephen Halbrook (who also authored the amicus brief signed by members of the U.S. House and Senate in support of overturning the DC ban).
While the WFSA Web site has photos and comments from prior "WFSA Ambassadors," no such honors are offered for Justice Scalia, whose name sits unadorned by a photo or additional information.
Perhaps the WFSA will post today's decision on its Web site in his honor.
Popular in the Community