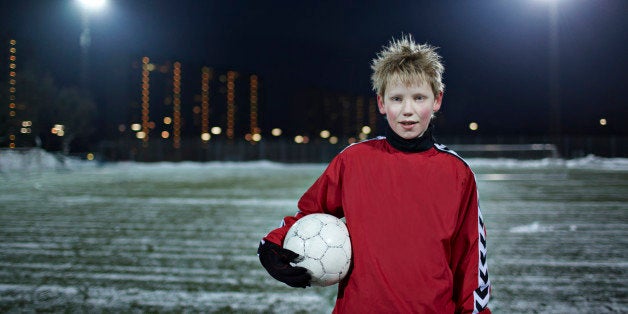 "I missed two practices because my parent refused to take me because my other parent had signed me up."
"I beg my parents not to come to my games at the same time because I am afraid they will argue and embarrass me in front of my team."
"I feel scared because I don't know which parent to go to when the game is over."
"It's more my parents' show than my game."
Children's sports and other activities have become the battleground for separated/divorced parents to continue to punish each other rather than support their children.
Children and teens benefit from being on a team. They develop close friendships, gain competencies in the particular sport they play and have a healthy outlet to discharge energy. However, working with many children and teens in the midst of family transitions, I see the range of emotions they feel when their parents fight over their activities, the depth of their participation in activities and who attends their activities. Children and teens can feel angry, sad, experience a sense of despair and may want to give up.
Sports in general are dominant and mostly healthy activities in our society. However, the extent to which children are spending so much time and the degree of conflict between parents in transition (and not in transition) is a phenomenon that must be addressed. I spend a tremendous amount of time helping parents create parent plans that are road maps of how each parent will parent and co-parent based on their children's developmental needs, special challenges and personality. I spend the most time helping parents resolve disagreements about sports activities and therapy more than anything else.
What can coaches and parents do to help children remain children, enjoy their activities and not put them in the middle of their parents' conflict?
• Make clear from the beginning that the coach is in charge of the team.
• Be very clear about what is required from parents and players
• Have stated consequences if parents and children do not follow rules
• Provide information to each parent directly and check on legal custodial status before practice begins
• Partner with centers like ours, the National Family Resiliency Center, and provide a class for coaches in your county that focuses on the impact of family transitions on children, how parents in transition can be supported and what would help coaches in understanding family transitions
• What sport does your child prefer?
• Can you make the financial, time, psychological commitment to transport, help pay for and attend events?
• Can you support your child's attending practices?
• Can you attend a game that the co parent will also attend and behave in a civil manner?
I do think that these guidelines can be helpful to all coaches and parents regardless of family composition; however, at a very difficult time for both parents and children experiencing family transitions, being in a sport means more than playing the game. As parents and coaches, we are models for children; they need and deserve a village of support during this time. Parents need to put aside their anger and hurt when they are at their children's activities, they need to co parent and lead the village of support. We all need to support other activities for children in addition to sports. Therapy, educational programs, music, dance and drama also enhance children's competencies, feelings of self worth and coping through difficult times.