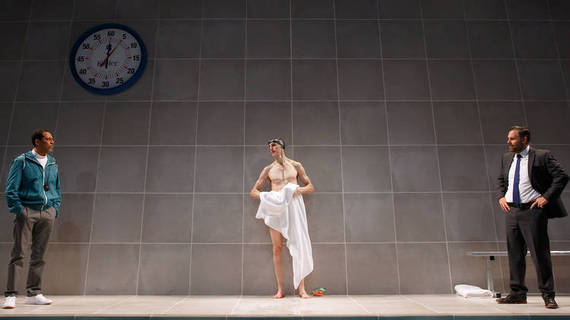 Lucas Hnath's Red Speedo, which runs for 80 minutes with no intermission, is as lithe and lean as the swimmer who begins it with a literal splash -- clad only in a red racing suit, he plunges into a narrow, glass-fronted pool that makes up part of the set. At first, Ray, the swimmer, seems almost tangential to the action, as his brother (Peter, a lawyer who manages Ray's career) and his coach debate the matter of some performance-enhancing drugs that have turned up in the swim club's refrigerator, which are thought to belong to someone else. But Ray proves to be far from passive outside the pool; it's soon clear that his ambitions go way beyond an upcoming Olympic trial, as do Peter's, and Ray's coach and his former girlfriend become figures to be used or maneuvered around.
I don't know when I last saw a drama that appears so slight at the outset and acquires so much import. Red Speedo is a testosterone-charged combat (like a condensed and indirect version of the current Showtime drama Billions) and a gloved-hand demolition job, leaving high-stakes athletic competition and the cult of success in pieces on the ground. This suggestive play even critiques laissez-faire capitalism -- note the ironic echo of Adam Smith's "invisible hand" idea. Hnath's dialogue is terse, halting, fragmentary, often emerging in rat-a-tat-tat exchanges like bursts of weapons fire; what the characters are really doing and have done to each other lies in the past, between the lines, beneath the surface. The style has been likened to that of David Mamet, but there are traces of Ibsen and Chekhov as well, and the focus on men behaving badly has something in common with Neil LaBute. More obvious is what's new and distinctive. With very little overt action until the end and little dependence on setting or props, Red Speedo uses a strangely alluring kind of representational flatness. Those who saw Hnath's earlier play A Public Reading of an Unproduced Screenplay About the Death of Walt Disney (presented at Soho Rep in 2013), whose cast mostly remained seated at a table, will see a similar minimalism here.
The production at New York Theatre Workshop heightens the tension by emphasizing that flatness and playing up the importance of appearances. The set design, by Riccardo Hernandez, compresses the stage into shallow planes; the cast, under Lileana Blain-Cruz's direction, is nearly motionless for much of the play, as if nothing were going on but a bit of chat. It's like the old-fashioned stand-and-sing approach to opera, which has long been derided but which has the virtue of letting the real drama ring out. As Peter, Lucas Caleb Rooney has a somewhat stocky build and the cocksure confidence of a courtroom pugilist. Ray, performed by Alex Breaux, is the more remarkable role, potentially showy in physical terms (for the entire play he's clad only in that swimsuit) but challenging -- there are spells in which he has seemingly little to do, but no actor can get away with doing nothing onstage. Breaux, a former athlete, looks every bit the swimmer and conveys a marvelous mix of yearning, emotional intelligence, combativeness and (to borrow a term from the Times review that seems just right) forlorn desperation.
Like the object for which it's named, Red Speedo is a sleek little wonder. It runs through April 3; more information is here.
Calling all HuffPost superfans!
Sign up for membership to become a founding member and help shape HuffPost's next chapter