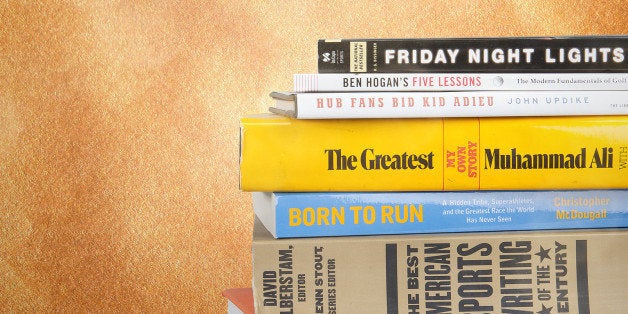 Tis always the season for sports. With modern fans as attuned to off-field drama as on-court action, the wide world of sports never stops spinning. From gear and gadgets to newsworthy reads and pocket-sized nostalgia, sports gifts come in every price range and for fans of all types and uniform stripes.
For the intellectual fan on your team, sports books are the go-to gift. From time capsule classics like "The Boys Of Summer" by Roger Kahn and "Rockin' Steady" by Walt Frazier to recent releases like "League Of Denial" by Mark Fainaru-Wada and Steve Fainaru, the sports shelf has something for everyone.
Some things change. Some things shouldn't. The classic satin Starter jacket falls into the latter category. To the delight of anyone who sported one of these in the 1980s or 1990s, the re-launched sports clothing pioneer has reintroduced one of its signature items.
Anyone who wants to stop being a spectator and is ready to start creating highlights of their own needs to get their hands on one of the cameras from GoPro. Billed as "the world's most versatile camera," GoPro gadgets are ready for any adventure that the daredevil in your life can dream up.
For the hardcore hoops fan in your life, NBA League Pass is a slam dunk. This regular season package allows fans to watch NBA action outside of their local viewing area. It is available for television, computer and mobile devices.
Few things will bring out the inner child of a sports fan like trading cards, especially if they're from decades gone by. Whether you're looking for a mint condition Mantle or just some 1989 wax packs, there are options for every price range at your local hobby shop or on eBay. Best of all, stale bubble gum may be included.
ESPN's "Nine For IX" Gift Set
The award-winning producers of ESPN's "30 For 30" documentary series commemorated the 40th anniversary of Title IX by releasing nine films about women in sports. From Venus Williams' crusade for equal pay for performance on the court to Lisa Olsen's battle to be treated as an equal in sports media, this series tells some of the most important stories in sports regardless of gender.
Super Bowl XLVIII Travel Package
Want to get your favorite football fan a Super gift? Then send him or her to the Super Bowl. With ticket and travel packages available at Benchwarmer Sports, Prime Sport, TicketCity and many more outlets, there are plenty of ways to get yourself to MetLife Stadium for Super Bowl XLVIII. If you're heading to New Jersey and New York in February, remember to bring your winter clothes as the Super Bowl is being played outdoors in a cold weather city for the first time ever.
This story appears in Issue 75 of our weekly iPad magazine, Huffington, available Friday, Nov. 15 in the iTunes App store.
Calling all HuffPost superfans!
Sign up for membership to become a founding member and help shape HuffPost's next chapter