 Scores of people, including some of the great and the good in Sri Lankan sport, gathered on the lawns of the Westminster House in Colombo, Sri Lanka, for The British High Commission Games on Friday, July 13. Eleven of them were particularly excited, soaking up an experience they will talk about for years.
For many of them it was their first time ever to board a train and their first time to make the eight-hour journey from their villages around the northern town of Vavuniya to see the bright lights of the capital, Colombo. They were talking to VIPs like the President of Sri Lanka's Paralympic Committee, a person with amputations just like themselves, and members of Sri Lanka's Olympic swimming squad. They queued up to meet the Paralympic Badminton National Coach, who offered them words of encouragement and promised to visit Vavuniya to coach them. They were star struck.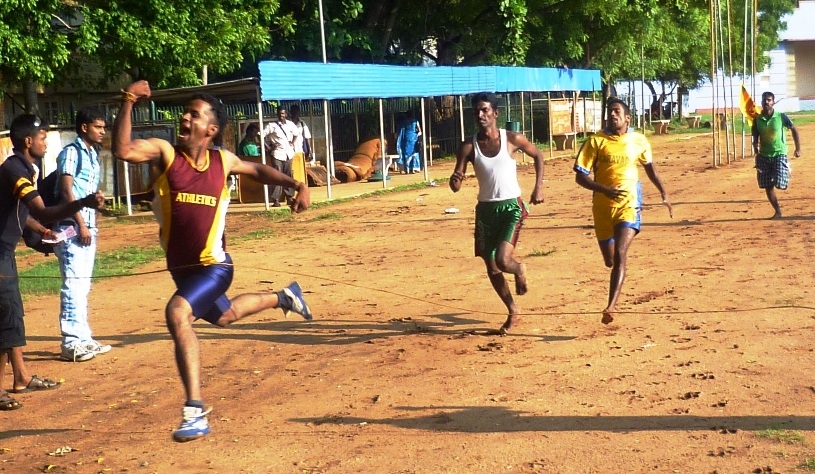 They tried archery for the first time and the crowd cheered whenever they shot a good arrow. The organizer of the swimming event, who had little experience of inclusive sport for persons with disabilities, was petrified that they would drown, but a few of them got in the water, loved it, and entertained the crowd by doing handstands off the side of the pool.
These eleven people all live with varying disabilities, and were doing exactly what I dreamed about when I took this job one year ago: trying something new, pushing their limits, getting out of their comfort zone, and eventually mastering it! Imagine being a person with a disability, from a small village, standing on the lawn of the British High Commission, and everyone's clapping to mark your achievement! You'll go home, and tell all your friends about seeing the tall buildings and the busy roads of Colombo, shaking the Ambassador's hand, receiving a commemorative certificate from him, and eating a strange new food called a 'hamburger.'
There's lots of sport taking place in Sri Lanka, but inclusive sport, which brings men, women and children with and without disabilities together, was nowhere to be found. This was a great shame because sport and games have the potential to break down barriers and build understanding between people.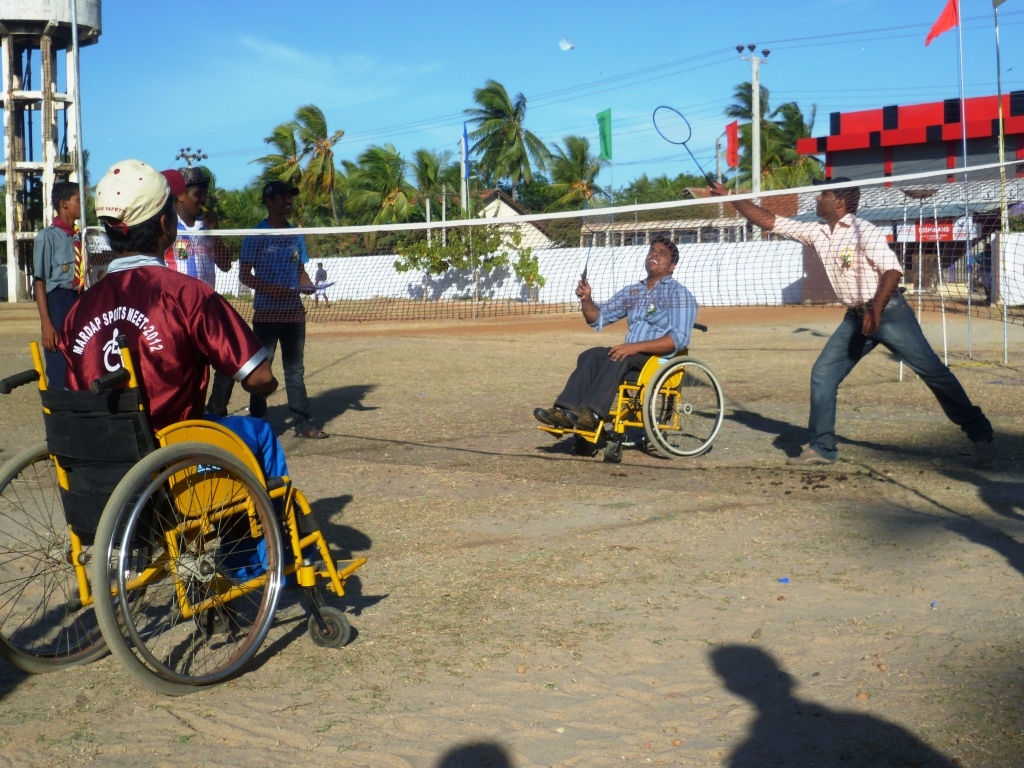 With funding from the European Union, Handicap International Sri Lanka launched the project in Vavuniya, focusing on 500 children with disabilities and 1,500 without, with a particular emphasis on including girls, as well as youth and coaches.
Through the project, we launched Sunday Sports Practice, which brings these children together through badminton, basketball, karate and table-tennis. The sessions take place at the public grounds to maximize the opportunities for them to mix. After one year, these sessions are yielding visible social and health benefits, and are certainly improving the children's skills: one or two of the people with amputations can beat me at table-tennis and badminton now!
We show that people with disabilities exist -- they aren't hidden in the shadows. We want people without disabilities to see and appreciate their abilities. On Sundays, various youth without disabilities turn up. The look on their faces when they see the persons with amputations taking their legs off to rest, or a young man with Down's Syndrome playing on the basketball court -they're a little horrified at the start. But they get over it!
As I write, we're preparing for a visit from the Disabled Volleyball Federation, which is part of the National Paralympic Committee. They will hold a coaching session here as one of the selection events for the Asia ParaYouth Games in Malaysia. Our objective is to promote community-level sport, but if we can be a channel to connect these people to international sports, that's great -- having people with disabilities from the poor, war-affected North of Sri Lanka representing their nation in sport would inspire people across the whole region. And I certainly rest assured that everyone we've worked with will tune into the Olympic and Paralympic games with more ambition than ever before.
You can follow Handicap International on Twitter and Facebook for updates on our work in more than 60 countries.
Popular in the Community