For many of today's star athletes, involvement in sports at a young age provided refuge from problems at home, or opened doors to a college education that would not otherwise have been possible.
But a group of athletes warned last week that many kids in America may not have the same opportunity as schools continue to suspend sports programs at an alarming rate.
"It's almost like a civil rights movement," Jets wide receiver Brandon Marshall told The Huffington Post, following the Dick's Sporting Goods Sports Matter panel at NASDAQ MarketSite in New York City last Tuesday. "Millions of kids are going to be stripped away of their only opportunity of having a healthy, effective life."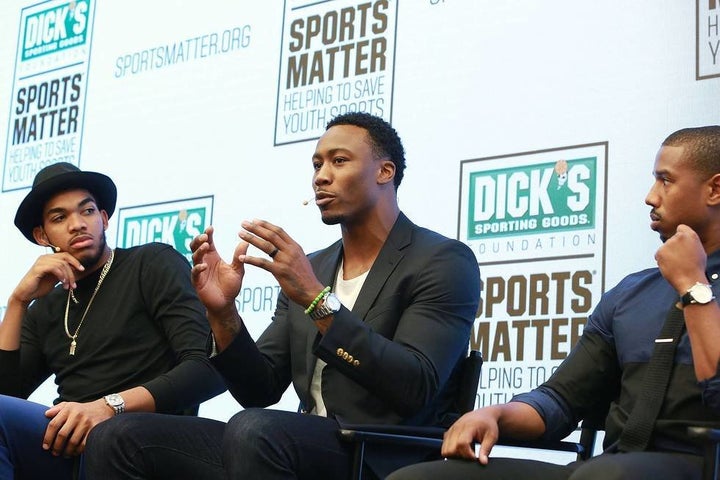 ESPN analyst and former NFL coach Jay Gruden, USWNT midfielder Carli Lloyd, No. 1 NBA draft pick Karl Anthony Towns, actor Michael B. Jordan, author and writer Buzz Bissinger and Up2Us Sports founder Paul Caccamo also urged the importance of school sports programs at the event.
The latest powerful ad from the sporting goods company was posted to Dick's social channels on Tuesday. It highlights just how crucial lacrosse has been for a group of students in Harlem.
According to Up2Us Sports, $3.5 billion was cut from school sports budgets from 2009 to 2011, and, by 2020, an estimated 27 percent of U.S. public high schools will no longer have any sport teams or programs of any kind. It's a staggering rate, and unfortunately as Marshall said, will adversely affect children in low income neighborhoods.
"There's things that we learn on the field, on the court, in the locker room -- that we can't learn in the classroom," the NFL player told HuffPost.
To curtail the decline of school sports program, Dick's Sporting Goods also announced at the event that it is continuing it's second year of its Sports Matter initiative, which launched in 2014 and aims to provide funding to at-risk youth sports programs through a $25 million, multi-year commitment. Last week, Dick's said that through its foundation, it will be partnering with DonorsChoose.org to increase support for such programs, matching up to $1.5 million, once each team reaches 50 percent of its funding goals.
"If they don't have sports, they don't have a chance," Marshall said on the panel.
Echoing the football player, Caccamo said for some kids "it's a lifeline."
No example is clearer perhaps than that of Harlem Lacrosse and Leadership. A recipient of funding from Sports Matter last year, it is also the focus of two additional ads that premiered and began airing on ESPN last week, including one that tells the story of Tyler, who lost both his parents, but has HLL to help him both in school and on the field.
Caccamo warned that taking away sports programs is not just "saying goodbye to an athlete," but to a student as well, and instead, "saying hello to a dropout."
He and Up2Us Sports, along with Dick's are hoping that by promoting programs such as HLL, more kids in need will have sports in their lives.
Per figures provided, the U.S. Department of Education found that student athletes are four times as more likely to attend college and are 50 percent less absent in school than their peers who do not play a sport.
"It isn't a sport program, it's an intervention program," Towns said, adding that playing basketball after school kept him out of making possibly poorer choices or getting into trouble around town.
Harlem Lacrosse and Leadership, which is currently in five schools -- four in New York City and one in Baltimore -- has been a focus of Bissinger, who wrote that it is already having an impact on the lives of its players through both the game of lacrosse and its mandatory study halls.
Nearly forty boys and girls in the Harlem Lacrosse and Leadership program have gone onto boarding schools or will attend this fall, earning an aggregate of $9.1 million in scholarships. Three graduating high school seniors who went through the program have gotten free rides to Colby College and Bates College and Dickinson College. Another is entering his sophomore year at Haverford College.
The players as well know that without lacrosse, life in Harlem's housing projects wouldn't be much different than the generations before, who get caught up in crime, violence or teen pregnancy.
Related