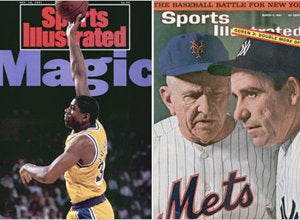 As magazines and newspapers hunt for the new thing they need to be to thrive in the Internet era, some find that part of the answer lies in the old thing they used to be.
Publications are rediscovering their archives, like a person learning that a hand-me-down coffee table is a valuable antique. For magazines and newspapers with long histories, especially, old material can be reborn on the Web as an inexpensive way to attract readers, advertisers and money.
Sports Illustrated, which faces fierce daily, even hourly, competition with ESPN, Yahoo Sports and others, has something its main rivals do not: a 53-year trove of articles and photos, most of it from an era when the magazine dominated the field of long-form sports writing and color sports photography.
On Thursday, the magazine will introduce the Vault, a free site within SI.com that contains all the words Sports Illustrated has ever published and many of the images, along with video and other material, in a searchable database.
SI.com already draws more than six million unique visitors each month, according to Nielsen Online (publications insist that the true numbers are much higher than Nielsen's ratings), and executives of the magazine predict the Vault could add five million monthly readers.
"The real hidden value of this is what it does for search," said John Squires, executive vice president of Time Inc., the Time Warner subsidiary that publishes Sports Illustrated. The move quadruples the site's volume, he said. "We'll have to work our way up the search algorithms over time, but eventually, someone searches Johnny Unitas, and SI.com is going to pop up."
Calling all HuffPost superfans!
Sign up for membership to become a founding member and help shape HuffPost's next chapter