Last week we launched a $1/2M fund for building or upgrading facilities for organizations that utilize sports as a mechanism for social change. This fund consists of small $25K awards dedicated towards simple interventions to improve access to play.
With the trend of social network contests with endless voting rounds and huge ad campaigns, we decided to direct all available funding where it is needed most - in the hands of organizations on the ground. For smaller groups struggling to survive these 'crowdsourced' funding awards are a massive time-suck and, in places with scant internet access, next to impossible to launch an online advocacy campaign. In order to 'win' one of these you need a full time dedicated staff member just focused on social networking. So we decided to do something refreshing, just ask people to apply.
Thanks to word of mouth, in the last few days youth football teams in rural Laos, a group of women boxers in Rio to break dancers in the Bronx and in Phnom Phen have signed up, logged in and applied. Below are some typical questions (and answers) for those interested in participating.

What's the score?
We are seeking proposals to support the construction or rehabilitation of sports facilities offering programs that tackle social issues in the community. This Request for Proposal (RFP) process will award up to $500,000 in funds and is directed toward small interventions with a construction time line of six to nine months. The majority of these grants will be one-time $25,000 awards for building or upgrading facilities and completing existing projects. As we are focused on innovation in opening access to play, 10% of the funding will be earmarked for the professional design services and engineering. Additionally we are a strong believer in open source and all building designs will be placed under a Creative Commons license. This will allow other groups to replicate innovative facilities.
Who's gets it?
This is a global fund and we are looking to support a minimum of two projects from each of the five global regions: Africa; the Americas; Asia; Europe; and Oceania. Additionally we may award separate funds to additional projects or increase funds for selected projects that deem further investment. This fund will cap at $500,000.
Who's the ref?
Well, me. Someone has got to be. Actually it's a whole bunch of like-minded people. The Gamechangers fund is part of an ongoing collaboration between Nike and my organization, Architecture for Humanity. For the past two years we've worked on a revolving grants program that has funded the design and construction of innovative, sustainable and safe places to play. The goal was to provide capital to implement these structures in communities that are typically overlooked. Kind of refreshing, huh.
To date this funding has gone towards building an indoor skate park in Kabul, Afghanistan; an american football program in post-Katrina New Orleans; a soccer/football field for at risk youth in Santa Cruz, Brazil and a basketball court that collects rainwater for a nearby school in rural Mahiga, Kenya.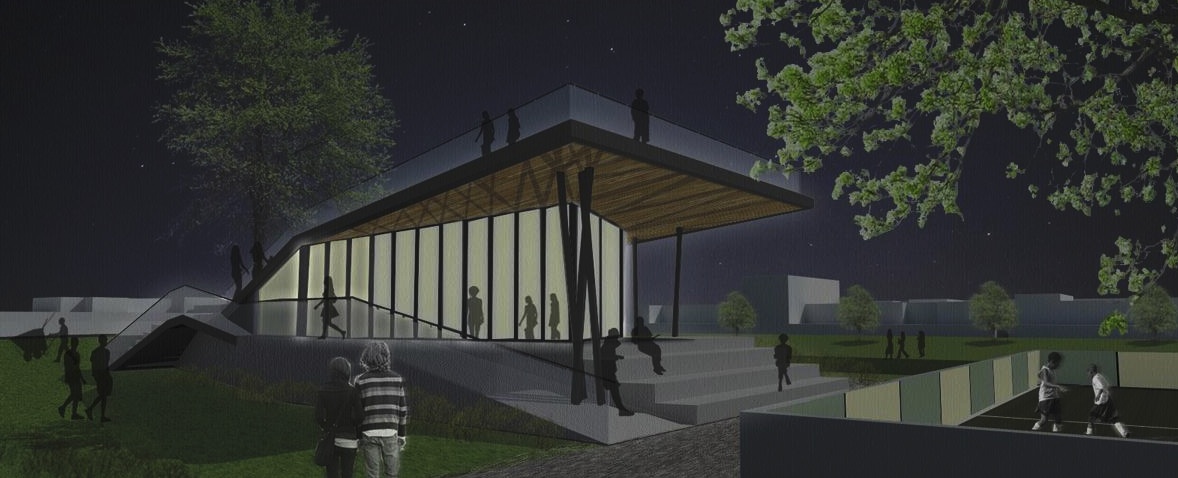 Youth football center designed by Lompreta Nolte Arquitetos and Nanda Eskes Arquitetura. To be completed Oct. 2010.
When do I get my funding?
Hold it tiger, you have to apply first. Be warned, you've only got until October 6th to submit. Then we'll do some due diligence, make sure we've got all the i's dotted on contracts, team you up with an architect and then start distributing awards. This time next year your group could be scoring a few goals both on and off the pitch.
Can I be a supporter?
Yeah, that would be great. Like I mentioned at the beginning - we want to direct all available funds into projects. So we can save $1500 on 'press releases' (equivalent to safe bathroom facilities) if you just tell friends, email, link to your facebook account or tweet some thing like;
$1/2M up for grabs, are you game? @archforhumanity and @nike launches Sports Micro-Venture Fund http://bit.ly/dd203A
This is Stupid. You should be doing [insert issue] instead?
We will take any suggestion on board but these are funds dedicated to a specific goal, supporting communities that are using sports to tackle social issues. So we won't be giving this to collect oil in the gulf, eliminate the plastic gyre or some other current issue in the news. Our organization is working on projects in 15 countries and if you are looking for support on something that is not related to this funding, contact us here.
REAL LIFE. REAL NEWS. REAL VOICES.
Help us tell more of the stories that matter from voices that too often remain unheard.