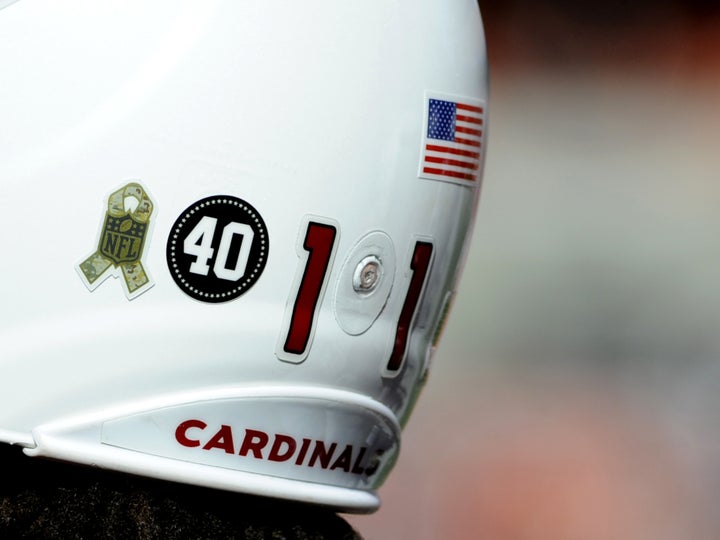 WASHINGTON -- Every November, the National Football League honors past and present members of the military, with players donning camouflage-laced gloves and coaches wearing army-green gear. The events run all month long, and include a variety of on-field tributes to the military, from color guard presentations to soldiers singing the national anthem.
This week, just days before Veterans Day, the NFL kicked of its "Salute to Service" month. But what once was a respected event is now drawing the ire of some veterans.
Last week, a report issued by Republican Sens. John McCain and Jeff Flake, both of Arizona, revealed the Defense Department paid professional sports teams, including 18 NFL teams, as much as $6.8 million in taxpayer funds to honor the military at games and events. Over half of the professional sports contracts reviewed by the senators were found to include items they deemed "paid patriotism," which is the payment of taxpayer or Defense money in exchange for military tributes.
Jim Scotella, a veteran of Iwo Jima, said he was "flabbergasted" when hearing about the DOD's payments to certain professional sports teams.  
"It's not right," the 90-year-old Scotella, who does work with the non-profit Iwo Jima Monument West, said in an interview with The Huffington Post. "They are taking advantage and using the military for their benefit." 
Scotella, who belonged to the unit responsible for raising the flag on Mount Suribachi (28th Regiment of the 5th Marine Division), managed to come out alive after 36 days on Iwo Jima. "I had a lot of close calls -- a lot of them," said Scotella, a native of Detroit who now resides in Carlsbad, California.
Scotella meets with fellow World War II veterans every Thursday for a beer, and said when he next speaks to them he plans to let them know.
"I'm a sports fan, and I never knew this," Scotella said. "I think the public should be aware of it. I don't think they would feel too good about it."
Instead of paying professional sports teams, the military should spend that money on other expenses they have, said Scotella, who argued organizations like the NFL are already making tons of money every game.
"If you are going to use the military you should pay us because you're getting exposure," Scotella said, hitting on a point made in the report that NFL, MLB and other professional teams involved are getting public credit for honoring service members while taxpayers foot the bill.
Another veteran, who works with Soldier On, a foundation that combats homelessness among vets, was also astounded that the Pentagon spent money on tributes like these instead of putting it toward major problems facing members of the military returning from wars in Afghanistan and Iraq.
"We spend too much money on fluff and not enough money on real problems," said the Navy veteran, who did not wish to be named. "The real problem is that these veterans coming out need help. They still need help. They need help with employment, they need help with school, they need help just being reintegrated into civilian life. And we just don't do that."
The vast majority of the NFL's "Salute to Service" month does feature legitimate advertising and promotions, and the NFL has stressed its efforts to help the military since last week's report. But at least $5 million in contracts with NFL teams like the Atlanta Falcons, Buffalo Bills and New England Patriots included activities the senators called "paid patriotism." Additionally, 10 MLB teams took a total of nearly $900,000, and eight teams each from the NBA and MLS had similar contracts. Six NHL teams received money, and the Air Force paid more than $1.5 million to NASCAR.
White House spokesman Josh Earnest questioned the figures in the report after it was released last week, saying that "both the Defense Department and the individual teams" have said "that the allegations from these senators are just not true."
"So I guess I'm sort of at a loss to sort of explain what their argument is," Earnest added.
Flake responded to the White House's dismissal in a statement to HuffPost on Tuesday.
"Despite the Pentagon's best efforts to stonewall this investigation, I've seen the contracts and it's clear that those denials don't hold water," Flake said. "But if the White House is going to deny that taxpayers funded these tributes to our troops, it would make sense that the administration make these contracts available in their entirety."
McCain and Flake have argued that the total amount spent on "paid patriotism" is unclear because the Pentagon did not provide all of its contracts to them. In a Sept. 14 memo, acting Undersecretary of Defense Brad Carson issued guidance to ban contracts that contained payments "to honor members of the Armed Forces."
Carson added that "some areas of concern" were found that "could give rise to the perception that the Department had 'paid for patriotism' or contracted for items that appeared to be personal in nature."
The NFL said in a Nov. 2 memo that it would audit contracts that included such activities and return money to the Pentagon if it found inappropriate spending. McCain and Flake, meanwhile, attached an amendment to the National Defense Authorization Act that would ban the Defense Department and National Guard from entering into such contracts. The Senate passed that bill Wednesday, and the White House has indicated the president intends to sign it.
"They should put a stop to it," said the Navy veteran, who served in Asia in the 1960s. "To me, it's really phony, and more so now when you find out the government's paying for it."
"Why must you pay for patriotism?" he asked. "I always thought that was something that came out of the goodness of your heart."
PHOTO GALLERY
Military Homecomings
REAL LIFE. REAL NEWS. REAL VOICES.
Help us tell more of the stories that matter from voices that too often remain unheard.