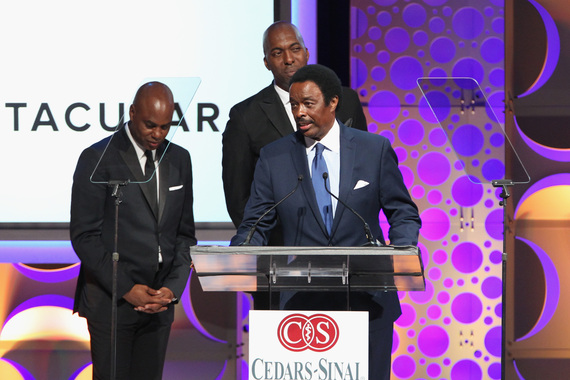 Jim Hill, John Salley and Kevin Frazier
Sports Spectacular held their 30th annual gala last weekend, to honor NBA superstar Russell Westbrook and Stanley Cup champions, the Los Angeles Kings. The charity organization, celebrated the event with many high-profile athletes and celebrities in support of the benefit to support of Cedars-Sinai Diabetes and Obesity Research Institute. The Gala and auction of rare sports memorabilia, which had some amazing items including basketballs signed by the greats, signed jerseys and Olympic banners signed by the teams, and the organizations work throughout the year raises as much as $35 million a year for their cause and is the most successful sports charity in the country.
Sports greats from different eras, the old and the young, came together to support a very worthy cause.
Jim Hill, one of the hosts, the retired NFL pro who's lead sportscaster on KCBS, has been hosting this event for 30 years. His co-hosts Detroit Piston bad boy John Salley and Kevin Frazier kept the evening funny and upbeat while delivering some alarming statistics. "Two thirds of the adults in this country are overweight or have diabetes; one third of the children are overweight or have diabetes. That's why we're here," said Salley. Jim Hill said being proactive and fighting these problems before they happen is the best way to tackle these diseases.
Jim Hill was awarded for his tireless service as a spokesperson for this charity over the last 30 years. He was emotional in receiving the award and said "What can be better than giving back to our children and finding a healthy life for them?"
The dinner gala's sports auction was an extraordinary collection of sports collectables including footwear by Magic and Bryant and filled two massive lower rooms of the Hyatt Regency Century City where the event was held. If they wanted to open a sports museum, they certainly had the pieces of sports history to do so.
Luc Robitaille, general manager for the Kings, accepted the award for the 2014 Stanley Cup, their second in the 45-year franchise. He thanked all the players for not thinking of his own glory, but for their support of the entire team through the year to ensure they all moved forward together. He thanked management for their understanding and patience as they have turned their team around with a winning vision (and two Stanley Cups in the last three years), but it took several years and a few missteps on their way to being champions.
I spoke to one of the directors of the Cedars Sinai program, who said this charity is their major source of funding each year. They use a four pronged attack as their staff works on the disease of prediction, prevention, treatment and cure. One of their current points of focus is determining the actual chemistry of type 2 diabetes, and what exactly is the disease's relationship between a hereditary predisposition or a blood chemistry trigger if you have no family history. They are also getting a better understanding with type two diabetes that if you're at risk it's not a fait accompli that you'll get sick. The disease does not have to manifest given the proper awareness and care and you don't have to spend your life on insulin. It was fascinating talking to them and their work that will help millions.
Many sports favorites spoke or were in attendance, including Marcellus Wiley, Robert Parish, Brian Scalabrine, Laker Jordan Clarkson, Joe Haden, Shawne Merriman, Olympians Jackie Edwards and Dawn Harper and Baron Davis. Celebrities Joe Jonas and Tommy Chong also shared the stage.
I spoke to silver medalist Brigetta Barrett, who's looking forward to this summer's trials for the Olympic team. "Any time athletes and medical research can come together for a common cause is a great opportunity." She was pleased to be here, and give back with her support.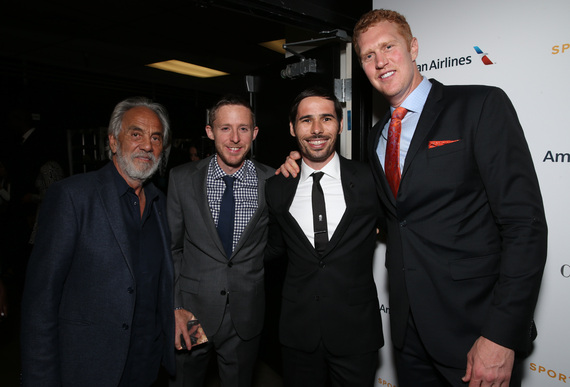 Tommy Caldwell and Kevin Jorgeson win the Inspiration Moment of the Year award presented by Tommy Chong and Brian Scalabrine for being the first to free climb Yosemite's 3000 meter Dawn Wall
I was very impressed with Blake Leeber, also known as the American bladerunner, who was born with a congenital birth defect, and without his legs from the age of nine months. He's taken a silver and a bronze medal in the Paralympic games, and broke Pistorius's record in the 400 relay. He was there wearing his prosthetic "blades" to inspire others and show that his disability is not holding him back.
Russell Westbrook of the Oklahoma City Thunder's won the Spirit Award. He's one of the best young players in the game. The Spirit Award is the community assistance award. He shared his story of starting his "Why Not" foundation, to inspire the lives of children and increase youth literacy, because as a teenager when his parents told him he could do whatever he wanted, he said he started saying a mantra: "why not?" His "Why Not" foundation has now opened three reading rooms in Los Angeles.
Having worked many galas and red carpet events, I was taken with the athletes demeanor and kindness in sharing their time to discuss their support for the cause. It was an evening of hope and positivity, and a great success for the charity and their mission to support Cedars Sinaii.
Photo credit: Todd Williamson and Jonathan Leibson/Getty Images
REAL LIFE. REAL NEWS. REAL VOICES.
Help us tell more of the stories that matter from voices that too often remain unheard.