The Year 2016 was so "yesterday," so "out with the old," and so "rotary phone."  Undoubtedly, most of the readers of this column might not know what a rotary phone is and they probably don't own a "land line." However, as the times change and we look forward to the Year 2017, one aspect of our lives and education is to constantly seek and gain knowledge.
The list compiled here, our first "Great Sports-Related Twitter Accounts to Follow in 2017," listing which will become an semi-annual affair, is an attempt to steer Digital Sports Desk (@DigSportsDesk) readers towards good, solid insight and perspective in the sports, sports tech and sports business industry, This column will remain archived in the Sports Business section of Digital Sports Desk (dot) com and it will be updated throughout the year with (BOLD-MONTH/DAY) when a new Twitter account is added.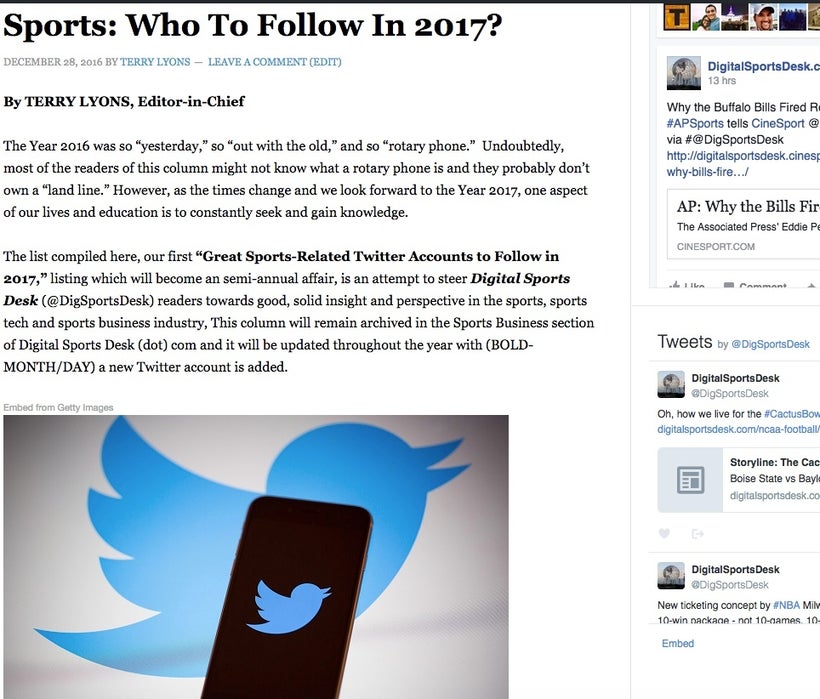 Without further ado (and yes, my French studies almost had me type adieu), we present the first "Twitter DIGGIES" (Deh-GEEs).
The first envelope, please:
In the world of "Healthy Living," there are thousands of options but we've circled just a few.
Summer Sanders - @SummerSanders - Olympian, gold medalist, swimmer, former NBA Inside Stuff host, Mom - Summer does it all
David Willey - @dwilleyRW - The editor-in-chief at Runner's World offers the best of the best coverage and expertise. He lives it. We like it.
Runner's World GEAR - @RWGear -  written by Jeff Dengate - @dengaterade is the perfect and "all-encompassing" gear account for runners.
Looking at the general TV/Sports and TV/Media landscape on twitter, there are again thousands of choices.
Richard Deitsch @richarddeitsch  - Sports Illustrated writer/reporter extraordinaire. A must follow.
Marc Berman - @MarcBerman … Great insight into tv programming who is also behind Programming Insider @PIUpdate - Good stuff.
Joe Flint - @JBFlint - Primetime media reporter from WSJ
In the Tech space, try this: NY Times Bits - @NYTimesbits
In the world of pure "Sports Biz," be sure to add your #SportsBiz as you follow:
Scott Soshnick @soshnick  Sports business news breaker with deep relationships in the C suite. Must follow.
Darren Rovell @darrenrovell ESPN Sports Business Reporter with a massive following, love em or hate em..
John Ourand @Ourand_SBJ. Sports media kingpin, based in DC.
Eric Fisher @EricFisherSBJ  MLB/Digital Media/Technology writer for SportsBusiness Journal, often at the forefront of breaking news around all those areas.
Ben Fischer @BenFischerSBJ. Everything you need to know in the US about Olympics, action sports and now eSports business.
SportTechie - @SportTechie not to be confused with SportsTechie @SportsTechieNet
If you're seeking "Insights, Comedy in Sports or Just Comedy alone to get through your twitter feed or your day, here are some of the more entertaining personalities on our feed.
Steve Rushin -  @SteveRushin - True Sports Illustrated guru.
Jack McCallum - @Mccallum12 - Must follow this former Sports Illustrated and author of Dream Team, other books. Funny as always. Well? Sometimes.
Marty McNeal - @MartMacsWorld - Follow this former NBA scribe, man about town and man of the world and don't be surprised when he engages. Good dude!
Eric Stangel - @EricStangel - Former Exec Producer at Late Night with Letterman - hysterical (in a good, funny way).
Russ Bengtson - @Russbengtson - Writer at Complex - well worth an add
Mina Kimes -  @MinaKimes - The Senior Writer at ESPN Mag which is not your father's (or mother's) SI.
Tom Junod - @TomJunod - New Writer at ESPN.com - Often does long-form but his twitter is, well, short form. Brilliant.
Paul Pabst - @PaulPabst  - The head Producer of @DPShow Dan Patrick Show - radio and tv and podcasts and all. Paulie makes it happen
Rob Perez - @World_Wide_Wob - is a funny and irreverent look at the NBA. Highly entertaining.
Joe Bolster - @JoeBolsterComic - An up and comer. Remember you heard it here first.
Looking for some more depth?
We've also compiled a bunch of interesting people to follow so you can cast a wide-ranging net on your twitter feed and diversify your outlook towards sports, sports biz and life.
We'll call this our … Just Follow in 2017 … section to close out our recommendations  listing.
Megan Abbott - author -  @MeganAbbott - just follow her.
Julie Alexandria @JulieAlexandria TV Host & Sideline Reporter for @Padres, eSports aficionado, smart thinker, baseball-a-holic in the kindest sense of the phrase.
Mandy Antoniacci @MandyAntoniacci - Columnist @inc Magazine. Sports Writer @sinow's @thecauldron.  Longtime marketing exec has carved a great niche around innovation, cause marketing and sports business.
Manny Anekal @mannyanekal  Founder and CEO: @vsSportsUS Versus Sports: Future Sports and @tnlMedia . Great information on eSports and all the business around it.
Tom Barrabi @TBarrabi Reporter @FoxBusiness, covering sports biz and other stuff.
Maury Brown @BizballMaury @Forbes. Even though his business of baseball site has gone dark, he keeps the Hot Stove glowing with year-round business of baseball activity.
Mark J. Burns @markjburns88 Sr. Writer @SportTechie which continues to grow with the eSports-tech-VR-social space. His tweets and content on the site worth a look
J.W. Cannon @cannonjw . Works for UPS on the marketing side but co-hosts SB Chat Sundays on Twitter and always has a fun thing or two to contribute to the business.
Matt Cronin @TennisReporters. All tennis all the time.
D1.ticker @D1ticker. EVERYTHING  you need to read about college sports, curated daily.
Danny Ecker @DannyEcker The pulse of Chicago sports business news; big part of the sports business news in The Second City.
Jeff Eisenband @JeffEisenband Associate Editor, @ThePostGame, Northwestern grad finds unique angles in stories big and small, using both video and print.
ESPN Front Row @ESPNFrontRow. Call it the house organ, but it has great looks into all going on at "The Worldwide Leader."
Excelle Sports @ExcelleSports; They are growing the coverage of womens sports with lots of well deserved content.
Ken Fang @fangsbites  Associate Editor @awfulannouncing and contributor to @thecomeback. Always in on the best and brightest in the TV/media content world
Joe Favorito @Joefav. Podcaster, newsletter writer, consultant to key industry insiders, mentor to many, industry vet.
Ben Fowlkes @benfowlkesMMA  Columnist for @MMAJunkie, and frequent USA Today writer. Gets deep in all areas of MMA.
Josh Gross @yay_yee  Has covered MMA since April 2000;  currently for Guardian and Bleacher Report. Opinionated and always looking for new news.
Hashtag Sports @HashtagSports … Big thinkers for a new generation, with a great conference coming in Jume.
Darren Heitner @DarrenHeitner. Great info on the legal side and on emerging sports.
Benjamin Hill @bensbiz There is no area with more innovators than minor league baseball, and Ben works the news and business beat like no one else.
Abby Hornacek @abbyhornacek… a rising star like her dad on the Knicks bench, she is Co-Host of @120Sports The Rally~ESPN and FOX Sports freelance reporter on everything from NBA Summer league to Drone Racing.
Rick Horrow @RickHorrow. Industry veteran has carved a great niche with Yahoo, Comcast and now Reuters in sports business.
JRSportBrief @JRSportBrief…This young man is a video king, one to always watch and follow.
King Kaufman @king_kaufman. Many great voices around Bleacher Report. King is at the helm manning twitter and their radio content.  
Troy Kirby @SportsTao.  Consultant, podcaster covering the fringes of sports business.
Sam Laird @samcmlaird Sr. Reporter @Mashable, always looking to break news in the areas of sports and tech.
Ted Leonsis @TedLeonsis. If you are going to follow one sports owner this year, make it Ted. Entrepreneur, Sports Team Owner, Philanthropist, Venture Capitalist, and Filmmaker.
Terry Lyons @terrylyons - See below!
Ed Markey - Former NBC Sports PR guru and current Sports Marketing man with Goodyear  - @Go4theLaugh - Really deep, sometimes dry or sarcastic humor. but always very funny.
Michael McCarthy @MMcCarthyREV . Veteran sports business writer now at The Sporting News.
Jason McIntyre @jasonrmcintyre. Founder and still at the helm of "The Big Lead," remains one of the best parts of Gannett
Eben Novy-Williams @novy_williams  Sports Business Reporter, Bloomberg News , along with Scott Soshnick keeping the light on and thriving for Bloomberg's sports business coverage in the financial world.
Chris Pursell @VegasandVine  Covering sports business, eSports, the gaming industry, media, and sponsorship for Cynopsis Sports.
David Payne Purdum @DavidPurdum Gambling is growing and ESPN Chalk is the place to know.
Robert Raiola, CPA @SportsTaxMan  Director of Sports & Entertainment Group at PKF O'Connor Davies, LLP -Co-author of AICPA book, Winning Tax Strategies & Planning for Athletes & Entertainers and a great go-t0 person for all things involving athletes and the tax man.
Tom Richardson @ConvergenceTR ; Digital media/marketing consultant, advisor & teacher and podcaster…an industry veteran all about digital.
Daniel Roberts @readDanwrite Writer @yahoofinance: Moved over from Fortune, Penn grad now handles the chief beat for Yahoo's sports business; tech and media.
Russell Scibetti @rscibetti VP Product Strategy, @KOREsoftware, deeply involved with the numbers game in and around sports business
The Shadow League @ShadowLeagueTSL; solid intersection of sports, culture and the African American community
Nate Silver @NateSilver538 Editor-in-Chief, @FiveThirtyEight. ESPN's numbers guy. No 2016 election jokes @llowed.
Taylor Soper @Taylor_Soper  @GeekWire A rising star in sports and tech who covers a great deal of the goings on in the Pacific Northwest especially.
Sports Business Journal/Daily @sbjsbd. Sometimes paywalled always great info and conferences. Must follow.
Sports Doing Good @sportsdoinggood; If we are looking for the positive this is the place to find it. The Bright Side of the World of Sports – Social Responsibility, Development, Charity, Entrepreneurship, and Great Performances. You're doing well if you follow this one.
The Vertical @TheVertical, From great print content to podcasts created by @DGitalmedia_  with Woj, JJ Redick and others, this has become the go-to place for NBA hoops
Grant Wahl @GrantWahl  Sports Illustrated's soccer guy. Talks US and maintains great global news as well.
Cyd Zeigler @CydZeigler.  Sports writer, speaker, advocate. who writes for @Outsports and the LGBT community
Now, as we finish this off, it is time for the old "Shameless" plug, of course. The most important twitter accounts to be sure to add are the ones which helped compile this list. If not anything else - please be sure to follow: @terrylyons @DigSportsDesk  and surely @McCallum12 (Jack helped with a few perfect recommendations) .
Calling all HuffPost superfans!
Sign up for membership to become a founding member and help shape HuffPost's next chapter
This post was published on the now-closed HuffPost Contributor platform. Contributors control their own work and posted freely to our site. If you need to flag this entry as abusive,
send us an email
.